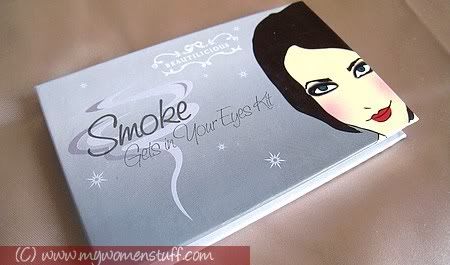 Beautilicious calls their Smokey Eye palette – Smoke Gets in Your Eyes. Hands up anyone who can sing the song… or at least that one line! LOL… Cheesey songs aside, I must say that this smokey eye palette is very commendable.
Like the Stila Smokey Eye Palette, this one too comes with instructions. The difference is that where Stila's talks to you, the Beautilicious one lets you read the instructions yourself (but Stila has paper instructions too). Other than that, there isn't much else that's different!
Packaging
The Beautilicious Smokey Eye palette comes in a cardboard palette with 1 concealer, 1 beige shadow, 1 grey shadow and 1 black shadow and a sponge-brush applicator. The palette is slim and compact and resembles Benefit's Big Beautiful Eyes palette. I like the slimness of the palette and the large mirror on the inside, although I'm not too enamoured with the picture on it. I'd rather see graphics than images, but that's me. Also, I'd rather it did not come in a cardboard sleeve because that's redundant packaging since the palette is shrink-wrapped anyway.
Performance
The concealer in the palette comes in just one shade. I honestly thought it might be too dark for me, but to my surprise, it was not. I reckon it will suit those with fair to medium skintones but if you have very tanned or dark skin, it will not be for you. The concealer is also surprisingly really nice for something that comes in a palette and something I was not expecting to rave about. The texture is smooth and creamy it covers dark circles decently and best of all, isn't oily and does not settle into fine lines!
Just pat a little concealer around the undereye area, pat some loose powder over it and you are good to go! I've even started using it as a daily concealer in place of my MUFE Lift Concealer which is saying a lot! I hope Beautilicious releases this concealer on its own soon in a range of shades. The concealer can also be used on the eyelids to prep and prime the lids to hold the shadow better and help it last longer.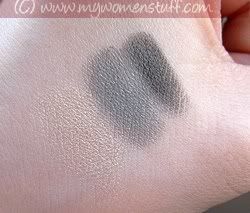 The eyeshadows that form the smokey eye trio in this Smokey Eye Palette are medium pigmented, except the black which is VERY pigmented.
This is a swatch of the 3 colours on my hand. The beige colour blends into my skin, but there is shimmer so I use it to highlight the inner corners of the eyes which helps the eye look larger. The black and grey are on the matte side. The texture whilst not super fine is pigmented.
I use the black colour closest to my lashline and smudged upwards and out, and the grey all over. Then, I use the beige to highlight the inner corner of the eye and brow bone, and to soften the look. The eventual result is a soft smokey eye look. You can of course up the ante by using more black.
As for the applicator, I usually use my own brushes or fingers for eyeshadow so I did not test the applicator. Looking at it, I reckon it can be used in a pinch, but in a pinch, I'd be using my fingers too.

Here of course, is the regulatory picture to show an idea of how I used the Smokey Eye Palette. I'm looking rather cross-eyed in this picture aren't I? Haha… I have been experimenting with lining the lower lashline so you can see that I have used the grey for this purpose. I find using black too harsh. I also forgot mascara on that day so zero lashes.
Price
The palette retails at RM59.90 at Beautilicious counters at selected Watsons' and some Jusco stores.
PB's Verdict
Honestly, I was not expecting much from this Beautilicious Smokey Eye palette, but it has surprised me. If you are new to doing a smokey eye or just want to experiment with the look to see if it suits you, then, its a pretty good place to start. If you already have a smokey eye palette or have colours to create a smokey eye then you may not think it useful. However, if you travel a lot, I can see this palette doing double duty and since its relatively affordable, you won't tear out your hair if it goes missing.
Since the Eye Opener Kit looks pretty similar, I'm going out on a limb to say that it too would be a decent place to start looking for a neutral eyeshadow palette. I know that palette looks similar to the one from Benefit Cosmetics but as I've never tried either, I can't tell you which is better but I can tell you that Benefit's is double the price 😉
Pros: Nice concealer, Compact palette, Good combination of shades, Affordable

Cons: Redundant packaging sleeve
[rating:4/5]