Lancome has for me, always been a boring brand when it comes to makeup. The only thing I used to like from them was their Flextencils mascara which I loved and which is unfortunately discontinued. I never really looked at anything else from this brand.
Until recently that is, when I received a gift of the Lancome Exceptional Wear Color Focus Eyeshadow palettes. It was 308 – Sensuel Raffinement which had 3 light pastel shades and 1 intense gunmetal grey shade that quite simply blew me away. From there, I quickly acquired 2 others – 311 (Parure d'Etoiles – Blue) and 104 (Escapade Champetre – Green).
Needless to say, I have been impressed by these eyeshadow palettes from Lancome. They are, in a word, Exceptional!
The color pay off in these Lancome eyeshadow quads are excellent. My previous experiences with Lancome eyeshadows was that they were hard and had poor color. These are different and I believe may have been reformulated for the better.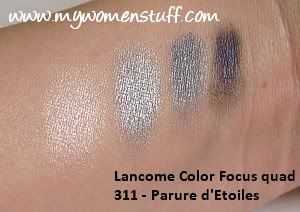 311 (The Blue palette) has 3 lovely shades of blue ranging from light to a dark navy blue and one white highlighter shade. I love the white. It is a pure white that truly makes your eyes look awake when placed in the inner corner of the eye.
These swatches have been taken with 2 swipes of the colour and 1 swipe on the inner arm. They are as true to colour as you can get.
104 (the green palette) is quite a fave of mine because of that lovely intense Emerald green shade contained in this palette. The other drawing factor of 104 is the third shade in the picture above, which is the infamous Erika F gunmetal pewter colour. You can get it as a single incidentally, but I love the fact its in a quad.
104 has been discontinued apparently, but at the counter you can get another similar looking green palette 105 (Renaissance Printaniere). 105 has 3 similar shades but has replaced the bronze green colour (4th colour on right above) with a lighter lime-green.
Lasting power of the Lancome Colour Focus Quad is good, lasting the whole day on my lids without a primer. As I always say, my lids do not get oily so perhaps I'm not the best person to compare it with! They are also quite soft to the touch although the colour doesn't come off on your finger unless you take at least 2 swipes. Then again, I prefer my colour stronger while others might prefer it more sheer. Shimmer is lovely in 311 and 104, being highly shimmery without glitter.
308 has 3 pastel shades which have a more matt texture. I am not very good with matt shadows, but these 3 are very lovely – pink, light green and lilac. They are very smooth and do not go on powdery which is very important when dealing with matte shadows.
Packaging wise, it is sleek. The palette is slim, which makes it fit nicely into travel bags if you take your makeup out with you. It also comes with 2 sponge tipped applicators which I do not use but I know people who do.
The Lancome Color Focus Quads retail at the Lancome counters for about RM135 per palette. It isn't terribly expensive if you ask me. However, if Lancome is expensive where you are (I know some European countries charge exhorbitant prices for Lancome) then look on StrawberryNET.com
where they retail for US$41 each and there is a pretty decent selection. These are from the European line of Lancome. Lancome USA has square pans as I recall, and a different selection. I haven't tried the ones from the USA so I cannot compare.
Will I get more? My answer is no for now. Other than the present 3 I own, none of the other colour combinations attract me. The colours tend towards browns or pastels and I'm not into those colours. If those are tones you like, do give them a look as the Lancome Colour Focus eyeshadow quads are quite underrated. But for those I do own, I love them to death! They are awesome!
Pros: Lovely shimmer, good pigmentation, lasts

Cons: Quite pricey
[rating:4.5/5]