I finally saw the new Kanebo Coffret D'or collection. Having seen pictures and read the review by PJ of A Touch of Blusher on the Trance Deep Eye palettes, I was intrigued.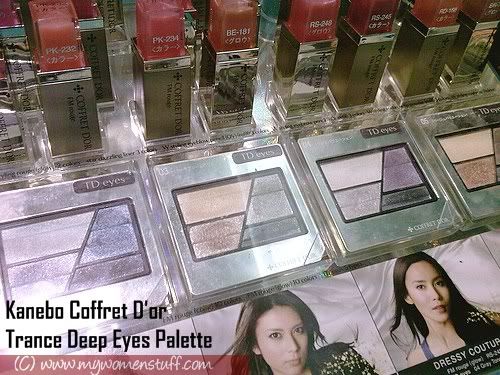 I finally hauled myself down to take a look at the new stuff yesterday which includes the Trance Deep Eyes Palette.
There are presently 5 shades of the Trance Deep Eyes palette:-
TD01 – Lilac
TD02 – Blue
TD03 – Green
TD04 – Lilac-Grey
TD05 – Beige
I tested the palettes and found that like the Coffret D'or 3D Lighting Eyes Palette, the Trance Deep Eyes palette are about shimmer, so don't go near them if you dislike shimmer. However, compared to the 3D Lighting Eyes, the shimmer in Trance Deep Eyes is more fine and less metallic is much nicer.
However, compared to the 3D lighting Eyes palette, the colours in the Trance Deep Eyes palette are lighter in tone. 3 of the colours are fairly light but the liner colour is nicely pigmented dark nearly black shade. I discussed this with my favourite sales person and she told me that this was possibly due to the way the eyeshadows are meant to be applied to accent the eye as opposed to add colour. Either way, I can see some potential pretty eye looks.
The Green (03) and Grey (04) palettes look promising but I was in a bit of a hurry so I didn't pick any up just yet. The Trance Deep Eyeshadow palettes retail at RM120 per palette. Pretty decently priced if you ask me.