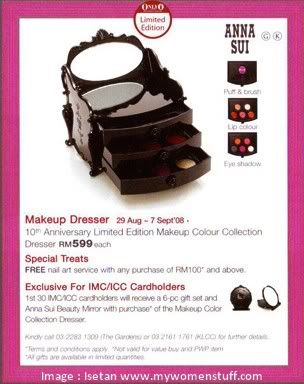 I saw the Anna Sui Makeup Dresser for Fall 2008 in the Isetan brochure and also saw it in person recently. It really is darling! For Fall 2008 and in conjunction with Anna Sui cosmetics' 10th Anniversary, Anna Sui has come out with a dresser set that sits on your dresser and is done in Anna Sui's signature girly style.
This Limited Edition set retails for RM599 (US$182) each and comes with:-
1 powder puff, lip brush, eye brush (Top Drawer)
Face Colour D (blush) #600, #301 (orange/peach and pink) (2nd Drawer)
Eye Color D (eyeshadow) #103, #206, #300 (dark blue, purple, white) (2nd Drawer)
Lip Balm (3rd Drawer)
lip color D #700, #400, #303 & #600 (3rd Drawer)
The size of the dresser is approx: 24cm x 18cm x 16cm
Here's a site with some real life pictures (its in Japanese) so you can visualise just how it'll look. Darling isn't it? I like Anna Sui eyeshadows, but I think I'm passing on this one due to price and practicality. Still, its prefect for the collector!