I was rooting around my eyeshadows one day when I came across one I'd forgotten about – Bloop de Paris powder eyeshadow. It was supposed to be part of my Cheap and Good? series but somehow, this one slipped under the radar. But better late than never, so here we are – is the Bloop de Paris eyeshadow cheap and good?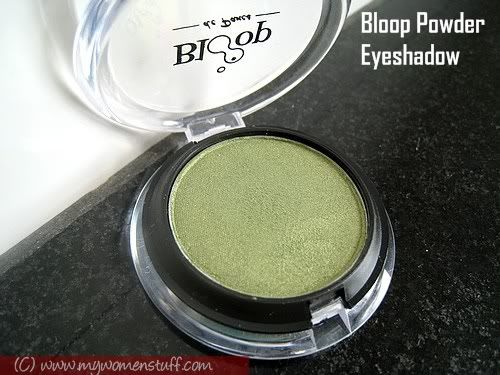 Bloop de Paris is a Malaysian brand pretty much like Elianto and Beautilicious. This Bloop de Paris eyeshadow in Emerald Green came from Beetrice (read her review) and costs about RM20 per eyeshadow. Is it worth it?
The packaging is simple, in a transparent round case with a mirror on the bottom if you turn it over. The size of the eyeshadow is like Elianto eyeshadows – bigger than Stila – so you get a huge amount for the price.
Importantly, the texture of the Bloop eyeshadow is amazing. I don't know what I was expecting from a brand with a name like Bloop but it was certainly not super fine shimmer eyeshadows. I was impressed.
Emerald Green is the name of this colour, but I beg to differ. It is more of a lime-green shade with gold shimmer. Emerald Green to me is a darker deeper green which this one isn't. Gripes about colour names aside, the pigment is excellent. One swipe and you get all you colour you want and need, and it goes on the skin looking exactly like it does in the pan.
Bloop de Paris Emerald Green + Prestige Verdigris on lashline
The shimmer is fine and the lasting power is good. It lasted on my lids the whole day, looking just as nice as when it was first applied in the morning. It works especially well with a dark green or black eyeshadow or layered over black eyeliner.
So, is it cheap and good? The answer is yes and yes.
Now, the problem is in finding a Bloop de Paris counter. It is not sold in pharmacies like Watson's or Guardian (and I wonder why) and according to Beetrice, its available at selected FE Parfum, Shins Cosmetics, Giant, Jaya Jusco and Metrojaya outlets nationwide. I personally haven't checked to see if its in all those places, but I have seen the brand at the airport (KLIA) duty free cosmetics store, and there was a pretty good selection there!
Pros: Cheap, Good colour, Nice Shimmer, Long lasting
Cons: Not easy to find
[rating:4/5]