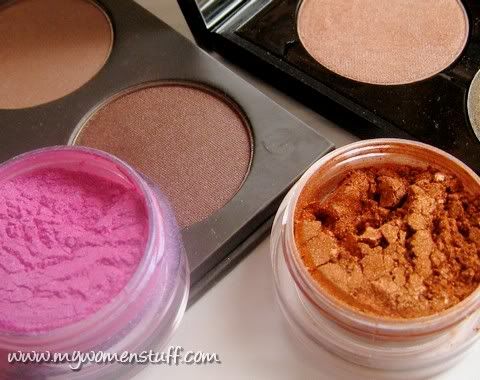 L-R: La Femme Fuschia, Stila, Stila Jezebel, La Femme Copper
In the course of experimenting with makeup, I've picked up some colours which I have now realised aren't quite suitable for me.
Examples of such colours are orange, bronze, brown, warm golds, purples and any colour with a red base. Such colours make me look tired and drawn, no matter how well blended or how expertly applied. This is one of the reasons why I couldn't wear the Estee Lauder Fall 2008 palettes. I actually had a makeover once where I specifically requested that purple eyeshadow be used on me. The makeup artist was good, but I still looked drawn and bruised.
Yet, I have such colours in my eyeshadow collection and now and then, I still wear them. Why? Perhaps its the misguided hope that with time, I can wear these colours which I feel unjustified to give away.
I have found in the course of experimentation that if I match these colours that I can't usually wear, with some other colours that I can, it does work. Example, brown + champagne or purple + lilac. However such instances are rare for in most cases I still get asked "Didn't you have a good night?" in the mornings.
Perhaps its my skin tone. I have a light neutral-warm Oriental skintone with less yellow and some pink undertones. What this means for me is that I can handle most warm and cool toned colours without too much problem. However, for some reason, colours that have red as a base make me look awful as are those that are too warm (especially for eyeshadows) . Similarly for the cheeks, colours that are too cool (with more blue tones) don't sit well on my skin either. I guess I'm an in-between, lucky enough to wear colours from the cool and warm ends of the spectrum without taking things too far to the extreme.
I should get rid of these colours that don't work. And yet, I don't. But I will some day.
Are you like me? Do you persist in keeping and using colours that don't quite work for you on the off chance that they might work some time?