I happened to pass by an Estee Lauder and Lancome counter yesterday so I decided to stop and ask about the new vibrating mascara available in both brands. Needless to say, I got blank stares and was promoted some new non-vibrating mascaras. Sigh…
But all was not lost because it was the launch of the new Chocolate Decadence collection by Estee Lauder for Fall 2008! I'd been watching out for this one mostly because of the packaging.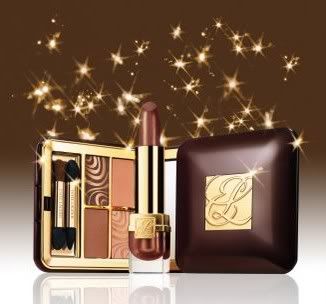 The Estee Lauder counter at Isetan KLCC has it all and it was looking good. I'd say though that in line with the chocolate theme, everything is a little too brown and too warm for my liking. That said, I could not resist testing out the eyeshadows and the shimmer powder!
I swatched the colours and wanted a photo but got sucked into having the eyeshadows tested on me and the colours were wiped off later. Boo… I'll explain why in a minute.
Anyway, Chocolate Decadence is as the name implies, all about chocolate.That's not quite true though because it is about Berries and Chocolate. The Chocolate collection comes in 2 shades – warm chocolate browns and cooler berry tones.
I must make special mention of the eyeshadow palettes. The Signature Eyeshadow Quad (RM120) comes in 2 shades with 4 colours in them (quad 😛 ) Caramel Truffle is a warm brown toned palette you can see in the first picture above. Berry Truffle is a lilac-purple palette in the second picture.
I must say that I am very impressed by these sets of Estee Lauder eyeshadows. The eyeshadow is silky smooth to the touch and nicely pigmented. The colours aren't over the top and are very wearable. Shimmer is present but it is very fine and shows up as shimmer not glitter. Love them! However, the swirly patterns you see in the picture are just spray on – boo! So after swiping it a while, it disappears from the surface of the colour.
Caramel Truffle is a warm toned brown palette. The peach shade looks more orange in the pan but it applies quite nicely. The other shades of brown are lovely and rich. Berry Truffle has a lilac base tone with deeper purple tones. The only problem I have with both these two colours are that neither colour suits me! Yes I know I have fair colouring which should be able to handle most colours well, but I know from experience that warm tones for the eyes and purples are a no-no. I was right too!
But I decided to test them on my eyes anyway and the sales assistant kindly gave me a mini-makeover for my eyes. I was naughty and asked for them to do both palettes so I had caramel truffle on one eye and berry truffle on the other! So, that's why I couldn't just walk out of there and take a picture lol… The lilac in berry truffle is gorgeous though. It shows up prettily and makes you look so sweet and girly. The purple I found too red based for me. The caramel truffle palette was, as I suspected, too warm for me. However, on someone with warmer colouring or a medium-dark skin tone, I can imagine it would be gorgeous!
I also tested the swirly shimmer powder which is also gorgeous. It looks just like a pan of swirly caramel chocolate! The shimmer is light so it goes on the skin a lovely champagne coloured highlight. The lipglosses too look amazing with all those swirls in them. Although I could not help thinking the lip glosses reminded me of the Revlon lipgloss collection that had all those swirls.
Estee Lauder in Isetan KLCC is doing a Chocolate Decadence launch between 15-21 August 2008 so if you are interested in testing out the products, go on down and make an appointment for a makeover and to play with the new stuff. If you go, ask for Jennifer (03-2382 0600). She is lovely and helpful and I'm grateful that she did not make me feel awful for not buying anything although she took all that trouble to test the products on me!
If I did not already have a ton of similar tones and shades, I'd get the Estee Lauder Signature Eyeshadow Quad in Berry Truffle. At RM120 I think its absolutely worth it and the quality is vastly improved from previous Estee Lauder eyeshadows.