For all my love of blushes, I think it would surprise many to know that I don't own as many blush brushes as I do blushes. In fact, I used to own only 2 – MAC 129 from a travel set and The Body Shop blush brush. I'll review them separately in due course.
However, I recently got my hands on the Anna Sui Cheek Brush #2. This is a round blush brush with a flat top. I was quite puzzled as to how to use it when I first got it but now that I've gotten the hang of it, I love it!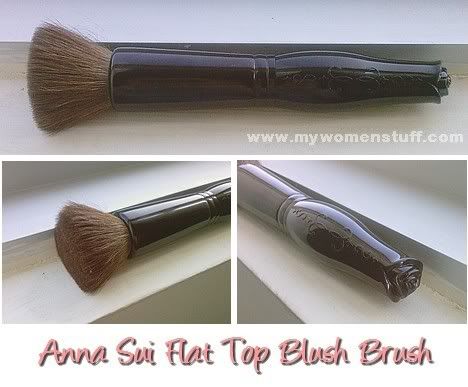 The Anna Sui flat top blush brush has rather short but dense bristles. The bristles are soft and not scratchy. The shape of the handle is largely ornamental with the signature Anna Sui rose embossed on the end. It is truly very pretty even if I never see it because I store my brushes standing up. hehe…
That said, I find that the slightly bulging handle actually helps with grip. It fits nicely into the hand which makes it easier to use. How I use this flat top brush is like this:-
Tap the flat top of the brush directly on the surface of the blush. Be careful because the brush picks up a lot of colour.
Tap it lightly to remove the excess powder.
Apply on the cheeks with the flat part of the brush directly against the cheek in a circular motion, buffing the colour into the skin.
When I spoke to the sales assistant, she said that this was a blending brush. I can see why. It diffuses blush colour very well and blends it very nicely into the skin. If you have applied your blush too heavily with another brush, this brush will help to blend it in and diffuse it. However, I use it by itself as a blush brush and it works beautifully.
I think that the flat top and density of the brush, which acts like a buffing brush buffs the colour into the skin so the blush looks more natural. I love using this brush with my less pigmented blushes or lighter blushes. It applies light blushes like Benefit Dandelion like a charm and gets it to show up in the best possible way!
A note of caution is when you are using more pigmented blushes. This brush does tend to pick up quite a lot of colour so you have to be really careful with darker colour or more pigmented blushes. However, I find that the buffing method does help tone down the colour somewhat so I'm even using this with some very bright blushes with great results!
The Anna Sui Cheek Brush #2 retails for RM108 at all Anna Sui counters. I don't find it terribly pricey because brushes can be very expensive anyway. I asked the sales assistant if they knew what the hair was made of but they did not know. My guess is that its natural e.g. pony or goat.
Pros: Applies blush colour naturally, looks pretty, not scratchy and blends colour well

Cons: Can pick up too much pigment

[rating:4.5/5]