Previously, I reviewed Lavshuca by Kanebo eyeshadow singles and decided I did not quite like them. Since then, and because Lavshuca isn't readily available to me here in Malaysia, I stopped buying anything else from the brand.
Now, I'm rethinking this after seeing pictures of Lavhuca's Summer 2008 eyeshadow palettes:-
Lavshuca Blue / Cool palette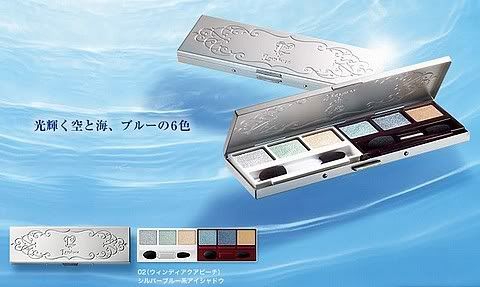 Lavshuca Gold/Warm palette
The way the palettes are divided, I'd say that the one with the white case is for day and the darker case is for night. I think its so cute for them to be so thoughtful. The day colours are lighter and the night ones darker. I wish there was a way I could test these in person before I decide if I want them, but there isn't so I might just have to suck it up and get it online later!
I'd probably get the blue palette. The warm one looks a little too warm for me. This is definitely giving the Stila Kitten palette a run for its money in my book!