I haven't written much about Stila cosmetics here, but I'm actually a fan of Stila eyeshadows. I don't have all that many, but I love what I have and some day I'll get around to reviewing them! 😛
I used to like Stila eyeshadow palettes that came in a long slim case with 6 colours, rather like the one you see in my Nude Eyeshadows picture. Stila hasn't come out with these for a few years now, focusing on round palettes instead with 3 or 4 colours only.
I'm happy to note that the Stila Summer 2008 collection features my favourite form of Stila eyeshadow palette with some really pretty looking colours!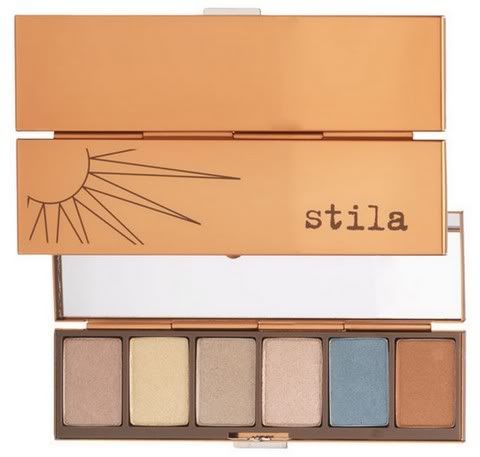 According to the Stila website, the Kitten eyeshadow palette features the following colours (from right to left of the picture):-
ray (a shimmering golden copper) – a perfect shadow to accent a healthy summer glow
mystic (a shimmering aqua blue) – a bold shade for summer soirees
kitten (shimmering nude pink) – a stila top-seller that works wonders as a base or a fresh highlight
wheat (pearlescent beige) – a perfect base for a bronzed eye
prize (soft gold shimmer) – can be paired with any shade in the palette; adds that golden sheen
sun (shimmering golden peach) – a sunny sparkle for day or night
I love Kitten although many find it too frosty or shimmery. I'd love to check this palette out once it gets to Malaysia. I'll update when I do see it.
They used to retail for RM125 but I'm expecting it to cost something like RM135 or RM140 now? This Kitten palette is US$40 on Stila Cosmetics website if you are in the USA.