The folks over at Revlon contacted me recently to test-drive their new Revlon Age-Defying 2-way Foundation with Botafirm in 05 Sand Beige. Whew! What a mouthful! What it essentially is, of course, is a 2-way powder foundation. 2-way because it can be used both wet and dry. Wet for more coverage and dry for less. I only ever use my powder foundations dry so my review will be based on that. There is a giveaway too at the bottom, so please read on!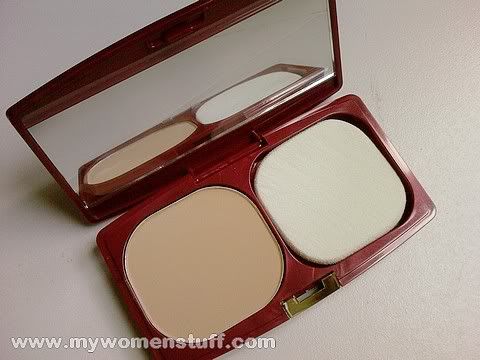 First of all, the packaging. I love it! The powder foundation comes in a slim red case which is similar to the rest of the Revlon Age-Defying line. But what I really like is the slimness and the sleekness of the design. It actually looks and feels more expensive than it really is.
The foundation comes with a sponge which feels sturdy and nice. Some sponges that come with foundations feel like they'll fall apart once you use them. This doesn't. However, I prefer my sponges to be a beige shade. It doesn't show up looking so grubby as fast as white.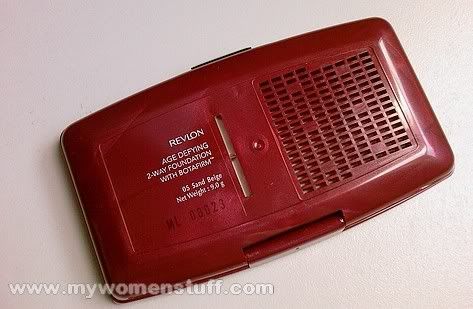 Here's a picture of the back of the case. There's a slit where you can use something sharp to push out the empty pan once you have finished your powder. Revlon sells refills, which is of course great and environmentally friendly. The holes on the right are for your sponge to breathe should you use your foundations wet.
Now for colour. I tested 05 – Sand Beige. The colour in the first picture is quite close to what it looks like in real life. I thought it might be a little too light, but in fact, its my perfect shade! It melts right into my skin, evening out colour and providing a smooth surface. It did not look powdery or chalky at all. I've never really had foundations match so well and so quickly before.
I checked out the Revlon counter one day, to see the rest of their colours. There are presently 4 shades available with 05 – Sand Beige being the lightest. Revlon says that these are Asian shades which I take to mean they will suit Asian skintone. However, I personally found the shades too yellow. Not all Asians have strong yellow undertones. I don't for one. So, if you have pink tones then you might find it hard to find a match in the Revlon Age-Defying 2 way foundation.
The texture of the powder foundation feels smooth and not cakey. I don't feel like I have a mask of foundation on my face which is nice. I found that when I use the sponge to apply the foundation, it goes on with medium coverage. My skin looks smooth and even toned (which it isn't usually) and it makes a perfect canvas for the rest of my makeup. It makes me happy 😛
When I used a powder brush or kabuki brush to apply the foundation, it went on with lighter coverage. I could still see some blemishes. Not that it bothers me. Overall, it still evened out the skin tone, but the skin looked less smooth. So, depending on how you like your foundation coverage or your needs, you can use either sponge or brush.
I always lightly dust some loose powder over all my foundations be they powder or liquid and so, my foundation lasted all day. Towards the end of the day, there was a little shine but nothing major that could not be blotted away.
The Revlon Age Defying 2 way foundation with botafirm apparently contains Revlon's trademarked Botafirm infused formula which "helps to reduce the appearance of fine lines and wrinkles so that skin looks smoother and younger". I'm not sure about age-defying claims – sounds a bit too good to be true but it'll be nice if it did work!
Here's the blurb from the promotional leaflet:-
Botafirm ™ infused formula – Helps to reduce the appearance of fine lines and wrinkles so that skin looks smoother and younger
Soft Focus Powder – Smooths and blends out skin imperfections for a natural translucent and long lasting finish.
Vitamin E and Luffa Hydro-essence – Protects skin from free radicals and helps maintain its natural moisture
SPF12
Available in 4 Asian shades
The Revlon Age-Defying 2-way foundation with Botafirm is available from all Revlon counters at a promotional price of RM59 right now. The retail price should be RM60+ once the promotion period is over. I'd say that if you can find a shade out of the 4 available, its definitely worth a buy!
Pros: Smooth and not cakey, nice packaging, light to medium coverage

Cons: Colour matching might be a problem, a beige sponge may be better
Thanks to the kind folks at Revlon, ONE (1) LUCKY READER will win a Revlon Age-Defying 2-way foundation in the shade 06 – Natural Beige! Just email me at [email protected] with "Revlon Foundation" in the subject header to qualify. The contest runs until 12 noon on 10 May 2008.
Update: Just to clarify why its Malaysia only – The product was sponsored by Revlon but this giveaway is coming from me. As International shipping + registered post etc will cost a pretty penny (its quite heavy) I opted for a Malaysia only contest for now. Maybe future contests might be international 🙂
Have fun! 🙂