If you were to look up safe colours for eye makeup that you can wear to work or the office, blue doesn't usually feature. The safest shades recommended would always be a neutral shade, or safe, light shades of colour. Naturally, this depends on the type of work you do and the office environment you are in.
Those of you in the creative line will naturally have more leeway in your makeup, while those who work in a conservative environment will likely have less scope for experimentation. This post is for those of you in the latter category, who might want to sneak in a bit of colour now and then.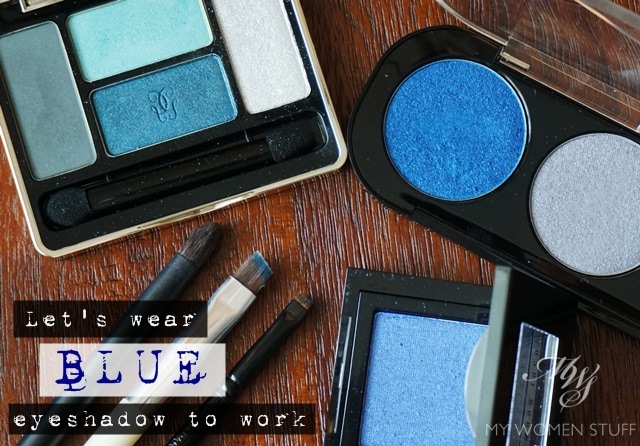 Blue eyeshadow is hard to work with, and I find that this is more so on Asian skin because for the most part, blue is a very cool toned colour, while most Asian skintone are warm or have warmer tones. The coolness of blue does clash somewhat, which can make it look very stark on warm toned skin.
The trick therefore is to choose your shade of blue carefully. Navy blue is always fairly safe as it can be used like a black shadow. Pastel blues are tricky, as are bright light blues. For me at least. However, I often find myself drawn to bright, punchy blues, because they can actually look very nice, when used as an accent of colour on your lid.
While I could get away with pulling off an electric blue eye for work (I'm not overly fussy about makeup in the office, so long as everyone looks decent) it's not a look people feel comfortable facing during a serious meeting, so I try to tone it down. When I broached the subject of blue eyeshadow on Instagram, I received a few suggestions on how to wear it. So, I took them on board, tweaked them a little to make them fairly office-friendly and here are my suggestions for 3 office-friendly ways to wear blue eyeshadow to work 🙂