Over the weekend, I shared a bit of beauty news over on Instagram. Tom Ford Beauty is in Malaysia! Finally! I hear some of you cry, and truthfully, that was my first reaction too the first day I heard the news about a month ago. I was sworn to secrecy so I was good and waited till the first boutique opened in KLCC a few days ago, before I reported it LOL!
I wasn't expecting people to get excited about it haha! I guess I underestimated Malaysian beauty afficionados (and their wallets!)! I also got some queries about the products, what I thought, what I might pick etc, so as Sylvia suggested, I decided to do a mini round-up based on the few Tom Ford pieces I own.
I will explain why my Tom Ford Beauty collection is small too. Well, it isn't tiny, but it is very small by most makeup collector and blogger standards 🙂 I'll expect you to share your faves as well, so I know what else to add! 😉
I must admit I was quite excited the first time I heard that Tom Ford was going to do beauty way back in 2010. I remember him as the designer for Gucci back in the day, and he was also hailed as something of a model and photographer. When the Tom Ford beauty line was first announced, I was interested. Not because I was a fan. It was because he kicked off his eponymous beauty line with a range of beautiful, luxury lipstick! You know how I feel about fancy lipstick! 😀 It is also interesting to note that Tom Ford Beauty is manufactured under the Estee Lauder group – I will revisit this a little further down 😉
Tom Ford Lip Color
I was very fortunate back then, to have been gifted with my very first Tom Ford item – Moroccan Rouge Lipstick. The original collection came in very sleek glossy white lacquered square cases with gold trim. The name "Tom Ford" was etched into the top of the cover, and the initials TF was etched into the top of the lipstick. I loved the white cases as did many people, because it was so different at the time.
But for some reason, very quickly after that, the packaging was changed to the, by now familiar, dark brown square case with gold trim, and with TF etched on the cover, instead of the full name. It is still very elegant, but the white case really looked unique and eye-catching and for that reason, I've kept mine all these years.
I only have 3 Tom Ford lipsticks. The other 2 I bought through friends who were travelling, because you couldn't buy Tom Ford online internationally, and the only way was to get it from other countries. I remembered I paid £36 for my lipstick back in the day. It really dinged my wallet there! I'm told it is just about RM210 at the boutique here, which in my view surprised me because I expected it to cost more! I'd say this puts the Tom Ford Lip Color on par with the pricing for Guerlain Rouge G lipsticks with a similar quality (for the cream textures).
There are now about 4-5 types of lip products, but I only have experience with the regular lipstick. These have a beautiful creamy texture, and bright, opaque colour. I do find them to be a little heavier on the lips than say Bobbi Brown Luxe Lipstick but it has a similar creamy, luxurious texture. There is also a vanilla scent, and I have read that they go off quickly. Speaking personally, mine are still fine. Even the 8 year old Moroccan Rouge lipstick still smells fine. I don't use it anymore of course 😛
There is another range called Boys & Girls (RM145 each) which are smaller in size (2g vs 3g). I haven't tried them, but they are a much more affordable way to venture into the brand. There are many different textures available today, but I stopped paying a lot of attention because it was hard for me to get hold of them, and when I did go to a counter in Singapore, I wasn't too interested. Just saying so honestly 😛 I will revisit this point again below.
Tom Ford Eye Quad
My Tom Ford Eye Quad (RM355) in Silvered Topaz was a gift from a friend. Actually, I think it had been passed down through 2 hands, both of whom had tried it, tested it and were underwhelmed. So, when the offer came for me to have a go, I thought "Why not? It'd allow me to try the much vaunted Tom Ford eyeshadows!"
Silvered Topaz is a cool-toned neutral eyeshadow palette with grey and taupe colours that I would normally wear. I'm not terribly enamoured with it. I found the texture not as smooth as I would expect. Pigment was fair. I could wear it, and I could work with it. In fact, it soon grew on me in terms of wearability and colour. But it did not set my world on fire.
I took a look at the other colours at the Tom Ford counter in Singapore when I was last there, and nothing jumped out at me either. It is all very nice, and very alright. But nothing so wonderful as to make me take my credit card out immediately and plonk it down.
Tom Ford Cheek Color
One (Frantic Pink) was a gift from a friend, while I bought the other (Flush). I find that the blushes have a similar texture to the eyeshadow. Not exactly smooth and fine-milled, even a little hard to the touch. I own LOADS of blushes and I can safely say that these are not the highest quality ones I own. If you were to ask, I'd pick any Japanese brand any day – their quality is sublime. But they do tend to falter a little in terms of colour selection.
Tom Ford Cheek Color however, has a good range of shades. I personally feel that while the texture doesn't exactly get the angels to sing on your skin, the colours are pretty, blendable and easy to wear.
Frantic Pink is a very light pink-peach that brings to mind a slightly lighter shade of NARS Orgasm or Torrid or Deep Throat. It gives a nice, natural flush to the cheeks Flush is a lovely bright coral that pops on the skin. I love both shades I own, and how they apply to my skin. It is easy to blend, and it does look very natural and pretty on. Of course, it depends on how much product you use each time. The packaging is of course, noteworthy. It is sleek and glamorous. It's nice. But there are no angels singing 😛
To give you an idea of what the colours look like on skin, I have here swatches of the items above.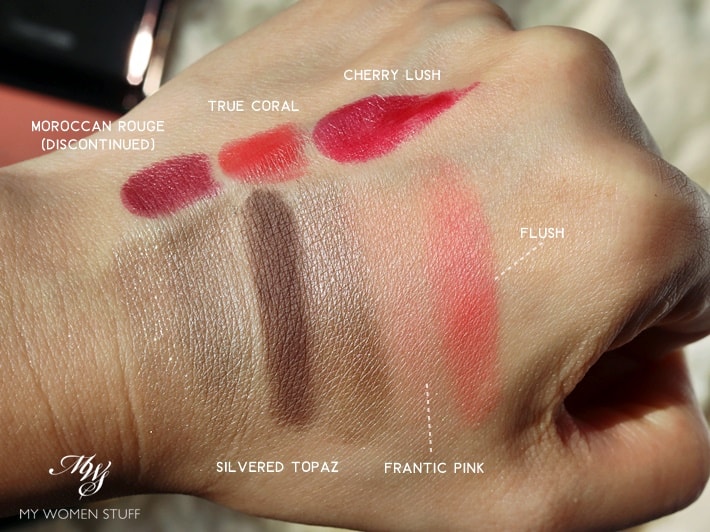 I managed to get them quite true to colour, so you have an idea of what they look like. Cherry Lush is one of the most beautiful red lipsticks I own!
Tom Ford Brushes
I own 2 brushes – 06 Cheek Brush and 14 Smokey Eye Brush. I think I mentioned the Cheek Brush in this brush collection round up. This brush, which you can see in the picture above is very fat and dense and fluffy. It is very soft on the skin and I believe that it is made of goat hair. The white bristles do make it look very fancy. It picks up colour very well and easily, and diffuses it very prettily on the skin. Because of its shape, I do find that it offers a much more precise location of blush on the skin.
The 14 Smokey Eye Brush I don't use so often as I find the pencil shape a little too precise for my style of eyeshadow application. However, I can use it to smudge a dark colour along my lashline, and to work colour into outer corners. I have small eyes and small lid space, so sometimes, this can be a bit more precise than I like it to be. But it works and I like it. In fact, if the brushes weren't so pricey, I'd say they would be nice to own. I also have a niggling feeling they are made by a Japanese brush maker. It has a similar feel to that of Japanese makeup brushes.
What should you try from Tom Ford beauty?
I can understand why you might want to own something from Tom Ford beauty. I felt the exact same way! I was luckier, in that there was only one item to lust after, now you have the whole collection! LOL! Ok, do bear in mind that I have not tried many other newer Tom Ford beauty products.
So, just based on my limited experience, I'd pick either the Lip Color or the Cheek Color. To be fair, you could get similar (or even better) at Bobbi Brown or even Estee Lauder. But you won't, because they won't be Tom Ford 😛
So, coming back to Tom Ford being owned by the Estee Lauder group. I personally find that the quality of the products are quite similar to that of Bobbi Brown and Estee Lauder. Estee Lauder is often overlooked for their makeup, but they do quite nice quality makeup, and you can really get a similar textured lipstick and eyeshadow palette for a smaller price. It's the same for Bobbi Brown. The quality in recent years, is quite high and I find it on par.
That said however, aside from the boring items I own, Tom Ford does do other products which I have heard raved as being quite spectacular. The liquid foundation (I might try this because you know me and foundation!), illuminating primer, cheek duos, illuminating powder duos get a lot of love. I might try them some day and if I do, you will of course, hear of it! 🙂
Why have I not tried them before when I could get them overseas? Well,to be honest, it was principally due to lack of interest. I love my luxury products and my makeup, but I can't quite bring myself to drop that much money on one item these days. In some ways, it feels like my time has passed. Perhaps it's time to hand off the baton to someone else with deeper pockets, or rather who is more willing to spend because really, this aunty is finding it hard to justify buying an eyeshadow quad for almost RM400 😛
Oh and one word about Tom Ford perfumes. I don't own any as yet, because I have found them all too strong even for me. I think my tastes have changed over the years, so I will revisit but the only one I've come close to considering is Tom Ford Neroli Portofino, which I often try on at airport perfume counters. But I might just change my mind, so who knows really! 😀
What is your favourite Tom Ford beauty item?
Enough about me. Why don't YOU share with me your favourite Tom Ford products? I will pop by the store at KLCC some day soon, so share with me, so I know what to zero in on! 😀
Paris B