UPDATE: Bodybar has closed since 2013. This is an archived post as at 2008
I came across a store called BodyBar Natural Skincare while I was at the newly opened Tropicana City Mall recently. What caught my eye initially was the neat, white, pristine layout of the store. I loved the green plant balls they had!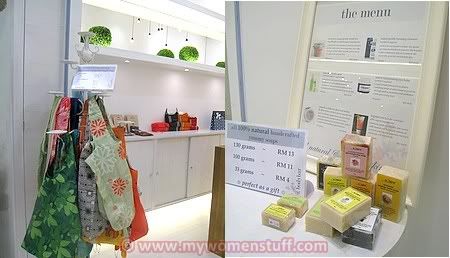 The second thing that caught my eye was the candle holder with loads of Envirosax reusable grocery bags right in front of the store, and the table of assorted Soapy soaps.
Bodybar – Organic and Natural Skincare store – first of its kind
Curiosity sufficiently piqued, I wandered in and found that Bodybar sells exclusively certified organic skincare from a variety of brands. There is a fairly wide range of organic and natural skincare products available and I'd call it a one stop organic skincare store. I might be wrong, but I think they might be the first of their kind in Malaysia – a store dedicated to natural and organic skincare.
Their philosophy and tagline is "Good enough to eat" – the level of chemicals is so low that its possible to eat them… not that its recommended of course 😉 There are products for the face and body from Australian brands Mukti and Remedica Australia, New Zealand brand Just Herbal and French brand Biguine Blo. I was told they will be expanding the range as time goes by since the store is still very new. I did manage to work out a very special promotion for interested readers so make sure you check at the end of this post for details. 🙂