Its June and June usually translates into Summer. Hot sun, tans…. but I hear the ladies in the Northern Hemisphere aren't quite enjoying as hot a summer as they'd like this year. Wish I could trade you some sun for some cooling rain! Down in the Southern Hemisphere, its turning cold as winter sets in.
I've learnt that there is one makeup item that pops up at about this time that can transcend the seasons – bronzer. It brings glow to a tan in Summer and brings life to dull pasty skin in Winter. I am personally only just starting to get the hang of bronzers. For the most part, I'm still not quite into them, simply because the brown shades show up quite stark against my skin. But I'm learning to look at bronzers which are lighter and sheerer in colour and texture and when I do find them, comes the next question: How do I use a bronzer?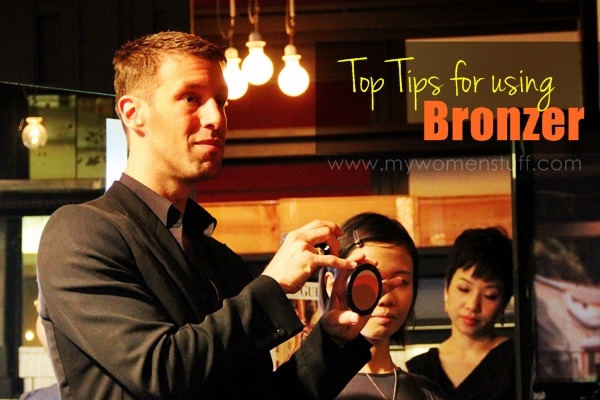 Maxime Poulin ~ Guerlain International Makeup Artist from Paris
The most important thing however, is knowing how to apply a bronzer. Sure, we've all heard of tips like "Drawing a big 3 on your face", "Shading under your cheekbones", "Use it to contour", "Apply it where the sun hits" but seriously ladies, I don't know about you, but these tell me nothing. I can't apply it where the sun hits because on this pancake face, it hits everywhere :P Plus since I don't tan, and don't go out in the sun a lot, I'm not quite sure where the sun hits.
However, during a short chat with Mr. Maxime Poulin, International Makeup Artist from Guerlain, I've picked up some tips that I found much more helpful than anything I'd ever read. I hope you will too.