Confession time. I'm not a fan of bronzer or bronzing or looking tanned. I embrace the pale princess look which might stem from the fact that its my natural colouring and I was born with it so its the only colouring I've ever known 🙂 I don't keep a tan easily either. During school days, not being much of an athlete, for Sports Day, I was always in the march past where we'd train under the the noonday sun. Mom always made me slather on sunscreen so the smell of Coppertone always makes me think of school. (And people wonder why I dislike using Coppertone!)
At the end of Sports Day, everyone would be sunburnt. I'd be lightly toasted and within 2 weeks I'd go back to normal. I think everyone hated me for that 😛 Which long winded story explains why I don't quite do bronzers as a makeup thing, and brings me to the Diorskin Nude Tan Healthy Glow Skin Enhancing powder aka bronzer by Dior for Summer 2012. There are 4 shades available : 001 Aurora, 002 Sunlight, 003 Zenith and 004 Sunset for most skintones. Being placed at the lighter end of the spectrum today I'll show you 001 Aurora which is only the 2nd bronzer I've ever owned!
The Diorskin Nude Tan Healthy Glow Enhancing powder (which I'll call the Diorskin Nude Tan powder for brevity comes in a pretty compact quite unlike their previous offering last year. Unlike last year, they didn't do a special Asia release either, so we get the same compacts as everyone else.
The compact is a heavy metal case embossed with the signature cannage design. This brings to mind the Dior Fall 2011 Blue Tie eyeshadow palette, except this one is round. I like it that they made it round. Its a lovely departure from the rectangles in the Dior powder range and its nice to hold. Ok, that's a lame excuse for liking it 😛 But it does feel nicer to hold.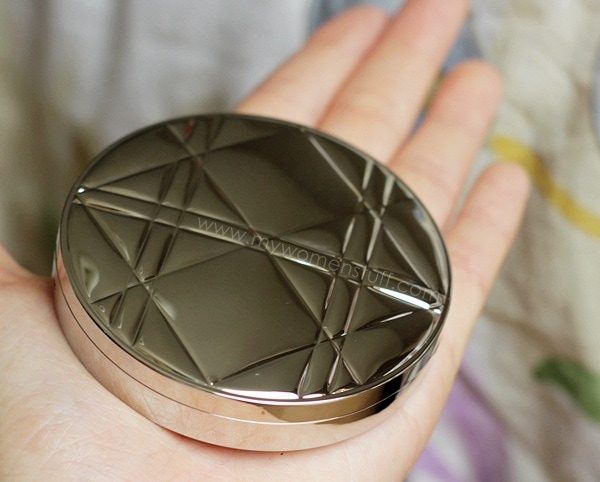 See? It fits right in my palm.
When you open the cover (I can't tell front from back so it is quite an adventure in the mornings) you get a lovely round powder divided into quadrants, with 4 different shades in them.
Diorskin Nude Tan Healthy Glow Enhancing Powder – 001 Aurora
001 Aurora is the lightest shade and even then, isn't all that light. The powder is designed to work as an all over skin enhancing powder, to give a healthy tone to pale winter skin or you can also use it for contouring. You may notice that each opposing quadrant has its own function, reflected in the letters. N and E are lighter, pinker shades with orange tones and may be used as highlight and a light blush. U and D are deeper shades and may be used as a bronzer.
Diorskin Nude Tan Healthy Glow Enhancing Powder – 001 Aurora clockwise from top left quadrant swatched N-U-E-D
The powder is quite sheer so these swatches took some doing. I did notice however, that when swatched with fingers vs using a brush, the colour fails to show up much. With a brush, it does show up better on skin. You can also see the pink tones alternating with the brown powders and really, Aurora isn't a very light palette at all!
I do have to mention that many reviews talk about how shimmery the powder is. There is shimmer, but it is very fine. Personally, I didn't see any shimmer on my skin. Or even if I did, it wasn't overwhelming. I honestly do not know how much powder others are using, but I only use a very light hand and any shimmer only serves to reflect light and doesn't bother me at all to the extent I would not have mentioned it but for having read other peoples' complaints.
In what is quite a nice touch, Dior has included a mini kabuki brush with the powder. I think it very thoughtful because not everyone may have a bronzer brush or a dense brush with which this powder does seem to work better.
The brush is quite adorable, and the natural hair bristles aren't overly harsh on the skin. Its quite small as you can see here, but is just nice for getting to the powders. Each item comes packaged in their own velvet sleeve, yes even the brush!
The big question of course, is how to use this powder. I'm a bronzer dodo and I found that there were a few ways:-
Brush over all colours in a circular motion and apply all over – this picks up and mixes the browns with the pinks and adds a healthy sort of glow to the skin. However, if you have a light skin tone, I don't think this a good way to use it, because your face will look darker than the rest of you. If you have medium to dark skintone, then this will work beautifully
Brush the colours diagonally to pick up either bronzer or highlight for contouring – I prefer this method. I swipe the brush across the U-D to pick up the brown shades, apply under my cheekbones and around my hairline, then brush across N-E to pick up the pink tones to add pink highlight.
Brush down each half of the powder and apply to cheeks as a blush – I tried this method too. I swipe down either N-D or U-E which mixes up the pink-brown powders and turns it into a light brown toned blush with pink highlight.
I use the 2nd and 3rd method because I find that the powder can go on a bit dark on me so I have to be very careful. I do realise that it can be used for contouring, but I'm terrible at it, so I use it mostly as a blush, and as an attempt to contour. (If you want a tutorial on contouring, please see Messy Wands for a good one!) When I do get it right, I go "Ooh! Cheekbones!" when I get it wrong, I go "Ooh! I fell into cocoa powder!" 😛
I personally find that although Aurora is the lightest shade available in the Diorskin Nude Tan powders, it is still quite dark. The pink in there serves to tone down the brown and orange tones so it is useful to blend the colours before applying.
In a nutshell

The Diorskin Nude Tan Healthy Skin Enhancing powder is a limited edition bronzer in the Dior Summer 2012 Croisette collection. The bronzer powder comes in a lovely metal compact and has brown, pink and light orange tones. The division into quadrants makes it useful for a n00b like me because I can then pick up more or less of each colour as I need it. I find that although Aurora is the lightest shade, its still quite dark so a light hand is essential. It would look lovely on medium to dark skintones as an all over powder-highlight but on those with light skintones, its best used as a blush-contour powder. There are complaints about this powder being shimmery. However I didn't think so. I use this mostly as a blush and an attempt to contour my cheeks to show off hidden cheekbones. If you already have a bronzer, perhaps you don't need this one. If you don't but want one, its worth considering primarily because of the split in shades that allow you to mix and match and not just wear one uniform brown shade. I don't think this a must have, but its a nice-to-have 🙂

Pros: Powder is finely milled and is easy to pick up, Included mini kabuki brush is very useful to use with this powder, The division of the colours makes it easy to customize a shade suitable to your skintone, Fine shimmer highlights skin in a subtle manner, Useful for bronzer n00bs because its not easy to over do

Cons: The shade is still a bit dark for those who are very very fair, The shades tend to have orange tones

Who will like this: Those who want a bronzer that comes in different shades for different skintones, Those who have never used a bronzer before and are afraid of the one shade bronzers that may apply too dark
In the process of experimenting, I then learnt that bronzer topped with blush is very pretty!
That splotch on the far left is actually not bronzer but shadow. Under my chipmunk cheeks, I apparently have potential for cheekbones 😛 I used the 2nd method here – bronzer under cheekbones and along hairline, pinkish powder on cheekbones. However, when topped with a light pink blush, I think the effect is much better both in the photo and in person. The first left me looking a little contoured but not too lively. The addition of a pink blush lifts the cheek bones and made me look livelier.
I personally find that using a bronzer has quite a steep learning curve if you aren't too familiar with it or what its for, but having played around a bit with both the Guerlain Terra Inca bronzer and this one, I'm learning that I don't have to be afraid of bronzer turning me orange or brown (provided I pick a colour that is light enough) or too tanned and that when paired with blush, I actually manage to look much livelier than if I were to just wear a light pink blush (especially if I go light on eyes and lips).
Are you any good with using bronzer? Do you have a tip to share that might help me understand this better? 😛 Does the Diorskin Nude Tan powder catch your eye or is it one you are more likely to pass on in favour of a blush? I'm actually leaning to the latter – I'm still a blush girl at heart! 😀
Paris B
Diorskin Nude Healthy Glow Enhancing Powder comes in 4 shades Price: RM173 Availability: Dior counters Limited Edition: Yes Summer 2012