My jar of the Sunday Riley CEO Vitamin C Rich Hydration Cream came as part of a set I purchased last Christmas. I like buying pricey brands during the holiday season, because you do tend to get better value, or get to try a product you may otherwise not have the opportunity to.
I had tried the CEO Vitamin C serum and face oil in the past, so it was about time I rounded up the trinity and tried the cream as well 🙂
Sunday Riley CEO Vitamin C Rich Hydration Cream
As the name implies, the Sunday Riley CEO Vitamin C cream is infused with oil-soluble derivative of Vitamin C, known as THD ascorbate (read what THD Ascorbate does here) which acts to protect skin with antioxidant properties, increases collagen production and brighten the skin.
It also says that it contains Exopolysaccharides which shields and protects skin against dryness.
Essentially then, this is a cream that sounded like like something I'd really enjoy because I am a big fan of anything with Vitamin C in it, and also something that is hydrating and rich.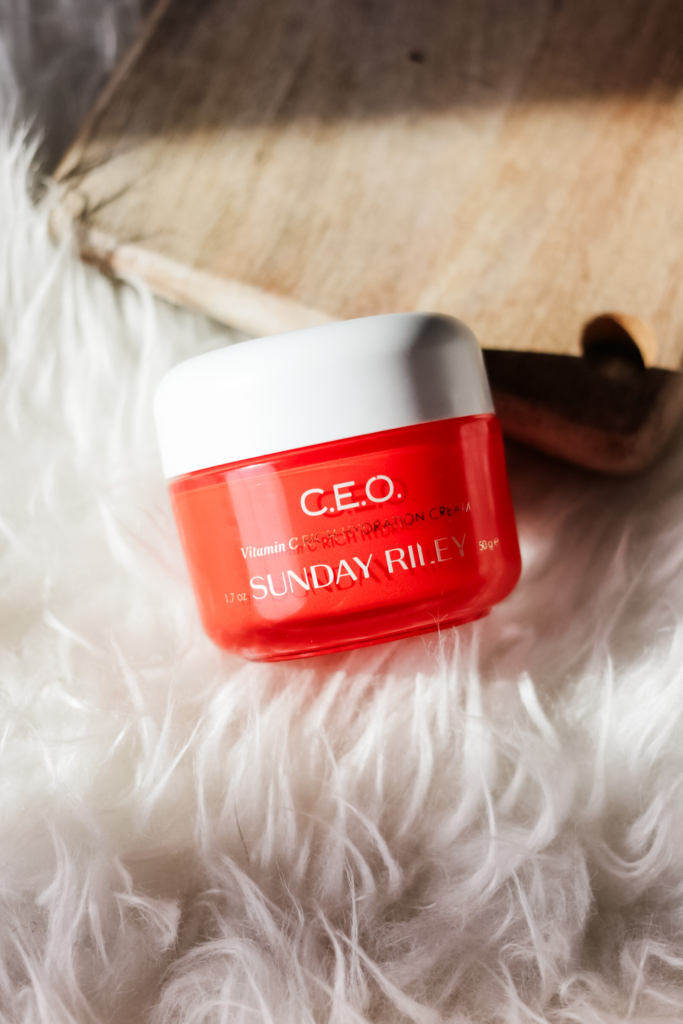 Texture of the cream is light and leaves no residue on skin
I found the texture of the cream relatively light, despite the name of it that said "rich hydration". It isn't thick nor buttery, but spreads easily on skin without feeling greasy or uncomfortable.
It must be said however, that I have a very high tolerance for greasy creams, so maybe my version of 'lightweight' may differ from yours. But I can assure you that it isn't thick and oily, if that repulses you. But if you have dry skin as I do, then you will appreciate this light-but-hydrating texture.
I also like how it sinks right into the skin, and for me, works for both day and night use.
In the day, it keeps my skin hydrated and very comfortable. It isn't greasy nor heavy, and my skin feels well moisturised.
Can be used day and night
I usually use Vitamin C products in the day, as it acts as an antioxidant, so this was my day cream for a while. I apply it using the 13-dot technique (which I've been using for ages, because it just works!) and I don't find it to be uncomfortable even under light makeup that I occasionally wear.
RELATED READING: What is the 13-dot technique? Only the best way to ensure you're using the right amount of moisturiser each time! READ MORE
I have also used it at night and for my dry skin, I personally find it a little light for night use. That said however, my skin doesn't look any worse for wear, and I do use other serums or facial oils in the evening anyway, so it does a good enough job as a moisturiser for me.
If you have combination skin or just borderline dry skin, you may find the Sunday Riley CEO Vitamin C cream a little heavy for your skin. If so, using it at night would be the best bet.
For those with dry skin or living in a drier climate, then it might be a good daily use cream.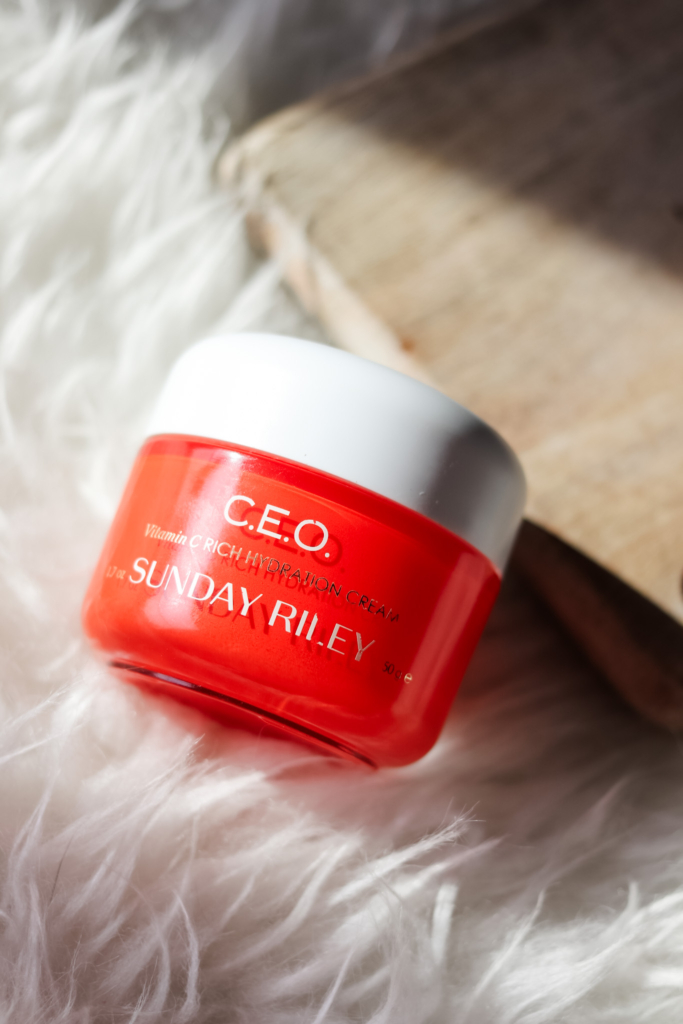 Did it brighten my skin the way most products with Vitamin C do?
It's probably no secret that I love products with Vitamin C because it keeps my skin tone even (or as even as it gets) and it makes my skin healthier overall. I know there are other options these days, but I still stick to Vitamin C as an all-rounder product for my use.
Sunday Riley declares that the cream has 5% Vitamin C, which is a reasonable percentage in a cream. Some serums only have as much in them!
However, I have to say that used on its own, without a complementary Vitamin C serum (I have run out! Horrors!) I don't notice any significant change in my skin. It is moisturised and healthy, which is what I want it to be, and which is about as much as I expect it to be.
I would expect that if you were to pair it with the Sunday Riley CEO Vitamin C serum, or any other Vitamin C serum, it might give a more noticeable skin-brightening result, but I wouldn't depend on just a cream to give the result you're looking for.
As a moisturiser, I enjoyed using it, and in fact, I'm already scraping the bottom of the barrel of this pot. If the opportunity presents itself, I will definitely repurchase this. I like the texture, how emollient it is, and how it sinks into my skin without just sitting on top as some do. Perhaps I'll see if there's a Christmas set available this year that I could get my hands on! 😀
IN A NUTSHELL

The Sunday Riley CEO Vitamin C Rich Hydration Cream is a moisturiser that contains Vitamin C that works to even out skin tone and brighten skin, and hydrates skin. I like the texture that is light yet thoroughly hydrates and moisturises my skin very well. I have dry skin and this Rich Hydration Cream works for me for day and night use. My skin is comfortable, moisturised and I like that the Vitamin C has antioxidant properties to protect my skin when used in the day. It is pricey, so get it when they have value sets, which usually happens towards the end of the year, or when there are sales/deals. Incidentally, a full sized jar lasts quite a while despite my generous use so I'd say it's actually pretty decent value.

PROS:
Richly hydrating for even dry skin
Sinks into skin comfortably without any greasy residue
Skin is well moisturised and hydrated
Great for day use (not oily) or night
Vitamin C protects skin and can help even skin tone even if not using a complementary serum

CONS:
A little pricey

WHO WILL LIKE THIS: Anyone with combination-dry or dry skin who wants a good quality moisturiser that has Vitamin C and can be used day and night

PRICE: RM320 | US$65 | £60 for 50ml

WHERE TO BUY: Sephora, Cult Beauty, SpaceNK
For those interested, this is the full ingredients list for the Sunday Riley CEO Rich Hydration Cream.
Water, Squalane, Tetrahexyldecyl Ascorbate (Vitamin C), Dicaprylyl Carbonate, C10-18 Triglycerides, PEG-8 Beeswax, Hydrogenated Vegetable Oil, Tapioca Starch, PPG-12 SMDI Copolymer, Polyglyceryl-6 Distearate, Jojoba Esters, Cetyl Alcohol, Sodium Acrylates Copolymer, Polyglyceryl-3 Beeswax, Lecithin, Glycerin, Microcitrus Australasica Fruit (Lime Pearl) Extract, Butylene Glycol, Alteromonas Ferment Extract (Exopolysaccharides), Phenoxyethanol, Terminalia Ferdinandiana Fruit (Kakadu Plum) Extract, Bisabolol, Chlorphenesin, Caprylyl Glycol, Polymethylsilsesquioxane, Nylon-12, Citrus Reticulata (Tangerine) Peel Oil, Citric Acid, Sodium Phytate, Tocopherol, Sodium Hyaluronate, Fragrance, Rosa Centifolia Flower Wax, Rosa Damascena Flower Wax, Alcohol Denat (found in botanical extracts), Caprylic/Capric Triglyceride, Curcuma Longa (Turmeric) Root Extract, Citrus Junos Fruit (Yuzu) Extract, Lippia Citriodora Flower (Lemon Verbena) Extract, Euterpe Oleracea (Acai) Fruit, Butyrospermum Parkii (Shea) Butter Extract, Rosa Canina Fruit (Rosehips)Extract, Oenothera Biennis (Evening Primrose) Seed Extract, Camellia Sinensis Leaf (Oolong Tea).
Have you tried this Sunday Riley CEO Rich Hydration Cream?
For those with oilier skin, there is now a lighter gel-cream version of this same cream. I will not be testing it as it does not suit my skin type, but if you have, or have tried both, feel free to share your thoughts on them in the comments! 🙂
Paris B