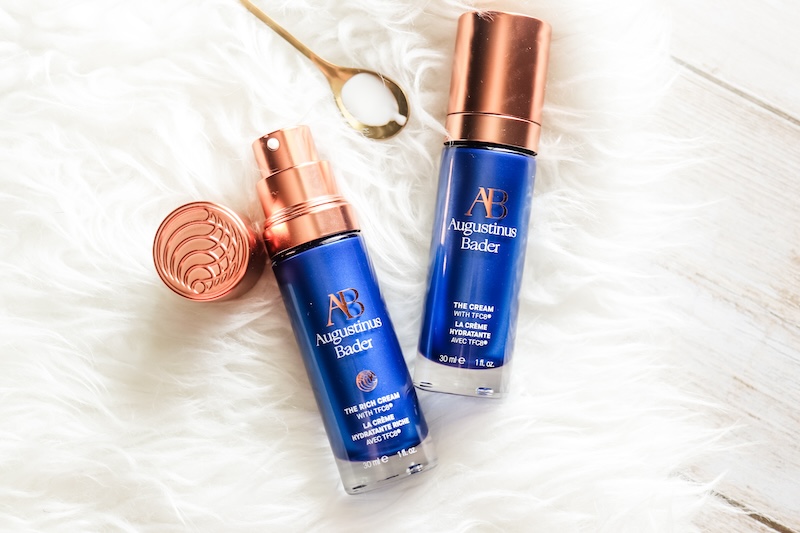 When I was offered the chance to try Augustinus Bader's The Cream and The Rich Cream, I did not hesitate to say yes. This has been a brand that's been on my radar for a while, but which I had not taken the step to try, primarily because of its cost.
Yes, it's expensive and yes, it's a luxury product. But I'd read so many raving reviews for The Cream, I had to know how it fares – as I'm sure you do too! 😉
Augustinus Bader Skincare
Augustinus Bader is a professor who is a globally recognized biomedical scientist and physician and one of the foremost experts in the field of stem cell biology and regenerative medicine. Professor Bader is currently the director of Cell Techniques and Applied Stem Cell Biology at The University of Leipzig, in Leipzig, Germany.
His field of research is in that of researching technologies that harness the body's ability to heal, and he had in 2008 developed a Wound Gel that heals skin trauma without the need for surgery or skin graft. It is this that inspired this eponymous line of skincare.
The core ingredient in the Augustinus Bader line of skincare is a patented ingredient known as TFC8. TFC8 (Trigger Factor Complex) is composed of natural amino acids, high-grade vitamins and synthesized molecules naturally found in skin. What it does is to support and nourish the skin and support the skin's potential for renewal. It 'trains' the skin, promoting skin that is stronger, healthier and firmer in the long run, and promises results in 28 days.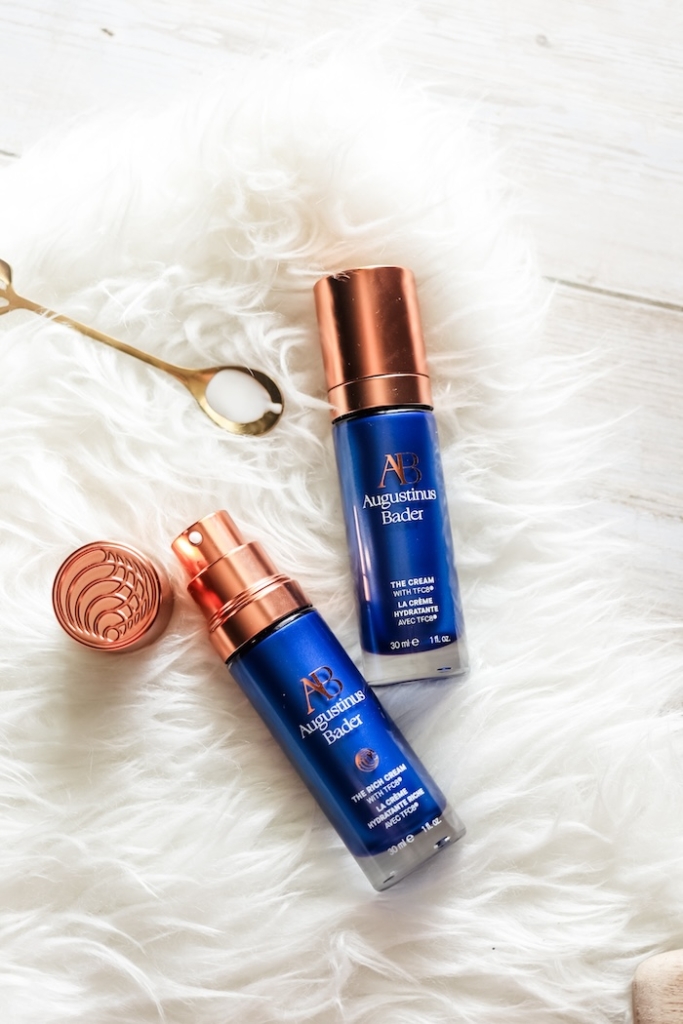 Augustinus Bader The Cream and The Rich Cream
If I recall correctly, The Cream was the first product by Augustinus Bader that came on my radar. The luxurious deep blue bottle with its rose-gold accents was unmistakeable, and it was highly raved about.
The key ingredient is TFC8, which helps the skin regenerate, renew and restore itself. This technology guides ingredients to the skin to support cellular renewal, and to turn base creams to an adaptive formula to address concerns like wrinkles, fine lines, hyperpigmentation etc. It also trains the skin to strengthen over time.
I'll be honest, a lot of this is beyond my understanding LOL! 😛 It all does sound terribly scientific and amazing, but what we're really concerned about is how it performs, right?
Some of the other ingredients (that I understand better) are Vitamin A (retinyl palmitate) for regeneration, Vitamin C (ascorbic acid) for a brightening antioxidant boost, Vitamin B5 for locking in moisture, Hydrolyzed Rice Protein and Aloe Vera to soothe and hydrate, and Shea Butter for intense conditioning.
With all these, The Cream and The Rich Cream are intended to reduce the signs of aging, improve collagen and skin elasticity, hydrate condition and calm the skin and reduce redness.
The difference between two creams is primarily that of texture. The Cream has a lighter texture that the brand says is more suited for a normal-oily skin type, while The Rich Cream has a more luxurious formulation with additional oils to condition and moisturise dry skin.
I have dry skin, so The Rich Cream would be a natural choice. But as I found out, The Cream works just as well for dry skin. I'd personally peg this range of products for more matured skin. But if you are young, footloose and fancy free with a generous skincare budget, then The Cream is a good one to splurge on.
The Cream – lightweight but packs a punch!
The texture of Augustinus Bader The Cream is rather unassuming. It is a lightweight cream that pumps out rather liquid, like a lotion. It absorbs into the skin very quickly, and really does feel quite luxurious going on.
While I have dry skin, I tested The Cream for use both day and night, and found that it served my skin well. It does not feel like very much going on, and in fact, is very unassuming.
I used about 2 pumps and the 13-dot technique to ensure that I covered my whole face with it for maximum benefit. I did find that the pump dispenses just a little dot of product, which was rather at odds with the amount of cream I usually use daily. Still, it was sufficient as it spreads quite easily.
I liked that it felt like nothing on the skin, and does not leave any residue (I'm fine with it even if it did). When I use it at night, it does feel a little lighter than I'm used to, but much to my surprise, it actually works very well.
My skin always feels well moisturised and hydrated, and while this is purely anecdotal (as there is no home test available) my skin actually felt smoother and more plumped within just a day or two of using it!
Due to the price tag (which is pretty hefty!) I cannot in all good conscience tell you to run out and get a bottle of this cream to try it for yourself. But if you have the budget for it, or if you are using creams in the La Mer, Chanel, Dior, or any other luxury brand price range, consider the Augustinus Bader The Cream – I personally think it is a very nice all-rounder cream that does more than just moisturise and seal in your serums.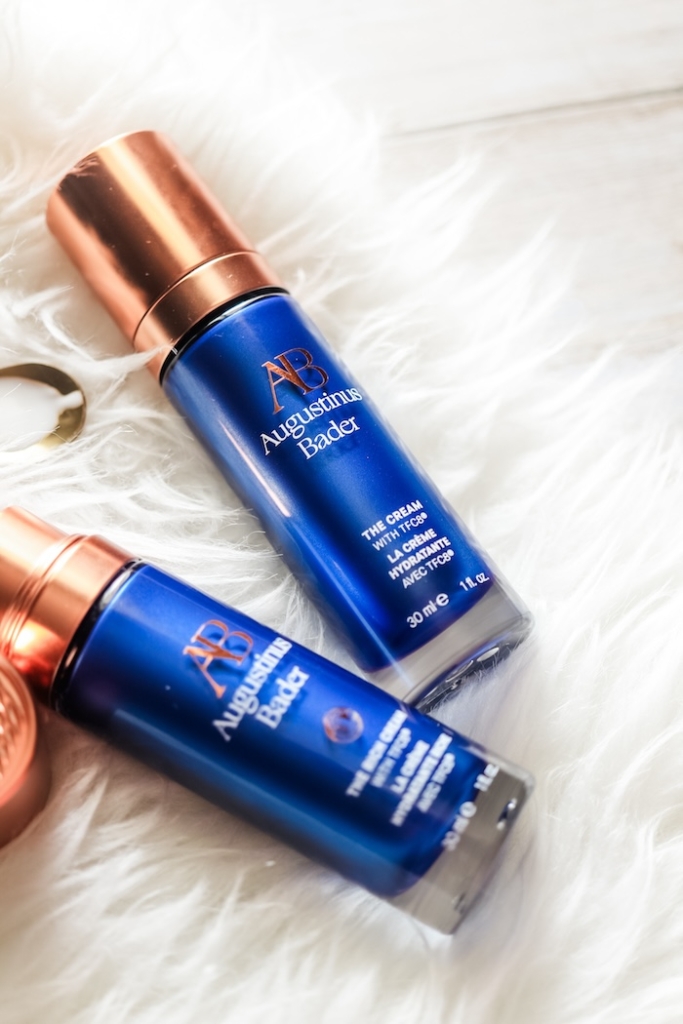 The Rich Cream – it's RICH!
Now for The Rich Cream. Well, it's rich. What can I say?! HAHA! 😀
But seriously, the texture is noticeably thicker although they still put it in a pump bottle instead of a tub, and it still pumps out nicely. It feels more emollient, and has a creamier feel when you spread it over the skin.
The Rich Cream contains argan oil, avocado oil and evening primrose oil to provide deeply penetrating moisture to the skin. It does not feel much oilier to me, but it is most certainly thicker, and goes on with a bit more oily feel. I personally like textures like this for my skin, but it is certainly heavier for someone who has oily skin.
Augustinus Bader says that The Rich Cream is best suited for someone with dry skin, or for night time use. In our tropical weather, I've found that it is best suited for night use if you use air-conditioning through the night. Otherwise, I have found that The Cream works just as well for both day and night use.
Did it transform my skin in 28 days?
I was told to try it for 28 days and see how it transformed my skin. I was curious too if it might.
To be honest, it's hard to say without having a proper before/after test done on the skin. Also, during this time I was also using serums and other products alongside, not just a cleanser and a moisturiser. So, I cannot say with 100% certainty if this cream has been transformative.
However, what I can say (albeit anecdotal) is that my skin did feel and look better within a week. It felt more plumped, more hydrated and even looked better. It is hard to explain, but I am used to monitoring my skin, so I notice very slight changes.
It isn't terribly obvious visually, but under the skin of my fingers, I felt the difference in my skin. Over the following weeks, it got better, more plumped, clearer, brighter.
And then, things went south because I ate stuff I shouldn't and broke out LOL! So, there went a few weeks of good skin. Now, I'm back to using the remainder of the creams, and hoping they don't finish before I get my skin back to its lovely plumped, glowing countenance.
IN A NUTSHELL

Augustinus Bader The Cream and The Rich Cream are high-end moisturisers that have a proprietary ingredient called TFC8 to help skin renew, restore and regenerate itself. This TFC8 ingredient forms the bedrock of the Augustinus Bader skincare line. Alongside this TFC8 are more recognizable ingredients like Vitamin A, C and B5 which renew, brighten and plump up skin. This is what The Cream does in my experience. After a little more than a month using them both day and night, I found that my skin was noticeably softer and more plumped with a gentle glow to it. Considering that I noticed this, despite already being happy with my previous moisturiser speaks volumes. What differs The Cream from The Rich Cream is the texture and the skin type for whom it is formulated for. While I have dry skin and would be recommended The Rich Cream, I found that The Cream worked well enough for me for use both day and night. The Rich Cream was actually a tad rich – and I'm not usually one to complain!

PROS:
Luxurious packaging
No scent
Lightweight texture (for The Cream) sinks into the skin quickly
Rich texture (for The Rich Cream) but very nourishing to the skin
Skin feels softer, more hydrated and moisturised within days
Over a month, skin looks brighter and feels healthier and smoother

CONS:
Very costly
The pump pumps out a little less product that I like

WHO WILL LIKE THIS: Anyone who uses luxury creams and want something that is actually effective

PRICE: RM1,300 | US$290 | £225 for 50ml

WHERE TO BUY: Ken's Apothecary stores and online, Sephora, SpaceNK, Cult Beauty
Here is the ingredients list for the Augustinus Bader The Cream and The Rich Cream
The Cream: Aqua (Water), Caprylic/Capric Triglyceride, Pentylene Glycol, Propylene Glycol, Hydrogenated Phosphatidylcholine, Glycerin, Sorbitol, Butyrospermum Parkii (Shea) Butter, Tocopheryl Acetate, Butylene Glycol, Xanthan Gum, Panthenol, Sodium Carbomer, Aloe Barbadensis Leaf Juice, Retinyl Palmitate, Hydrolyzed Rice Protein, Squalane, Helianthus Annuus (Sunflower) Seed Oil, Phenoxyethanol, Ascorbyl Palmitate, Lecithin, Alcohol, Carbomer, Ceramide NP, TFC-8, Sodium Benzoate, Glycine Soja (Soybean) Protein, Superoxide Dismutase, Citric Acid, Sodium Hydroxide, Dextran, Palmitoyl Tripeptide-8, Ascorbic Acid, Ethylhexylglycerin, Tocopherol, Potassium Sorbate, Sodium Dextran Sulfate
The Rich Cream: Aqua (Water), Coco-Caprylate/Caprate, Helianthus Annuus (Sunflower) Seed Oil, Squalane, Glycerin, Argania Spinosa Kernel Oil, Ethyl Oleate, Persea Gratissima (Avocado) Oil, Polyglyceryl-4 Oleate, Magnesium Sulfate, Oenothera Biennis (Evening Primrose) Oil, Panthenol, Polyglyceryl-6 Oleate, Zinc Pca, Polyhydroxystearic Acid, Butylene Glycol, Butyrospermum Parkii (Shea) Butter, Potassium Sorbate, Sodium Benzoate, Tocopherol, Sodium Hyaluronate, Hydrolyzed Rice Protein, Maltodextrin, Citric Acid, Camellia Sinensis Leaf Extract, Hydrogenated Lecithin, Tocopheryl Acetate, Xanthan Gum, Alanyl Glutamine, Arginine, Oligopeptide-177, Phenylalanine, Sisymbrium Irio Seed Oil, Sodium Chloride, Dextran, Palmitoyl Tripeptide-8.
Have you tried either of the Augustinus Bader cream moisturisers?
I wasn't sure what to expect, but I have to say that if money was no object, I would be definitely keen to get a replacement bottle for when mine run out. It's luxurious, but effective, which is more than can be said for some other brands.
Paris B
Disclosure: Featured service was a media trial by the brand for consideration. Our commitment is to honesty and fairness. For review guidelines please read the disclaimer.