Sometimes, I try things on a whim, and am pleasantly surprised when I like them.
Sometimes, like with the Dr. Hauschka Night Serum, I don't even know why LOL! 😀
Dr. Hauschka Night Serum
Dr. Hauschka is a brand of natural botanical skincare from Germany. I'd used some of their products off and on over the years (mostly bought overseas or at their counter in Singapore – at the time) and while I'd not been blown away by most of them, they have worked well enough for my skin. I recently found out that they are available in Malaysia, and I believe they have a couple of stores around. I seem to recall seeing the store at The Starling mall. I haven't been into one myself, as I'd bought my stuff mostly online over the years.
The Dr. Hauschka Night Serum is an oil-free serum that is intended to revitalise skin at night, and to help skin recover its natural balance (their words, not mine). They promise a lightweight serum, that supports your skin's natural processes through the night, so you wake up with refreshed and radiant complexion the next morning.
You see, the thing is that there isn't very much to go on.
Other than the fact that the serum is oil-free, there is little to no information about what it does, what it's for, and who it would benefit best.
I quickly scanned the ingredients list, but nothing in it stands out as an active ingredient, or anything ground-breaking. I've been so used to using products with active ingredients in them, that I was a little taken aback LOL. This looks so simple, I wasn't sure what it was going to do.
But I was surprised.
Lightweight oil-free serum texture
The texture is very lightweight, and it literally sinks right into your skin leaving absolutely no residue on the skin whatsoever! I mean, I know people say this all the time, but this time, when you apply it, it just disappears!
In that sense, I wouldn't say that it's hydrating, because it isn't. It leaves the skin feeling like you didn't apply anything on it, so I tend to compensate with more moisturiser.
The serum is dispensed from a nozzle, that is quite precise, but has a tendency to succumb to pressure, so when you unscrew the cap, it can leak out if you're not careful. Ditto when you squeeze the tube. You just have to work quickly to recap once you're done.
Skin feels and looks rested next morning
Here's the clincher though.
I applied the Dr. Hauschka Night Serum not knowing what to expect. But what I noticed the next morning, was that my skin feels and looks rested. It somehow even feels smoother, and this was just on my first use!
I have been using it in between my retinol days, and it works well for me. I've been using this a few weeks, and my skin always feels smooth, rested and moisturised.
I'm not sure what it is about the Night Serum, but my day skincare just glides on over. I have to admit that I didn't know what to expect, so this was a very pleasant surprise.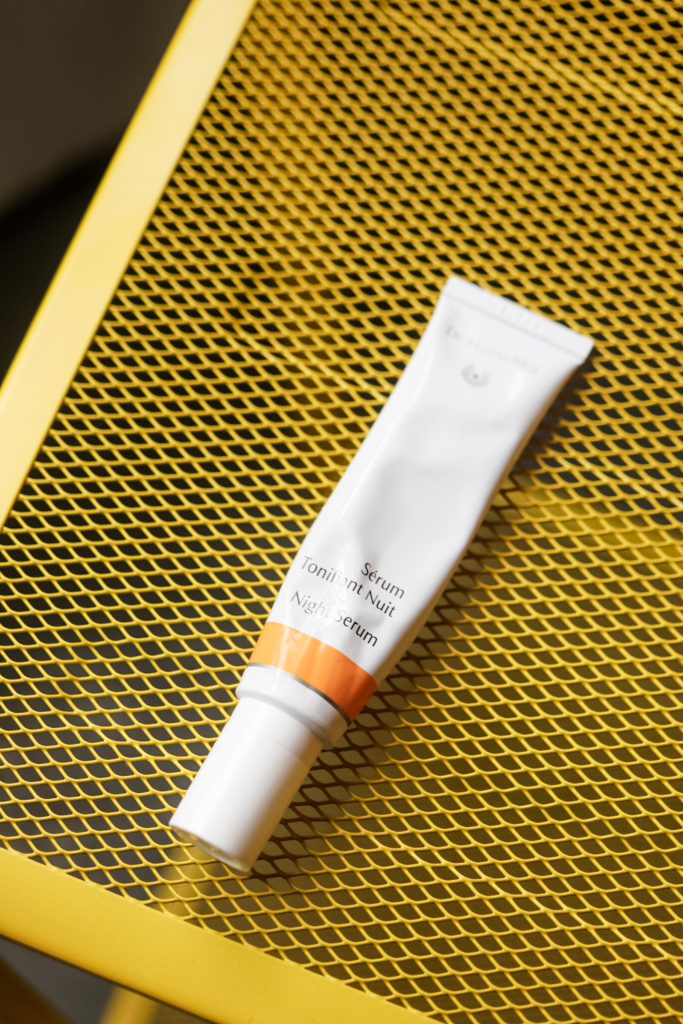 If you ask me therefore, what is it about the Dr. Hauschka Night Serum that I like, I can't put my finger on it. It just feels nice, and makes my skin look nice, and that should really be enough.
Except, it isn't quite.
You see, the Dr. Hauschka Night Serum is rather pricey, and when you enter the RM200+ price point, you want to be able to say why you like the product, and what is it about its ingredients that work for you.
It's funny how I just can't seem to put in words what it is about the Night Serum that makes it work for me. It just does 😀
IN A NUTSHELL

The Dr. Hauschka Night Serum is a very lightweight, oil-free serum that glides on and sinks immediately into the skin without leaving any residue on the skin. I can't say what it is about the ingredients that work, but it leaves my skin feeling and looking smooth and rested the next morning. It actually goes to work almost immediately. I'd like to be able to tell you what it is about the Night Serum that works, but I can't seem to put my finger on it. It just does.

PROS:
Skin feels and looks smooth and rested almost immediately
Oil-free texture
Absorbs quickly into the skin

CONS:
Pricey
Not sure what it is about it that works except it does

WHO WILL LIKE THIS: Anyone who likes oil-free skincare and want an all-rounder night serum

PRICE: RM224 | US$48 for 20ml

WHERE TO BUY: Dr. Hauschka Malaysia, Dr. Hauschka USA
Here's the ingredient list for the Dr. Hauschka Night Serum
Water (Aqua), Alcohol, Glycerin, Pyrus Malus (Apple) Fruit Water, Chondrus Crispus Extract, Hamamelis Virginiana (Witch Hazel) Bark/Leaf Extract, Hectorite, Pyrus Malus (Apple) Flower Extract, Fragrance (Parfum)*, Citronellol*, Limonene*, Linalool*, Geraniol*, Citral*, Sodium Chloride, Xanthan Gum. *from natural essential oils
Have you tried the Dr. Hauschka Night Serum or any of their products?
I'd used the Rose Day Cream in the past, and I remember that I enjoyed it. The texture was very nice, and I believe that their skincare are mostly oil-free so they do tend to absorb quickly and easily into the skin without leaving a residue. It's been many years, but I might be keen to revisit the brand, if only for the basics. I just can't deal with the price haha!
Paris B