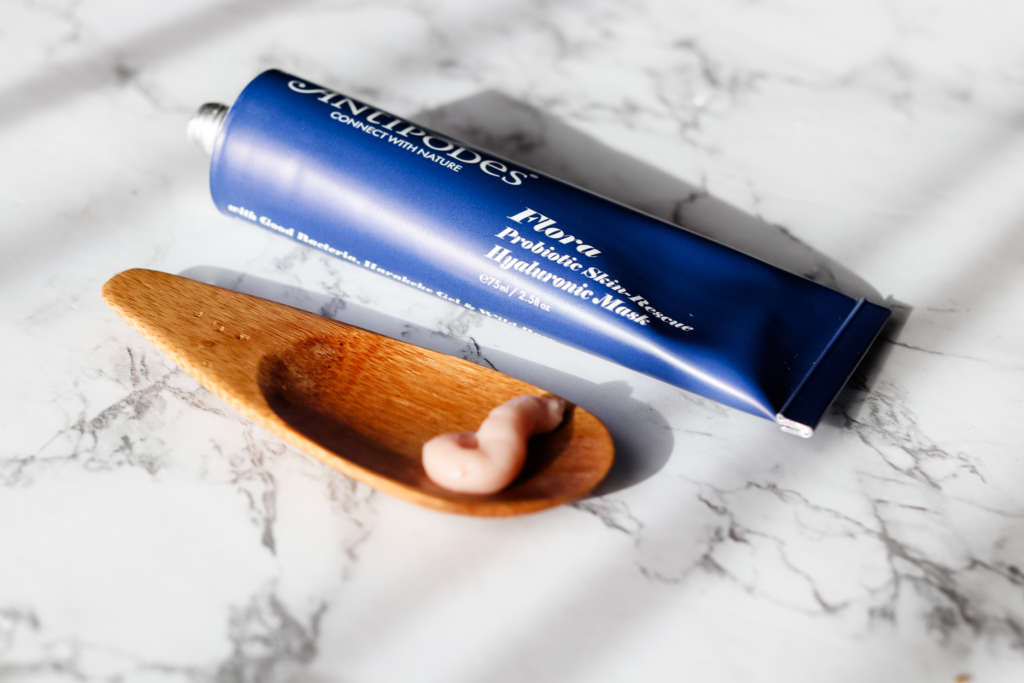 I've been having a very busy few weeks, as I'm in the midst of moving and setting up a small production facility for my little business, and I'd be lying if my skin care routine is not suffering from neglect.
But realising this, I had planned ahead – us skincare enthusiasts never give up on our skin care, we just modify our routines to suit our lifestyle! 😀
Realising that I'd be under stress, have less time to myself, and be exposed to the environment more than before, I upped my hydration for the day and for the night. When my body undergoes stress, my skin tends to dry out so I knew I had to maintain my hydration and moisture so it remains balanced. I'd treat any other concerns later!
What I've been doing more of is masking and that's where the Antipodes Flora Probiotic Skin-Rescue Hyaluronic Mask comes in handy. What a mouthful it is! So I'll call it the Antipodes Flora Probiotic mask.
Antipodes Flora Probiotic Mask
Riding on the probiotic-in-skincare trend that was quite popular a while ago, Antipodes has a range that contains probiotics. I'd tried one of them before – the Antipodes Probiotic Night Recovery Water Cream. The idea behind the Antipodes Probiotic range is to promote healthier, calm and clear skin.
The Antipodes Flora Probiotic Mask is intended to target skin that is stressed and blemished and sensitive types. It is intended to calm, soothe and hydrate – everything stressed, blemished and sensitive skin needs.
Their key ingredients are Kalibiome probiotics that strengthens the skin barrier, hyaluronic acid for hydration and Harakeke flax that is a plant native to New Zealand, that is rich in omega, enhances hydration and is also naturally astringent, helping to cleanse skin and regulate oil, encouraging a blemish-free complexion.
What is does primarily is boost skin hydration, and that is something most of us need.
Lightweight creamy gel texture
The texture of the mask is that of a lightweight cream with an almost watery gel-feel going on the skin. The light pink colour is soothing to the eye, and the slightly gel-like texture is soothing to the skin.
Soothing on skin and boosts hydration
The first thing I noticed when I applied the Flora mask on my skin, was how soothing it was. I've had to be out in the sun a lot, and my skin has been feeling parched and isn't quite at its best.
I like to apply the Antipodes Flora Probiotic Mask in the afternoon after a shower, or just before bed, to calm my skin and boost hydration. My skin always feels soothed and cool after I use it, so it's very nice. If you want to feel even cooler, you can keep the tube in the fridge, and enjoy a cool mask in the middle of the hot afternoon.
There is a fresh scent with slight herbal notes that is quite pleasant. Nothing too strong nor too floral nor cloying. It dissipates quickly so I don't mind it one bit.
Not quite hydrating enough for dry skin
All that said however, if I were looking to nourish my skin, I wouldn't necessarily reach for the Antipodes Flora Mask, because I don't find it hydrating or nourishing enough for dry skin. It is nice, and it gives a nice boost of hydration right at that moment, but it isn't something that lasts for days.
Much like the Culture Night Cream, I feel like this one's better suited for someone with normal-combination skin types, or someone with younger skin that does not need much nourishing, just the occasional soothing and hydration boost. It's a nice little treat now and again, but for me, it isn't something I forsee myself using long term, unfortunately. I much prefer the Aura Manuka Honey Mask.
IN A NUTSHELL

The Antipodes Flora Probiotic Mask is a lightweight creamy gel-textured mask that you apply to skin and wash off. It is very soothing on the skin and is nice for a treat or for a quick hydration boost. It is quite easy to rinse off, and I have often left it on for quite long and find that it's mostly all absorbed into my skin! It does give skin a quick hydration boost, plumping up the skin nicely, so it could be a quick fix for when you want something that works quickly. I also find that it is very soothing on skin that is exposed to the sun (with sufficient sunscreen, so it's just warmed not burnt by the sun) so that's very comforting. All in all, a nice little quick fix, but not quite nourishing enough for me to use long-term for my dry skin. For someone with normal-combination skin, it might work better.

PROS:
Lightweight creamy texture is soothing on skin
Skin has a quick boost of hydration
Skin feels soothed and comforted
A nice hydrating mask for normal-combination skin types

CONS:
Not hydrating or nourishing enough for dry skin types

WHO WILL LIKE THIS: Anyone who wants a soothing creamy mask that gives skin a boost of hydration

PRICE: RM168 | US$38 | £28 | NZ$50 for 75ml

WHERE TO BUY: TNS Skinlab website or stores, Naturisimo (Get £10 off £40 using this link), Lookfantastic
Here is the ingredients list for the Antipodes Flora Probiotic Mask :
Aqua (water), glycerin, cetearyl olivate, sorbitan olivate, sodium acrylates copolymer & lecithin, dehydroacetic acid, benzyl alcohol, Simmondsia chinensis (jojoba) seed oil, bisabolol, glyceryl caprylate, sodium hyaluronate, Lactobacillus ferment, mannitol, sodium citrate, Aloe barbadensis (aloe vera) leaf extract, Phormium tenax (harakeke) flax extract, Cyathea medullaris (mamaku) black fern extract, mica, titanium dioxide, tin dioxide, manganese violet, Hibiscus sabdariffa (hibiscus) flower extract, Juniperus communis (Juniper) Berry Oil, Fragrances of Lavender & Rose: benzyl alcohol, citral, citronellol, coumarin, eugenol, farnesol, geraniol, limonene, linalool
Have you used this Antipodes Flora Mask before?
I'm a huge fan of Antipodes and I love that they've been releasing lots of new products lately. But I also acknowledge that not every new product will be suitable for my skin – that's what being an individual means – we're all unique! 😀 It still remains one of my favourite brands, however, and I am always open to trying their products because they're so well formulated and work so well for my skin.
Paris B