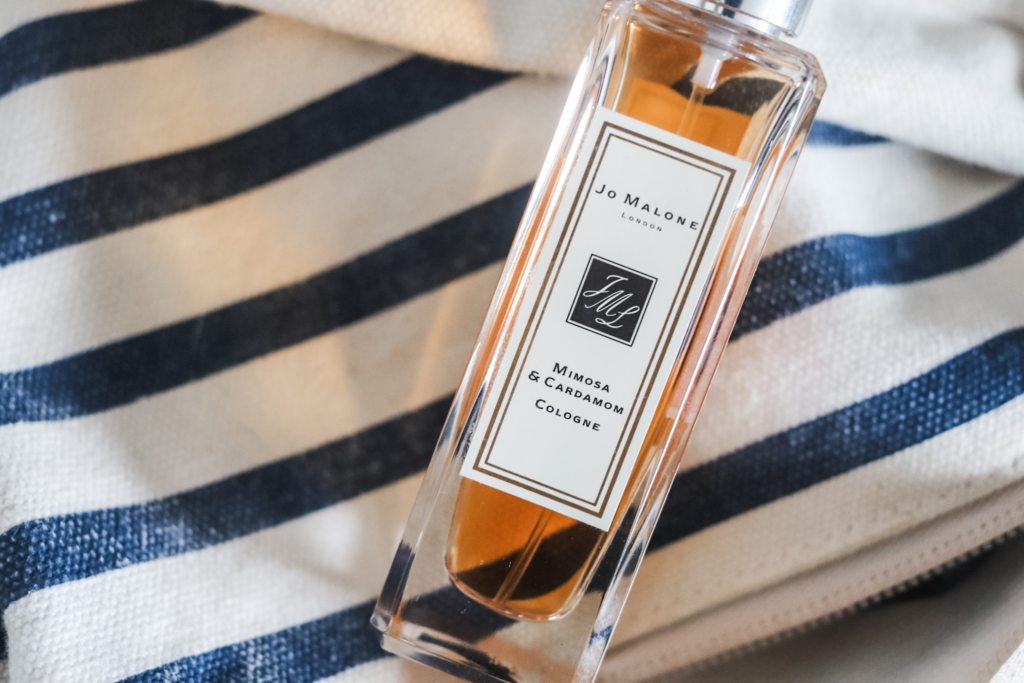 Unlike many people who discovered or rediscovered their love for fragrance during the pandemic lockdowns, I did not. Most of my fragrances sat around gathering dust (literally) and I had all but forgone wearing any fragrance for a long long time.
Recently however, I have been out and about a little more for social events, which means that a little spritz of fragrance is necessary, or risk raising social ire 😛
One scent I've taken to again recently is the Jo Malone Mimosa & Cardamom cologne.
My scent preferences change from time to time. At one time, I was all about light, citrus notes, and so the Jo Malone Lime Basil & Mandarin was worn on repeat. Lime Basil & Mandarin is a great warm weather scent, because it is light and the warm citrus notes are refreshing and uplifting to the nose.
Mimosa & Cardamom on the other hand, is a warm, spicy scent, that is quite sweet.
When I was first exposed to it back when it was first launched, I remember being rather taken aback at the scent. At the time, I was all about wearing heavy, woody, spicy scents, so Mimosa & Cardamom did not sit well with me. I found it too light and too sweet.
It might have been a reflection of my mood back then as well. I was more of a go-getter then, wanting to make my mark in my career, juggling many things at one go. I felt then, that I needed a strong scent to back me up, to assert myself.
Fast forward a 8 years later (this was launched in 2015), I'm no longer at the same stage of life I was at back then. This is something I've noticed about my scent-wearing habits. It ebbs and flows with the pace of my life at that point in time.
Life now is slower, and more casual. I don't sit for long hours in an office, nor do I have to deal with the idiosyncrasies of random people who are out to irritate me 😛 It isn't to say that I don't have stresses, because I do, but it's stress of a different kind, and I'm not in air-conditioned environments very much anymore.
To this end, I had noticed that my choice of scent has changed significantly. I no longer go for very strong, heavy, wood and spicy scents, that I used to go for. When I pick up a scent, it tends to be light and fresh.
I may have also unconsciously picked scents that are lighter, so as not to irritate the hyper-sensitive nose of my pup, who's always nosing around me when I get ready to go out. He always knows something is up when I put on nicer clothes, and then he sits around with a hopeful look on his face that he will go along too LOL! 😀
That said, I have realised that perfumes in general will irritate the pup's noses anyway, so I do make a conscious choice to now spritz on too much, or too near them.
Recently, on the few social outings I've been on, I found myself reaching for Mimosa & Cardamom. From a scent I used to just tolerate, I've found that I rather like it now. The spicy note reminds me of the warm spicy scents I used to use, which reminds me of the ambition I once had, but it isn't too heavy, which reminds me that I still have ambition, just less LOL!
There is a sweet note, which I think is that of the Tonka Bean, and it isn't a note that I usually go for. However, I have found that I tolerate it better now than I did before.
It might be because I find it a little more 'serious' to my nose, and because of this, I wear it to events where I feel a little more 'serious' in. I like that it isn't very complicated, and that it is fairly linear as a scent. It starts out warm and spicy, and dries down warm and slightly sweet.
I also like that it lasts longer than most Jo Malone colognes, so I can wear it for a few hours, and still smell it on me when I get home.
I like that it is at once strong, yet light, in that it isn't too heavy on the nose. I do think it is better suited for cooler temperatures, which is rather unfortunate, considering the heatwave we're currently experiencing. So I only wear it when I know that I will be indoors, in a cool, air-conditioned environment. Otherwise, it is potentially cloying.
On a personal note, I won't say that this is a scent I'd recommend for everyone. It is something you'd go for only if you have enjoyed using a spicy fragrance at any point in your life. If you prefer florals, then this isn't for you.
If you like gourmand scents e.g. food or dessert type scents, then Mimosa & Cardamom might still appeal to you, because of the sweet amber note at its base. But the initial spice that hits the nose may not be for everyone.
I know that these days, when it comes to fragrance, people seem to want to go for the unique, the niche, the complex scents. Me, I'm a simple person. If I like the scent, I like it, and if I don't, I don't. It isn't about how complex or expensive or niche the scent is, because ultimately, it just has to be a scent that you enjoy wearing, that smells good on you.
There's really no need to be different just for the sake of it LOL! 😀
So, pan me if you like, for still wearing a Jo Malone Cologne in 2023. I'll just say "Hey, I like it, so sod off!" 😀
Have you smelled Jo Malone Mimosa & Cardamom and is it a scent you enjoy?
My favourites remain Amber & Lavender and 154, with Lime Basil & Mandarin bringing up the rear. I never recommend buying a perfume from just reading about it. It will change once it hits your skin, and people react differently to scents, so have a sniff if you're passing by the store, and see if it's something you like.
Paris B