I previously shared with you some basic tips on what to look out for when buying preloved luxury designer bags, and I also told you that when I receive them, I don't send my bags to a bag spa for cleaning. Nope, I do it myself! 🙂
I don't buy terribly damaged preloved bags, nor do I use my bags in a rough manner. I don't baby them, but I don't abuse them either. For the most part, my bags are kept clean, and with a little extra care, you can take them a long way and they'll last you years and years!
I've also restored some preloved bags that arrived in a rather poor condition – dry leather, dirty and with marks on them, and with storage odours. I treat them all the same way, and I've found that it makes them as good as new; or if not, much better than when they arrived! 🙂
Here are some of the products you need, and how I use them. I'll try to demonstrate how it looks as I clean, with before-after photos with a new preloved acquisition 🙂
Wet Wipes – non alcohol baby wipes
Non-alcohol, non-fragranced baby wet wipes are great for spot and general cleaning. If you notice a mark on your bag, rubbing gently with wet wipes can usually get it out. If you happen to get a fresh dirt mark on it, or a stain, a wet wipe gets it out quite quickly too.
Or you can wipe it all over your bag as a general clean. It works on leather, pvc, canvas and coated canvas. In fact, it works on anything, and is easy to find and handle.
Once you have given it a wipe, let your bag air dry before storing.
Leather Cleaner – Turtle Wax Luxe Leather cleaner
The Turtle Wax Luxe Leather Cleaner is a recent discovery for me. You can find it online (try Shopee) but I bought it at Ace Hardware and it cost RM39.90 which is fine for me. You can look in major hardware shops for it.
When it comes to leather cleaner, I don't mind using a leather cleaner for sofas or car upholstery. They often come in larger bottles, and clean well, because people can be very particular about their cars, and car seats get dirty! 😛
The upside to picking a leather cleaner made for cars or leather goods in general, is that it's more affordable than using one marketed for bags. Those usually come in smaller quantities and at higher prices. In my experience, it's more or less the same thing.
The good thing about the Turtle Wax Luxe Leather Cleaner is that it can also be used on non-leather parts as well, like pvc or coated canvas, but not nubuck or suede. I love using it to clean the canvas on Louis Vuitton coated canvas. It gets dirt out, and it's OK even if it gets on the leather parts, because it's made for leather after all!
I don't advise spraying it directly on the bag, as it can get everywhere. So spritz some product on a clean microfibre cloth, and work it into your bag. I use it on vachetta leather too, and it helps to remove (or lighten) some marks and stains, and keep it clean. Do note that it may cause the vachetta leather to darken a little, but I love leather with a patina, so I'm fine with it.
Once it dries, it usually lightens back up. It's a great overall bag cleaner. I do recommend spot testing first before using it all over your bag. Just pick an inconspicuous area and wipe it over with the cleaner. If it doesn't leave a mark or stain, you're good to go.
Dish soap and warm water
If you have a stain to deal with, or an uncoated canvas bag with leather trim that you can't (or don't want to) toss into a tub of water, you can also use dish soap diluted in some warm water. Wet a piece of clean microfibre cloth in it, squeeze dry, and rub it over the body of the bag to clean.
You can also use this with coated canvas bags, or even leather bags. Just dampen a piece of soft cloth with the soapy mix, and work quickly before it absorbs.
As always, spot test before proceeding to clean the whole body of the bag. I'm quite brave (or reckless, depending on how you view it 😛 ) when working with my own bags, so I'm always experimenting 😛
Dunking the whole bag in soapy water
Feeling brave? If you have uncoated canvas bags or nylon bags (e.g. Longchamp le Pliage) that are a little dirty, or unlined leather bags (e.g. Coach legacy bags) and are feeling brave, you can clean it quite easily and quickly by dunking it in a tub of soapy water (a squirt of dish soap and water). It gets the dirt out from crevices, and gives it a deep clean.
For leather bags, remove it after rinsing, and stuff the body with towels to maintain its shape as it dries. For nylon bags with leather trim, I use a towel to dry as much of the trim as possible, and then lay flat over a drying rack with proper circulation above and below, to dry.
Do not dry in the sun, just in a cool, airy place. It may take a few days. Just be sure to keep changing out the towels and to reshape your leather bags while it's damp so it retains its shape.
Once it's fully dry, for leather bags or leather trim, you can condition with a leather conditioner to restore moisture and lustre. Done properly, you'd have a bag that's as good as new! 🙂
With my full nylon bags e.g. LeSportsac, or backpacks, I usually just throw them in the washing machine on a gentle cycle. Usually comes out looking brand new 🙂
Metal cleaner – Brasso or similar
Many preloved bags often arrive with tarnished or dull metal parts due to oxidization and exposure. With old designs, you may find that the metal grommets or buckles look dark and dull and dirty. You don't need to send it to a bag spa to get it all polished up and looking pretty!
All you need is a metal cleaner, some cotton buds and some cotton pads or clean microfibre cloth. Oh, and a little patience and elbow grease 😀
I wanted to get Brasso metal cleaner, but there wasn't stock when I was looking so I ended up with this tube of metal cleaner that was bought from a random hardware shop, meant for car care. It wasn't too expensive and you only need a tiny bit each time.
I recommend using cotton buds when working with metal cleaner, because you're usually cleaning very small areas and surfaces. You don't want to get the metal cleaner on your leather, just in case you stain or damage it.
Put a little product on the tip of your cotton bud and apply it to the metal bits like grommets, buckles, any hardware, zips. The key is to rub it in and wipe off. Repeat until your cotton bud doesn't lift off anymore oxidation. It will take a while. Work in small areas at a time, and it's much more satisfying seeing the metal come back to life.
For larger hardware like buckles or locks, I prefer to use a piece of microfibre cloth to get the work done more quickly. Apply a bit of product on it, spread it around, and apply to the hardware, rubbing as hard as you can. Really work it in, and you will see it start to shine. I cleaned up the lock of my 15 year old Speedy this way, and it looks beautifully shiny now!
Cleaning up and polishing the metal hardware of your bags will help them last longer, and look better. In the case of a preloved bag, it will make it look as good as new!
Leather conditioner – Collonil Leather Gel & Delicate Cream
Once my bags are dried after using a leather cleaner and after cleaning the metal, I work in a leather conditioner into all my leather bags, or bags with leather trim.
Just like our skin needs oil and moisture, leather does too. A good leather conditioner will keep the leather supple and prevent it from cracking, and keep it looking shiny and healthy.
I recently picked up the Collonil Leather Gel and Collonil Delicate Cream. Collonil is a brand that is targeted primarily at shoe care. To me, as long as it works for leather, it'll work for my bags. Besides, if it can condition and clean leather shoes, it can do the same for my bags!
I use the Collonil Delicate Cream especially on leather that is dry, for example an old vachetta leather bag strap. For very dry leather, I take a little product and work it into the leather with my hands, letting it absorb and dry. Sometimes, if the leather is very dry, you may need to do this a few times, before it becomes pliable and supple again. For maintenance, I'd put a little product on a piece of clean microfibre cloth and rub it into the leather to condition.
TIP: If the leather is dry, condition it first until it is moisturised and supple before cleaning. Cleaning dry leather can damage it further
I found that the Collonil Delicate Cream conditions leather well, but doesn't really do much to clean the leather, so you have to use a leather cleaner separately. The Collonil Leather Gel on the other hand can serve double duty as a cleaner and conditioner. It even adds a light waterproof layer over your leather.
I personally prefer using a separate product to clean and condition, but it's useful to know that the Collonil Leather Gel can serve double duty for a quick clean. I tested it on some dirt, and it got most of it off, but I had to work in the Turtle Wax Luxe Leather Cleaner to properly clean it. So, surface and light dirt are fine, but nothing too ingrained.
I have found that if the leather is very dry or has been neglected for a long time, working in a leather conditioner periodically helps to revive and restore the leather to make it more supple and to restore its lustre. It will take a few days of conditioning, but it will pay off. I love watching leather come back to life this way 🙂
If you like, you can wait till it's all absorbed and dry, and then buff your smooth leathers with a dry microfibre cloth. It will add a soft shine to your bags, and make them look all beautiful and new again!
And for me, that's about it when I'm working with leather bags 🙂
I recently purchased a preloved Louis Vuitton Cabas Mezzo bag. The base is vachetta leather, and it came with some marks and stains, which I was fully aware of. I got this for a steal, so I wasn't too fussed, as (a) I don't mind vachetta leather with a patina and marks, and (b) I reckoned I could clean the worst of it out 🙂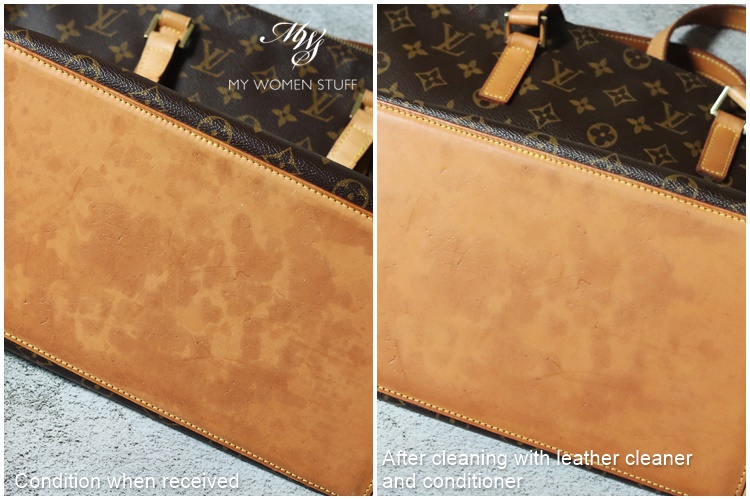 This is the before and after of the base.
The body of the bag and the straps were in very good condition, almost new in fact! Supple and clean, which was a nice surprise. I got this for more than half its asking price, so I'm really pleased about it 😀
I went over it first with a wet wipe to pick up any debris. Then, I worked in the Turtle Wax Luxe Leather Cleaner all over the canvas body and leather trim, working it all in with a piece of microfibre cloth. I use the leather cleaner to remove as much ingrained dirt as I can, and to try to even out the colour as much as possible especially on the vachetta base.
TIP: Use a white or non-dyed cloth to reduce the risk of colour transfer from your cloth to your bag
Once dry, I worked in the Collonil Leather Gel to condition the leather. I was generous and worked it in, letting it rest and absorb the product. Once dry, I give it a little buff with a piece of dry, clean microfibre cloth.
As you can see, the marks are still there, but noticeably lightened. The colour looks more even overall, and I'm happy with it. I expect that I will mark it myself once I use it, so I'm not fussed about it 🙂
My bag smells
Sometimes, when you purchase a preloved bag, you may receive one that smells from storage. Usually, this would be mentioned in the description, and I usually take note of it. Sometimes, it could be a bargaining point to get the price reduced further.
I have received one that smelled a little strong from storage. It was a little musty, and the smell lingered as the inside of the bag was lined with cotton canvas.
Here's how I dealt with it:
Clean out the inner lining – Sometimes, the smell may linger because of the lining of the bag. I've found that cleaning out the inner lining helps a lot. If you're brave, invert the lining, and rub in some fabric cleaner or soap and water, wipe to rinse and leave to dry. A spritz of fabric deodorizer can help too.
Air it out – I first clean it up nicely and thoroughly inside and out, and then hang it up in a cool, airy place to air out. For me, this is in my sheltered yard area. I just hang it there for a few days, and it's usually fine after a few days.
Charcoal pouches – You can get charcoal pouches online, that you can insert into your bag to absorb smells. It's usually quite effective. I've never tried it for bags, but have tried it for shoes, and it does get rid of any unpleasant odours.
I do draw the line at anything that smells of cigarette smoke, as experience tells me that the smell sticks very steadfastly to materials. I think it's to do with the burnt particles, and the only way you can get rid of it is by washing it. Perhaps, if you do a very thorough clean, you can remove most of the smells, but I don't usually take my chances.
My bag has mould
I shared some tips on how I dealt with a bag with mould, in the past.
RELATED READING: How I cleaned and conditioned a leather bag with mould READ HERE
Generally speaking however, I do tend to avoid purchasing a bag that has mould or had mould on it. I don't want to have to deal with any latent mould spores, and a risk of it returning, or affecting my other bags.
If you've experienced any mould on your bags, be sure to thoroughly clean the area where your bags are stored, and place silica gel or a dehumidifier in the area to reduce moisture and damp.
So this is how I clean and take care of my bags myself. I haven't yet taken my bags to a bag spa, as none of them warrant a treatment or repair so severe I can't handle it myself. It's also good practice to regularly air and clean your bags, because leather can dry out in our humid weather, and the oils and dirt from our hands and surroundings can affect them.
Do you clean your handbags yourself, or do you prefer sending to a bag spa?
If you haven't done so, here's your reminder to take stock of your bag and give it a good clean. It doesn't have to be a luxury designer bag to be cared for. Any good quality leather bag will last you years, and look good, with the right care 🙂
Paris B