Last weekend, I pulled out one of my bags, and let out a little scream of horror. What was a beautiful red leather bag was covered in patches of mould!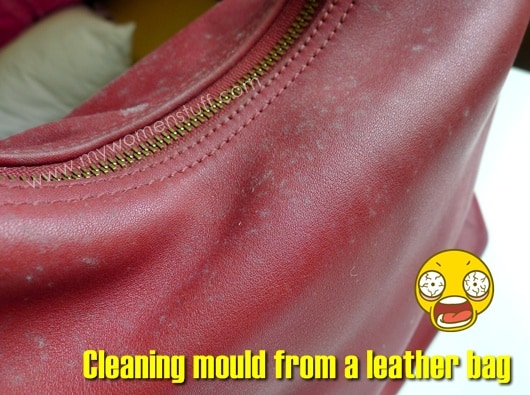 I don't know if it was the recent yo-yo-ing humidity, or if it might be due to improper storage (doubt it!) but it was awful and I was sad. But I was determined that it would be salvaged! I have a soft spot for this bag. It was one of my first proper leather bags in a colour I really love.
To help solve the problem, here's what I did.
First, you'll need:-
An old soft toothbrush
A cotton or microfibre cloth
Leather cleaner and moisturizer
Gloves
Lots of sun!
Its quite important to have the last item – lots of bright hot sun – so if you have a similar problem, my suggestion would be to wait for a nice sunny day before you start.
Here's how I salvaged the situation.
First, inspect the bag – is the mould (or mold if you're American) only on the outer surface of the bag? Mine was just on the outside. The leather trim inside was not affected.
Take the bag out to the yard or an open space, pull on rubber gloves, and using the old toothbrush, brush away the mould, making sure you brush at the whole surface of the bag.
Once you've removed the worst of it, wet the cloth, squeeze out the water until it is only slightly damp, and then wipe down the whole bag, making sure you cover the whole surface again. Be quick. You don't want the leather soaking up the water.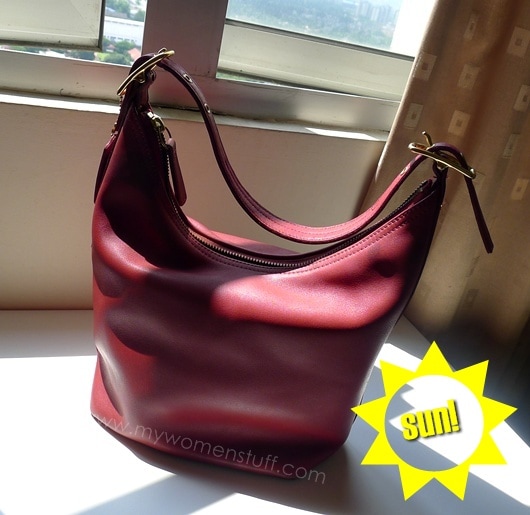 Then, set the bag in a patch of sun to dry out properly. I took it back in after about half an hour, but left it in the shade, outside in an airy spot for it to be properly dry.
A few hours later, when the bag is nicely dry, use a soft cotton or microfibre cloth and apply leather cleaner all over the bag, rubbing it in to make sure its clean all over; then apply leather moisturizer and buff.
Set aside to dry and it's as good as new!
After I'd cleaned it, the leather is practically as good as new with a nice sheen (sign of quality leather) and with no real damage.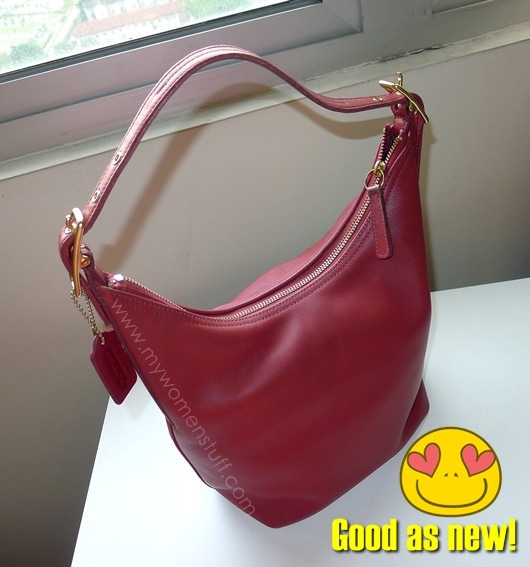 I am quite lucky that I caught it in time, before it could get worse, because mould can eat away at leather and damage it. I used the sun to help me dry it out and for the heat to further kill the mould, but don't leave it out too long or your leather can dry out too much and crack/fade.
I also tossed the dust bag this bag was in, because I did not want lingering spores to cause any future problems. And finally, to avoid further problems (and to ensure my other bags did not suffer the same fate) I went out and got a new dehumidifier for my cupboard where I store my leather bags. Its basically calcium chloride which absorb moisture and you can also get some silica gel sachets to place inside your bag (which I plan to if I can find a place to buy them)
I hope this helps someone. So other than my previous tips for caring for your leather bags or leather goods, a new tip would be to check on your bags now and again if you don't use them very often. In our hot and humid weather, mould is a common problem but its not a problem without a solution! 🙂
If you have a tip to share on how to clean mould off a leather bag or leather item, do share! We could always learn something new 🙂
Paris B