I shared about my purchase of the Karcher VC4i Cordless Vacuum on Instagram a month or so ago, and promised a proper review after using it. Here it is, finally! It's taken me a while, as I wanted to use it properly and thoroughly, so I could reliably tell you what I think of it, and if it's worth a purchase.
Like many people, when thoughts turned to the purchase of a cordless vacuum cleaner, I was immediately drawn to the Dyson. You must admit that they have marketed themselves well, showcasing a sleek design and a seemingly 'must-have' technology.
But like many, I balked. The pricetag was too high for me to justify. So, I kept to my corded handheld vacuum, and told myself I'd wait for a good deal to come by.
When we had our MCO (lockdown), I spent more time than normal at home, and it was then I realised just how dusty it can be, and how much hair my dog sheds. Goodness me! Let me warn you about beagles! 😛
So, when I found myself lugging my corded vacuum cleaner out every other day, my thoughts once again turned to getting a cordless vacuum. I ran a quick poll on Instagram, but it wasn't much help. The choices were endless, ranging from very affordably priced cordless vacuum cleaners from China that we could get on Shopee or Lazada, to naturally, the Dyson. Everyone who said they'd bought the Dyson told me they didn't regret it.
While I was ready to spring for the Dyson, I wasn't sure if I should go for the V10 or newer V11 version. As I dithered, a friend linked me to the Karcher VC4i and said, here's something else to consider!
So I did, and I dug around and did my research, and eventually, I picked the Karcher VC4i Cordless Vacuum. Here's why 🙂
Karcher VC4i Cordless Vacuum – German technology
The reason I was brave enough to spring for the Karcher despite the lack of many online reviews is due purely to the brand name. I recognized Karcher as the manufacturer of professional cleaning tools and equipment. You might notice the black and yellow cleaning equipment around, if you're observant.
Karcher is German with a long history (since 1935), and biased or not, I place greater faith in German technology than from an unknown brand from China 😛 I appreciated that they had an office and a service centre here in Malaysia, so if I needed assistance, I'd have somewhere to go.
I just felt better buying from a brand I recognized, which tells you how powerful branding can be!
Karcher does have a corded vacuum cleaner as well, which some people told me was very good, but is very heavy, clunky and hard to use. I was a little worried when I contemplated purchasing their VC4i Cordless Vacuum, because it was fairly new, yet relatively unknown.
But I sprung for it anyway, because I found the price more palatable, the few reviews I read were positive, and it seemed to offer good value for money.
PROS: Sleek, modern design
The VC4i Cordless Vacuum comes disassembled, in a slim, compact box. You'd hardly believe that the slim box contains a powerful vacuum!
It's very easy to put together, so there's no fuss there, and it comes with a little charge, so you can test it out immediately.
I liked the sleek black colour of the body, because it was very modern, and won't look out of place in any corner of your home. I keep mine in my living room for convenience, and it doesn't look out of place at all.
In South-East Asia, the motor is housed in white casing, while elsewhere it is yellow. I wasn't fussed about this. I liked the white case, because it was sleek and modern. No problems at all.
The other thing I liked was the roller brush it comes with, which is black and yellow. It's just different and well designed, and I liked it all. The roller brush is usually used on hardwood or tiled floors (not carpets). In other countries, I believe the default attachment is a different one meant for carpets and soft flooring.
PROS: Sturdy and easy to assemble and disassemble
I liked the construction, which felt sturdy despite the plastic parts. It was easy to assemble, and to disassemble, to fix other nozzles and parts that fit in the system.
The Karcher VC4i Cordless Vacuum comes with a fluffy motorized head for cleaning hardwood and tile floors (doesn't work well on soft furnishings), and 2 separate nozzles for crevices and a soft furnishing brush.
I have a Mattress Nozzle as well, which came as a free gift with my purchase. You can use it to clean mattresses as it's supposed to deep clean mattresses, pillows and areas around the bed to rid it of mites that trigger allergies.
PROS: Comfortable to hold and lightweight with a low profile
I have used a Dyson cordless vacuum, and I found it both heavy and uncomfortable to hold. There is only 1 way to hold it, and it felt awkward. The motor too felt a little heavy when you're using it throughout the home.
By contrast, I was surprised at how light the Karcher VC4i Cordless Vacuum is. The motor seems smaller, and it is light, so there is no strain on your arms or wrist at all, when you're vacuuming.
I also liked that it operates off a 1-touch system. You switch it on, and you don't have to hold down any 'trigger' or button while you're cleaning. When you're done, you switch it off with one touch. It is much more comfortable this way, and the angle of the handle is more comfortable.
I also like that the profile is very low. I can easily run it under tables and chairs or cupboards without too much hassle. The roller brush is quite low, and the slim motor doesn't get in the way. The brush also swivels smoothly and easily, which makes it easy to handle without being too unwieldy or uncomfortable on your wrists and arms.
PROS: Good suction power with 3 modes and good battery run time
The VC4i Cordless Vacuum comes in 3 modes – Powerful, Normal and Eco.
It starts off in the Powerful mode, which is most powerful, but uses the most power. If you use it purely on this mode, the battery will deplete fairly quickly in about 15-20 minutes. It is also quite loud, but not uncomfortable.
I have found that this is enough time for me to complete cleaning the whole of my apartment, so it isn't that bad really. If you are cleaning your mattress or fabric upholstered furniture with the Mattress Nozzle, you will need to use the Powerful mode for it to be most effective. I use it when cleaning my mattress and the dog's bed.
If your floor isn't too dusty, you can just use the Normal or Eco mode. It is much more gentle (and less noisy), but the trade off will be a lower suction power. Personally, I use the Normal or Eco mode most often, alternating it with the Powerful mode once or twice a week.
Karcher says on Eco mode, the vacuum can run for up to 60 minutes before needing a charge. But unless you live in a very large house, I don't think you'd need 60 minutes to vacuum your floors 😛
For most of us living in a smaller space, vacuuming the floor shouldn't take 20 minutes, and for this purpose, I found the battery run time good enough for my purposes.
PROS: Picks up pet hair well
One of my key considerations when picking a cordless vacuum was whether it could pick up pet hair well. My dog sheds like crazy, and the floor always felt dusty.
I was very happy therefore to find out that it picks up pet hair like a champ!
My floors feel so much cleaner now, and it is far less dusty. The dust bin is always full of hair when I'm done, and I swear there's enough in there to build another dog 😛
I think this is because of the strong suction power and the high speed motor. Pet hair is fine and tenacious, sticking to everything, so it takes strong suction to get it off the floor.
I can get it off the floor even in Eco mode. But I like to run the Powerful mode 2-3 times a week, just to make sure it's dust and hair-free 😛
PROS: Comes with a washable HEPA filter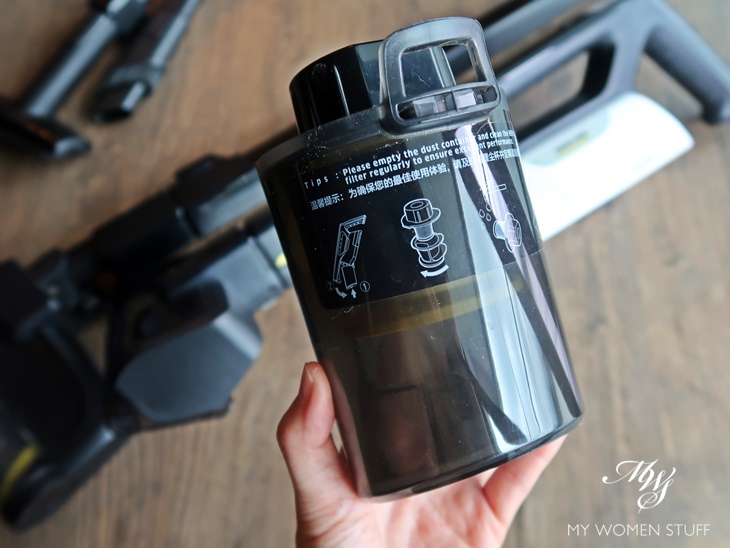 One of the other reasons I picked the Karcher VC4i Cordless Vacuum is because it comes with a HEPA filter (High Efficiency Particulate Air filter). HEPA filters trap 99.97% of particulates 0.3 microns or larger, which means you get cleaner air.
In addition, the HEPA filter in the Karcher VC4i Cordless Vacuum is made to the strict European standard of HEPA 12 filter (EN 1822:1998), which certifies it not only to the filter, but to the whole system. It is a higher standard.
While I don't suffer from dust allergies, I know many people do, which is why getting a vacuum with a good HEPA filter is important.
The other good thing about the HEPA filter in the VC4i Cordless Vacuum is that it is washable. It is easy to dismantle the filter and to wash it under running water. Be sure to leave it to dry thoroughly before putting it back together again. Washing it every now and then will prolong the life of your filter.
Thus far, as you can tell, I love my new cordless vacuum. It suits the purpose for which I bought it, it is handy and easy to use, and it leaves the floor clean and dust-free. It is great!
But there are some niggling little negative points to consider too.
CONS: Dust bin is a little small
I was aware of this from other reviews, so I wasn't too surprised to see the size of the bagless bin. It is a little small, which means you must empty it after every use.
In my case, it is always full of pet hair and fine dust!
It doesn't bother me to empty out the bin each time, but I don't know how other people feel about it. The bin is detachable, and it empties quite easily. I don't have much complaints.
CONS: The roller head cannot be washed, and dust and hair gets stuck on the sides
The motorized roller head isn't detachable, so you can't wash it. My advise therefore, is to ensure that it does not get wet.
The other problem is that hair and dust can get trapped and accumulate along the sides of the roller head. It is hard to clean, so you can either fix the crevice nozzle to the vacuum, and vacuum the dust and hair up, or, you can brush it off, while the vacuum is running.
This is a bit of a problem, and I'm not sure how to solve it just yet. I wipe it down every now and again, as the top of the roller case can get a little dusty.
CONS: Takes a while to charge
The charging time is about 3.5-4 hours which is a little long, but on par with the Dyson. The battery is an 18V Li-On battery, and it comes with a charger, on the charging dock that keeps it standing upright.
I keep it plugged in as I use it almost daily, so it doesn't quite bother me. But I suppose it will bother someone who might want to continue using it for longer, and faces a depleted battery.
Do you need a cordless vacuum?
While cordless vaccums are all the rage now, I suppose the question to ask is whether you need one. The fact remains that a corded vacuum cleaner is much more powerful with stronger suction power than most cordless vacuums. You won't have to worry about it running out of battery halfway either.
By contrast, what a cordless vacuum offers is convenience. If you use a vacuum often, then the cordless vacuum is the way to go. It is always ready to go when you need it, and you can run it quickly through the house without having to worry about plug points and wires.
I must say that I'm very happy with my choice of the Karcher VC4i Cordless Vacuum. It is light, it looks good, it is powerful and picks up dust and pet hair effectively, it has a HEPA filter, and it is easy to maintain.
On paper (and even in person), it is on par with a Dyson vacuum!
The biggest difference is the price.
I paid RM999 for my vacuum from the Karcher website, and it came with a free Mattress Nozzle (worth RM200) and free shipping. You can also get it at the Karcher Official stores on Shopee and Lazada or other electrical goods stores, where shipping, discounts and promotions vary. I received mine during the MCO, and the purchase was a breeze.
Essentially therefore, I got a cordless vacuum that is as good as, if not better than the Dyson, but at 1/3 the price of a Dyson. That's a win in my books 😀
Do you own a cordless vacuum?
I'm glad I waited before pulling the trigger on an older Dyson model. It would have been inferior to this Karcher one, and still double the price, even on offer! Needless to say, I'm terribly pleased about my purchase. Definitely my best and most used MCO purchase 😀
Paris B