I remember the fuss we all made over the Melano CC Anti-Spot Essence when I first wrote about it. It wasn't available then, but became available locally not long after. As much as I'd like to take credit for that, I'm sure it wasn't me who did it haha!
Since arriving on our shores, there have been more products added to the Melano CC brand, and I was offered the opportunity to try the Melano CC Vitamin C Brightening Gel.
Of course, I said yes 😛 I love anything with Vitamin C remember?
Melano CC Vitamin C Brightening Gel
The Melano CC brand is all about Vitamin C and brightening, and I love that! While I wasn't terribly impressed with the (now discontinued) Melano CC Facial Mist, I am still a fan of the Essence. It's a great, affordable little serum that works well, especially for those new to using Vitamin C.
RELATED READING: How much do I love the Melano CC Intensive Anti-Spot Essence? I almost did not want to tell anyone about it! READ HERE
The Melano CC Vitamin C Brightening Gel is a new addition, infused with Vitamin C and E to lighten dark spots, reduce redness and soothe skin for a healthy flawless skin.
It also contains something they call 'Deep Penetration Technology', which also allows the gel to quickly absorb into the skin without leaving a sticky or greasy residue. This should sit well with those who abhor creams and greasy textures. I personally am not fussed about it, but due to our climate, the local preference does tend towards a lighter textured product.
Other key ingredients are Alpinia Seed Extract (ginger extract that helps brighten and even out skin tone), Cornus Officinalis (Japanese Cornel) Fruit Extract (to deeply hydrate and soothe skin), and Lemon Extract (to hydrate skin for soft, smooth and supple skin.
There is no stated percentage of Vitamin C, so I don't know how high a concentration of the ingredient is in there. To my untrained eye, it appears that the Vitamin C derivative used is Ascorbyl Glucoside, which is a stable form of Vitamin C. When absorbed in skin, it breaks down into Ascorbic Acid.
Ascorbyl Glucoside is not as strong as l-ascorbic acid (results will take longer to show, generally), but is more gentle and more stable. It is also water soluble, which helps it in this gel formula moisturizer.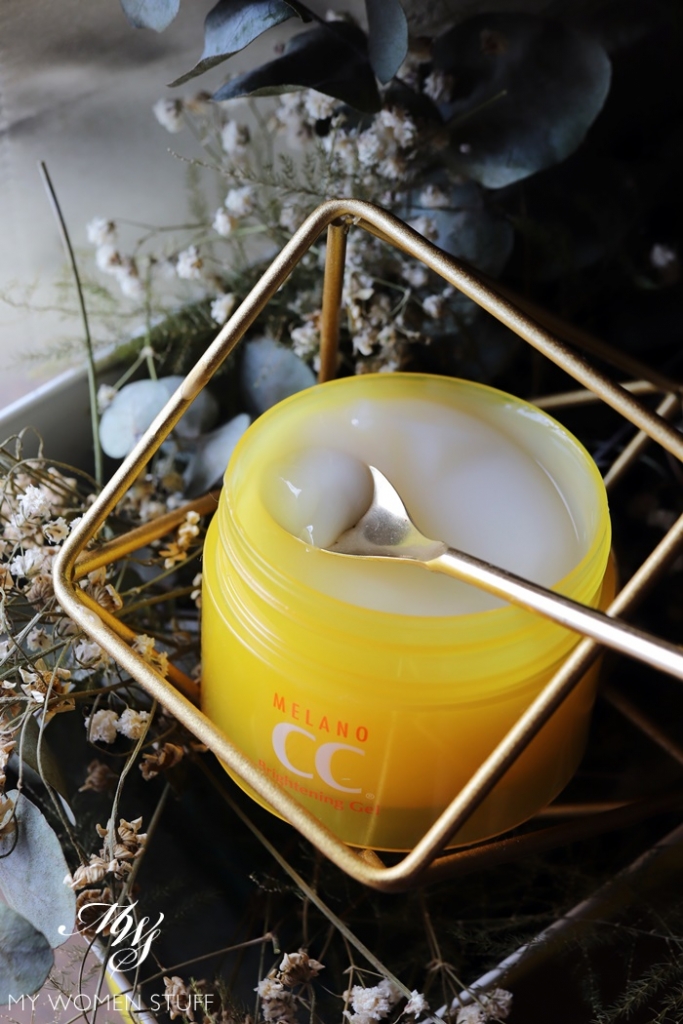 Very lightweight gel texture but comfortable even on drier skin
I usually shy away from gel type moisturizers as experience has shown me that it doesn't work very well on drier skin types like mine. I prefer something a little heavier.
But I tried this in the spirit of experimentation, and I have to say I was surprised!
The texture is a very light gel that seems to spread very fluidly over the skin, so it feels like you don't have to use too much each time. I personally use my usual pea-sized amount, and spread any excess to my neck and chest area – we want to look good ALL OVER not just on our faces right? 😉
I find that it sinks into the skin quite quickly, and there is little to no residue left behind. But what is more surprising is in how it seems to moisturize my skin quite comfortably.
I use this only in the day time (it's definitely too light for night time use for me) and in our hot, humid, tropical weather, it is quite perfect for this purpose. I wear a fairly heavy sunscreen over, and it doesn't feel uncomfortable.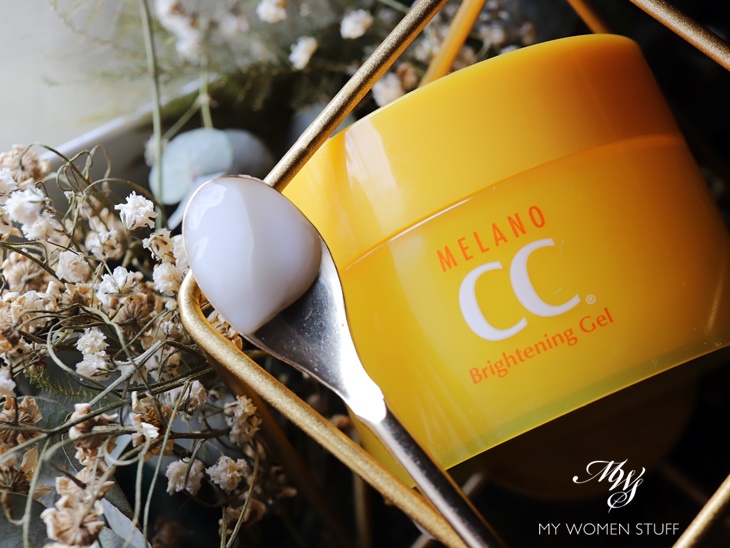 Does it brighten skin or even out skin tone?
Honestly speaking, I don't notice any brightening of the skin tone. I however, had managed my expectations to NOT expect it.
The reason is because I don't believe that it contains a percentage of Vitamin C that is higher than that in the Melano CC Vitamin C Essence. An essence (serum) usually has the highest concentration of a key ingredient (in this case, Vitamin C), so this moisturizer would in my view, have a far lesser concentration.
It isn't necessarily a bad thing, because some people are sensitive to Vitamin C but want something that can help brighten their skin, and a lower concentration product like this one can help.
However, I wouldn't expect much of a result from it, and I don't notice much, if any results out of the ordinary. Do bear in mind that in this time, I use a Vitamin C serum daily. I am not your best candidate to tell you if this will help someone who has never used a Vitamin C serum. But it is comfortable and gentle enough, that I think it's worth trying.
Smells of lemons!
It has a fresh citrus scent of lemons, which can be pleasant or unpleasant, depending on your tolerance level. Most people will love it.
I personally prefer my products to have little or light scent. I am also tired of Vitamin C products being citrus-scented. Vitamin C doesn't smell of oranges, it is actually quite metallic in scent.
All said and done, I think the Melano CC Vitamin C Brightening Gel moisturizer is a decent, basic moisturizer, that best suits those with normal, combination or oily skin. If you have drier skin, you can try this too, if creams aren't something you like, but I'd suggest building up on the hydration products underneath for better comfort.
RELATED READING: To boost your moisture and hydration further, use the moisture sandwich technique READ HERE
However, don't go into this expecting brighter skin because I expect any improvement to be quite marginal, due to the ingredient concentration. It may however, work well together with the Essence, for a quicker result.
IN A NUTSHELL

The Melano CC Vitamin C Brightening Gel is a gel textured moisturizer. It is very lightweight and sinks into the skin very quickly leaving little to no residue. It might best suit those with normal, combination or oily skin types although drier skin types may like it for day time use. It did not irritate my skin and feels comfortable. However, I don't notice any extra brightening. It might work best combined with the Vitamin C Essence, but as a moisturizer, it is a decent product that isn't too expensive.

PROS:
Very affordable
Lightweight gel texture is very comfortable on skin
Moisturizes skin quite well
No residue on skin

CONS:
Packaging feels a little cheap
Vitamin C content could be too little to have a noticeable result

WHO WILL LIKE THIS: Anyone who likes a lightweight gel type moisturizer

PRICE: RM70 for 100g (Often on sale)

WHERE TO BUY: Watson's stores and online
For those interested, this is the ingredient list for the Melano CC Vitamin C Brightening Gel.
Water, Butylene Glycol, Pentylene Glycol, Ascorbyl Glucoside, Glycerin, Biosaccharide Gum-1, Pentaerythrityl Tetraethylhexanoate, PPG-17-Buteth-17, Polyquaternium-51, Potassium Hydroxide, Carbomer, Dimethicone, PPG-24-Glyceryl Stearate-24, Diethoxyethyl Succinate, Polyacrylamide, Phenoxyethanol, Glyceryl Stearate, C13-14 Isoparaffin, PEG-20 Sorbitan Isostearate, Methylparaben, Tocopheryl Acetate, Behenyl Alcohol, Cetyl Alcohol, Laureth-7, Dipotassium Glycyrrhizate, Xanthan Gum, Disodium EDTA, Fragrance, Ascorbic Acid, Ammonium Acrylates Copolymer, Cornus Officinalis Fruit Extract, Citrus Limon (Lemon) Fruit Extract, Alpinia Katsumadai Seed Extract.
Have you tried the Melano CC Vitamin C Brightening Gel? Any other Melano CC favourites?
I was quite pleasantly surprised by this one, and I like being pleasantly surprised! I am not a big fan of their Lotion or Sheet Mask, so will wait and see what else they come out with! 😀
Paris B
Disclosure: Featured service was a media trial by the brand for consideration. Our commitment is to honesty and fairness. For review guidelines please read the disclaimer.