It' puzzles me that despite my enjoyment of using body oils, the L'Occitane Almond Supple Skin Oil has eluded me.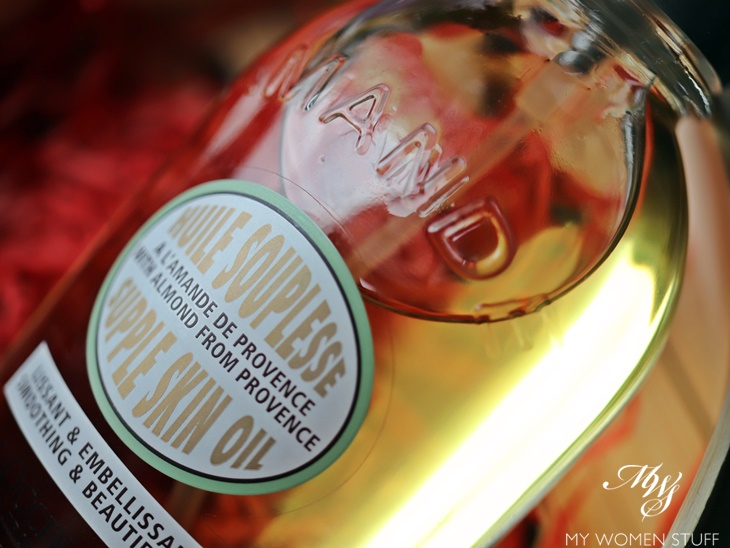 This body oil has been a crowd pleaser since the day it was released, and when it crossed my radar recently, I decided to finally have a go at it.
Unlike common misconceptions about using body oil, it doesn't leave you slippery, greasy or oily. If you think about it in the same way as using a facial oil, it is about the same principle.
A good body oil should sink into your skin, nourish it, leave it feeling moisturized, smooth and soft, all without feeling sticky or greasy or, in the case of a dry oil, dry to the touch.
And does the L'Occitane Almond Supple Skin Oil live up to those ideals? 😀
L'Occitane Almond Supple Skin Oil – A nourishing body oil
The L'Occitane Almond Supple Skin Oil is made from a combination of Sweet Almond Oil which is rich in Omega 6 and 9 to sooth and soften sensitive skin, Camelina Seed Oil which is rich in Omega 3 and Vitamin E for soothing and antioxidant properties, Muscat Rose Bush Oil to improve skin suppleness and vitality, and Carrot Vegetable Oil which is high in pro-Vitamin A and softens skin.
It is formulated with 50% almond oil, and is a lovely, rich oil for skin.
The L'Occitant Almond Supple Skin Oil is often touted as the go-to body oil for pregnant women, to avoid stretch marks. Anecdotal experience from many pregnant women have indicated to me that it helps them, although I'm not in a position to vouch for it LOL! 😛
Rich texture yet light on skin
My preference when it comes to body oils, is for one that feels like an oil. I had the impression in the past that the Almond Supple Skin Oil had the texture of a dry-oil (an oil that dries quickly on the skin, leaving it dry to the touch). It was for this reason that I had avoided using it.
But as it turns out, I was wrong!
The L'Occitane Almond Supple Skin Oil has a lovely rich texture, yet it feels light on the skin. This allows me to firmly massage it into my skin, and allow it to absorb into my skin without any sticky or greasy residue.
The texture is light enough that it can be spritz out from the spray nozzle that is affixed on the bottle. This was what threw me for a loop before this. I was under the impression that it was a dry oil, because this sort of dispenser is usually included with a dry oil.
For those who abhor the texture of oil on their skin, you will like the Almond Supple Skin Oil. It sinks in beautifully into the skin, and you can quite literally feel your dry skin softening, smoothening and just plumping up. It's absolutely divine!
Smoothen and softens skin
My lifestyle has changed in recent times, from staying mostly indoors, to being outdoors a lot.
I'm out in the mornings walking my dog, and then I'm out again in the afternoons making deliveries or getting supplies for my little dog treats business (Do check us out if you have a pup! 😀 )
What this means is that I shower more often, and I am more exposed to the sun now, than I ever was before. My skin was feeling drier, and although I moisturize my skin at night before bed, I felt I needed something a little more.
RELATED READING: I've been using this very affordable cream on my arms and hands before bed! READ HERE
What I noticed after trying out the L'Occitane Almond Supple Skin Oil, is a noticeable softening of my skin. The skin on my arms looked less dry, and felt less dry. It actually felt softer and smoother, and I loved it!
I cannot vouch for the suppleness, because I don't know how to measure that. But I can vouch for generally better looking skin on my arms, and I'm pleased! 😀
The one drawback for me however is the scent.
While I enjoy the scent of the L'Occitane Almond Shower Oil (It's a MUST TRY!), I find the scent of the Almond Supple Skin Oil to be a little stronger and sweeter than I like. This is not to say however, that it smells awful. It is quite pleasant, just a little too strong for my tastes. If they toned it down a little, I think it would be perfect.
IN A NUTSHELL

The L'Occitane Almond Supple Skin Oil is a rich yet lightweight body oil that sinks into the skin very quickly and easily. It feels comfortable without a greasy, oily after-feel. I do notice that the skin on my arms feel softer and smoother, and it does look generally healthier and more nourished. It is a lovely body oil that deserves all its accolades!

PROS:
Rich texture nourishes skin
Skin feels smooth and soft
Lightweight texture sinks into skin
No greasy, oily or sticky residue

CONS:
A little pricey
Strongly fragranced

WHO WILL LIKE THIS: Anyone who enjoys using body oil, Anyone who wants a body oil that is light in texture but not a dry oil

PRICE: RM198 | US$50 for 100ml
Here's the ingredients list for the L'Occitane Almond Supple Skin Oil.
Prunus Amygdalus Dulcis (Sweet Almond) Oil, Caprylic/Capric Triglyceride, Oleyl Alcohol, Fragrance, Camelina Sativa Seed Oil, Helian Thus Annuus (Sunflower) Seed Oil, Tocopherol, Dioleyl Tocopheryl Methylsilanol, Limonene, Coumarin, Linalool, Citral.
Have you tried this L'Occitane Almond Supple Skin Oil?
I'm glad I had the chance to. I might never have checked it out otherwise! 😀
Paris B
Disclosure: Featured service was a media trial by the brand for consideration. Our commitment is to honesty and fairness. For review guidelines please read the disclaimer.