One of the best ways to know if a skincare product will work for your skin, is to try it. There is really no other way. Reading about it only sets your expectations. But you have to actually try it on YOUR skin, to determine if it's something you or your skin likes.
The easiest, and most painless way of course, is to buy it. The other way is to try to wrangle out a sample from the counter or store.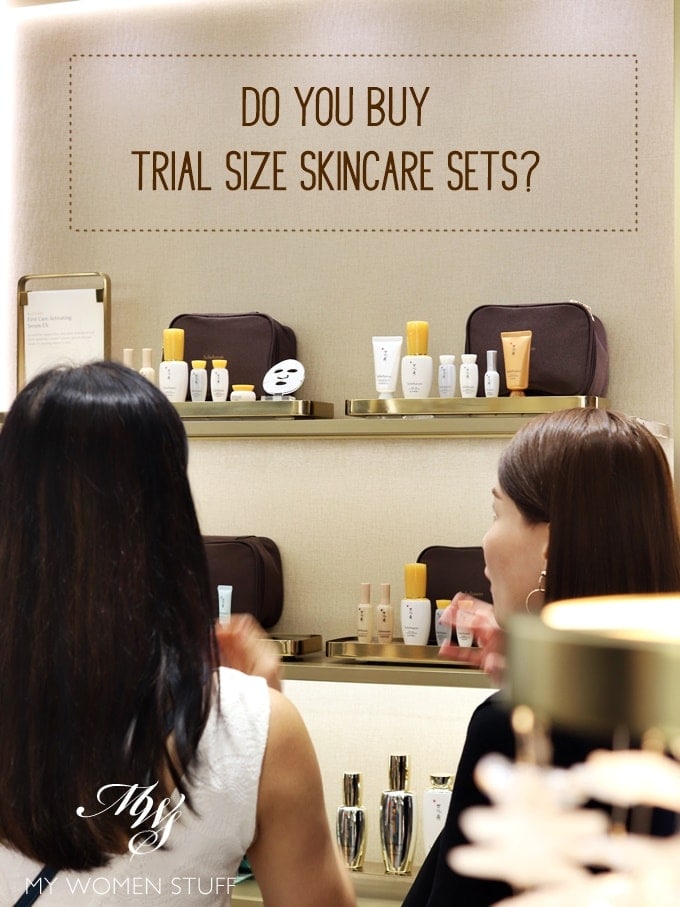 There's a third way, and that is to purchase a set of trial-sized skincare products, often packaged in a discovery set. Often, these products come in deluxe trial-sizes. That really, is just another way of telling you "We are selling you a sample, but in bigger, better packaging".
Sometimes, these very same trial sets are given away as gift with purchases (GWP) when you purchase above a certain price tier. So, you could ask why bother to buy, if you could eventually potentially get it free?
Hence my question – do you buy these sort of trial skincare sets to try a new product? Or perhaps just suck it up and buy the full size?
In this situation, I do not include instances of people who take to online platforms to sell samples they obtain for free from the store, nor of people who purport to repackage a full sized product into smaller size bottles or tubs at home. My recommendation is to stay far away from those because you are not sure of quality, authenticity, nor hygiene.
I refer here to trial sized skincare sets that are sold by the brands themselves. Often, these are sold by way of an introduction kit, to allow you to test different products within a brand, in a routine, so to speak. Quite often, they will have the star products and a few other products, to make up a set that you can use all together.
I usually don't buy such sets, unless I am particularly curious about a new brand. Part of the reason is because I feel like some of these sets are a rip off, as they contain what are essentially, samples. I have seen sets that contain sachets, which puts me off. If I were to pay good money for these, I'd prefer something more than a sachet.
Yet, I recently caved and bought one such trial skincare kit LOL! 😛
It was this Sulwhasoo kit (RM199) that was available as an opening special at the new Sulwhasoo store at Mid Valley Megamall. I shared it on my Instagram, and it was really because it was quite a good value kit that I got it. The other reason was because I'd been looking for a cosmetics pouch that opens up the way this does for ages. This just ticked all the right boxes. I'm not sure if it's still available, but if you want a good deal or if you want to try a bunch of Sulwhasoo products, this is decent.
I have bought some other trial kits as well from other brands. Usually, brands that I have no access to locally. This allows me to try some of the products to figure out if it works for me, before I invest.
But in general, I don't. I often find that I may only really enjoy one or two products in a kit, or I may not enjoy anything in there at all. Often also, I find that these trial sized kits tend to be packaged according to skin types, and there's always that odd product in there that jars or disagrees with my skin. I much prefer if we could mix and match some samples to tailor to our skin. But I guess that takes the point out of a trial-sized discovery kit LOL 😛
Do you buy trial-sized skincare discovery kits? Do you find it useful?
If it's a brand I've used before, like Sulwhasoo, if I feel that it's a good deal, I'll buy and keep the samples for when I travel. Otherwise, I don't usually buy such trial kits, do you? 🙂
Paris B