A while ago, I shared with you one of my favourite eyeliners, which was the Pixi Beauty Endless Silky Eye Pen. A few weeks ago, I was surprised by a wee package by the folks at Pixi Beauty, who must have guessed at my love for their liners, because they sent me a few more! LOL!
I'm going to share some quick thoughts about these liners, and how they perform for me. However, as much as I enjoy using eyeliners, mascara is something I don't use anymore. So, if you enjoy using mascara, and would like to have a go, I have a wee surprise for you below 😉
Pixi Endless Silky Eye Pen – RM84 | £12 | US$12
The eyeliner itself isn't new, but what are new are the additional 4 colours added to the collection. The colours are:-
Cobalt Blue – A very bright blue
Velvet Violet – A matte, muted purple
Matte Mulberry – A matte purplish brown
Rose Glow – A shimmery gold-brown
Both Cobalt Blue and Velvet Violet make for fun pops of colour along your lashline. If you aren't the sort who likes to wear bright eyeshadow, but want something fun, perhaps for the weekend, you could try these. Or better still, use these to draw a thicker line, smudge it a little at the edges, and then go over with a very soft, beige shadow. It is fun and lasts and gives your eyes a subtle pop of colour.
I did find the texture a little soft. Cobalt Blue broke off at the tip while I was trying to swatch it below, and because it doesn't come with its own sharpener, I find it quite a bummer. Otherwise, it glides on without tugging, is very pigmented, and stays on well without too much smudging. You can read what I think of these in my previous review. It all still holds true.
Pixi Lash Link Ink Eyeliner – £12 | US$14
This one's a liquid eyeliner in a very deep black. I do find however, that the felt nib is a bit too long, and for me too stiff. I also find that the ink does not flow as smoothly as I like, and in fact, feels rather patchy going on. When it comes to ink liners, I prefer a pen with a more flexible brush-style nib, that allows me to draw as thick or as thin a line as I need. Because of my hooded and hidden lids, I prefer drawing a thicker line, and a stiff nib isn't so conducive. For me, this was a non-starter.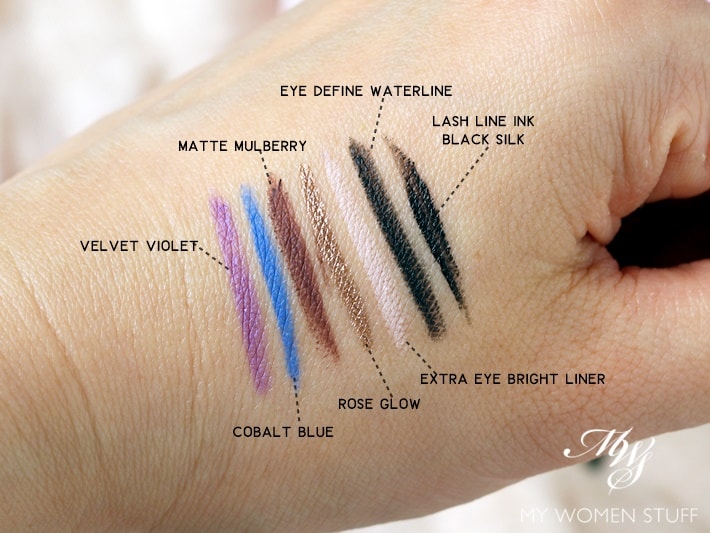 Swatches of the products in this post
Pixi Eye Define Waterline – £12 | US$14
I tightline a lot, so the Pixi Eye Define Waterline was right up my alley! I like a few things about it. I like that the nib is tiny and fine. I feel that's very important for getting into the tiny space under your lash line. I like that it is a retractable pencil, because it just makes life so much easier. I like that it is very black. VERY black. It enhances my eyes in the most natural way. I like that it is soft, so it doesn't scratch the sensitive skin under the lash line.
There is a lot to like about this, and I have been using it a lot since I received it! I do find that it may transfer a little to your lower waterline, and may also transfer a little to your lower lid. But to be fair, it transfers a little less than other pencils I use, and depends also on whether I blink hard, or laugh very loudly LOL! When you laugh hard, your eyes do tend to squeeze shut, so it may transfer. But it is otherwise a very good pencil for tightlining and is safe for use on the waterline, without irritating. Winner for me!
Pixi Extra Eye Bright Liner – £12 | US$14
Ok this one is a bit more unique. At one time, it was all the rage to use a white eyeliner to line your lower waterline. This, it was believed, was to mask red rims, and to make your eyes look bigger. The problem is that white is very harsh, so most people just ended up looking a bit odd.
What I found most unique about this Pixi Extra Eye Bright Liner was that it is a very pale shade of lilac-pink. It has a very small and fine nib as well, like the Pixi Eye Define Waterline, as it is also to be used on the waterline. But what I found interesting was that when I drew along my lower lashline, it did not look too harsh, and it did help brighten my eyes. This helps when you have had a bad night, and wake up with red-rimmed eyes. This colour masks the redness and makes you look more presentable, and less tired. Not a must have by any stretch, but an interesting product that performs much better than many other pencils of this nature that I've tried.
I used the Pixi Eye Define Waterline, Lash Line Ink and Extra Eye Bright Liner in this FOTD, which was in this post.
It is perhaps, hard to tell, but they are all there 😛
My personal picks are therefore the Endless Silky Eye Pen and the Eye Define Waterline. Both of these have performed very well for me, without too much smudging and colour transference especially considering our heat and humidity.
Surprise!

Because I don't use mascara or lash products, I didn't want to waste them. So, if you'd like to receive the Pixi Black Lacquer Lash and Large Lash Mascara just leave a comment below about anything about Pixi. Perhaps tell me your favourite Pixi Beauty product, or what you have tried from the brand, or if you haven't tried, what you'd like to try from the brand. You have till 3 June 2018 and I'll pick a winner after that.

WINNER: Jan Maslan
Have you tried any Pixi eyeliners? Or what is your favourite Pixi product?
This is the same brand that does that iconic Pixi Glow Tonic, but some of their makeup is pretty impressive too. Share your faves? 🙂
Paris B
PRICE: As per above

WHERE TO BUY: Pixi Beauty website, Cult Beauty, Iherb, Asos, Target