I don't own many new Becca products, nor do I buy products that promise to bronze and add warmth. I'm a porcelain princess who prefers to not use bronzer, or tan, if I can help it. Yet, for some reason, I bought the limited edition Becca Sunchaser Palette.
And I fell in love with it.
The shades in the Becca Sunchaser palette are predominantly warm toned. If you have a warm skintone, or wear peach shades well, this will look so amazing on you! I don't, but I still came to love the warmed tone it gave me.
What I loved most, was the super slim and compact packaging the Becca Sunchaser palette comes in. If you are the sort to tote your makeup around, or travel a lot, this will be one you'd want to add to your stash, because it's practical.
See how handy it is? It is super slim too, and the ombre shading on the cover is quite something too. It has been a staple on my dresser for a while, because I love the pop of colour it gives, and also because I've been using it quite a lot.
In the palette are 3 products:-
Ipanema Sunset bronzer – a warm browned bronzer with satin texture
Apricot Blossom blush – a warm matte coral blush
Opal highlighter – a shimmery champagne highlight
The highlighter shade is Becca's famed Shimmering Skin Perfector Pressed Highlighter in Opal, which is available separately. I own the liquid version of the Shimmering Skin Perfector (which I love) and I'm actually really happy to own the pressed version. I remember that the full size version, although larger, feels softer, and is prone to smashing. This feels a little firmer and I hope, will travel better.
My favourite shades in this palette are the Apricot Blossom blush, layered with just a touch of Opal on the cheekbones. Apricot Blossom is a beautiful coral shade that is fairly warm, but gives a lovely warmth to the skin.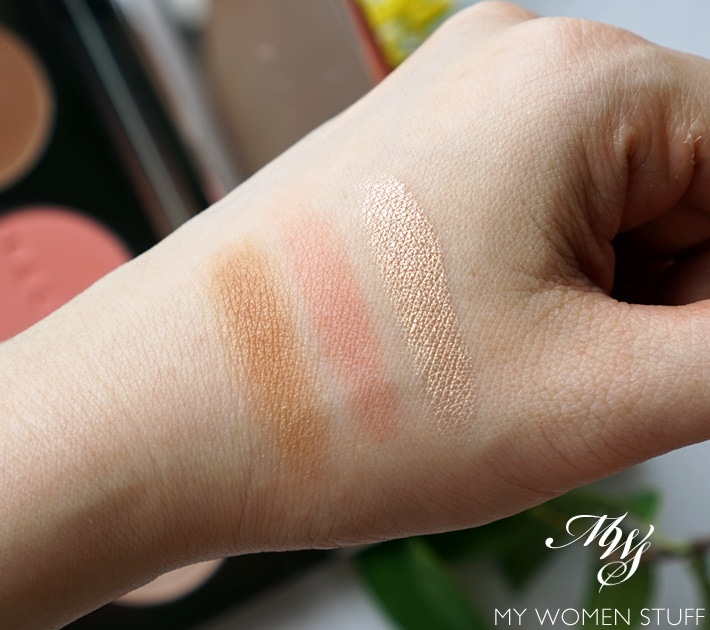 You can see the different textures of the shades in the palette in these swatches. I made these swatches with my fingers, and really, this is a very pigmented palette, so for light skin tones, a light hand is essential.
When I apply Apricot Blossom, I just lightly dab a brush on the surface, and then dab once on my hand to tap off excess, before applying to my skin. It is very strong otherwise. Ditto the Opal highlighter. Just a barest whisper of a brush on the surface of the product, and then well blended into the skin, for the most beautiful hint of highlight. If you love some bling, then add it on. Your choice. I prefer something a little less in your face.
The only shade I have a problem with therefore, and unsurprisingly, is the Ipanema Sunset bronzer. It is rather warm and slightly orange toned on my skin, so I find it a little more unflattering. This is what put me off wearing bronzer, until I worked out the type of shades I prefer.
However, sometimes, if I want a slightly more toned down blush, I blend the Apricot Blossom blush and the Ipanema Sunset bronzer, and then apply to my skin as a blush. For some reason, it works when I use it this way.
And here's how it sort of looks when I wear it. There's a little bit more than I like on my skin, but it wouldn't show up for the camera otherwise.
In person, I usually go with just the tiniest flush of colour on my cheeks, a bright lip, and little eye makeup. To be honest, I have been very lax and lazy about my eye makeup in recent times, so I make up for it with blush and lip colour 😀
You may be interested to know that by the time I took these photos, I'd been using this palette for well over 2 weeks, fairly consistently. But because it's so pigmented, I use very little, so it'll last you an age LOL! But what I think is best is that this palette works for almost all skin tones, from light to dark, and truth be told, I think it'd look AMAZING on deeper skin tones. That blush will really pop!
IN A NUTSHELL

The Becca Sunchaser Palette is a face palette comprising of the Ipanema Sunset bronzer, Apricot Blossom blush and Opal highlighter. The palette is very compact and slim and very handy. The colours are also very pigmented, so a light hand is essential for those with a lighter skin tone. The down side is that this palette is limited edition, but I still see a lot of it online (often going on sale) so grab it, if you see it on offer. I love it.

PROS: Very slim and eye catching packaging, Pigmented colours, Easy to blend and apply to skin, Beautiful colours that will suit all skin tones from light to dark

CONS: Limited Edition, Pricey

WHO WILL LIKE THIS: Anyone who likes warm toned face colours, Anyone who wants a high quality, pigmented face palette with bronzer, blush and highlighter, Anyone who travels often or carries their makeup on a daily basis

PRICE: RM185 | US$34 | £32

WHERE TO BUY: Sephora stores (MY), Cult Beauty (I got mine here)

LIMITED EDITION: Summer 2017
You know what's even better? You can use it for your eyes too! At least I do. The bronzer is quite a lovely eye colour, topped off with Opal as highlight. So really, you can use it for your face, all in one 😀 I'm so lazy, that really works for me LOL! 😀
Did you fall for this Becca palette?
I was actually considering the Becca x Chrissy Teigen palette, but decided that I didn't use highlighter enough to justify getting it. Even buying this Sunchaser palette was quite a gamble for me. But one that paid off, double! 😀
Paris B