Belif, the curiously intentionally misspelled word that grates on some people's nerves, is a Korean skincare brand that I'd come across a number of years ago. A friend in Singapore had kindly gifted me some samples, which I had tried back then, and filed away in my Mind Palace as a "brand to try in the future". Well, the future is here, and I was offered to sample one of their star products, so I could tell you if it lived up to its hype. Gosh, the hype!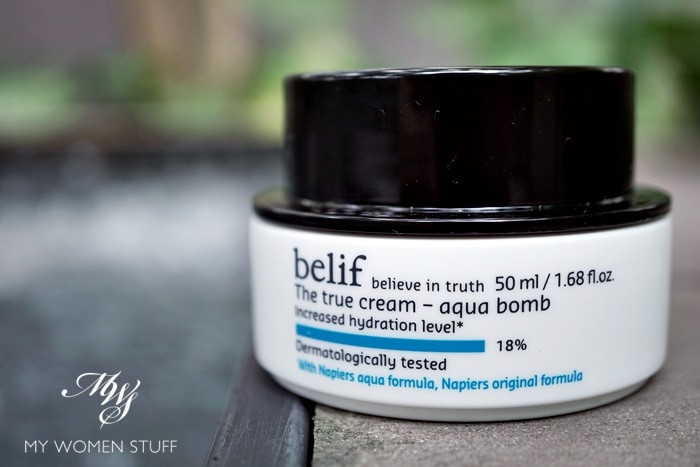 The hyped product is the Belif The True Cream – Aqua Bomb, which has its focus on hydration, and is therefore something that piques my interest. I however later found out that there are 2 versions, with the Aqua Bomb being a gel moisturiser that's more targeted at oily-combination skin types, and the Moisturizing Bomb, being a cream moisturiser which is targeted at normal-dry skin types.
So, while this Aqua Bomb formula will be the one that appeals to most people, especially those who shy away from using moisturisers due to their perceived heavy texture (why would you do that?! Use a moisturiser, your skin needs it!) I believe that my skin would have preferred the heavier version. Still, let me tell you about this, and why it'll be the last time I feature this brand save for one exception 🙂
Belif hails from Korea, but adopts the brand philosophy of a Scottish herbalist brand, Napier. They claim to use herbal ingredients, and are formulated without a lot of the presently perceived harmful ingredients e.g. mineral oil, synthetic fragrances, dyes etc. Stories like this usually intrigue me, because I liked the simple packaging and the concept and focus on skin hydration. It's what I feel the Koreans get right, which is why their skincare routine is taking the world by storm. The quirky name and brand history is also quite representative of Korean skincare, to me.
The famed Belif The True Cream Aqua Bomb is a pale blue gel moisturiser that feels like a burst of water on the skin. There is a bit of a strange scent that doesn't bug me, but what I liked was the very comfortable, and lightweight formula that almost instantly hydrates your skin, especially if it's feeling parched. In many ways, it's very similar to all the other gel moisturisers available out there.
The thing was, I wasn't expecting very much, since I already adopt a fairly comprehensive hydration routine, but even then, my skin seemed to recognise that this product gave it a little more oomph. In the day, my skin drinks up the gel and it seems to keep my skin feeling comfortable even with the present heatwave we're experiencing that's drying out my skin like the Sahara. I do use a hydrating serum underneath, because if I don't then this isn't sufficient on its own. In the evenings, I do feel like I need something more because it doesn't quite last the night for me. So, for someone with drier skin like mine, you could even use this like a hydrating serum even, by applying a thin layer on the skin and then topping up with a moisturiser.
If you have oily-combination skin, you will fall head over heels for this gel because it's perfect for your skin type. It leaves no oily or greasy after feel on the skin, and for some reason, almost seems to cool down my skin. It is very comfortable, it helps with dehydrated skin (yes, under all your oil, is likely to be dehydrated skin!) and like most gel moisturisers out there, is perfect for oily-combination skin types.
Here's another way you can use it – as a sleeping mask! Some days, I scoop out a generous amount, slather it all over my face, and go to bed. Sure, it's messy but if you're no stranger to sleeping masks, you'll know how to sleep so your face doesn't mark your pillow! LOL! 😀 When I do this, I wake up with lovely supple skin the next morning, which is very nice.
For all intents and purposes, I'd say that if you are in the market for a lightweight, comfortable moisturiser that delivers wonderful hydration to your skin and keeps it plumped and comfortable and importantly, hydrated for most of the day, and if you have oily-combination skin, you could do worse than go for the Belif Aqua Bomb. It is quite da bomb as a moisturiser! 😀
If you're interested in what's in it, here's the ingredient list that is surprisingly long:
Aqua, dipropylene glycol, methyl trimethicone, glycerine, alcohol denat. sd alcohol 40-b, dimethicone, peg/ppg/polybutylene glycol-8/5/3 glycerin, cyclomethicone dimethiconol, polymethylsilsesquioxane, caprylic/capric triglyceride, pentaerythrityl tetraethylhexanoate, sodium acrylate/ acryloyldimethyltaurate/ dimethylacrylamide crosspolymer, isohexadecane, polysorbate 60, malakite extract, phenyl trimethicone, pentaerythrityl tetraisostearate, 1,2- hexanediol, panthenol, peg-150, carbomer, tromethamine, peg-40 hydrogenated castor oil, acrylates/c10-30 alkyl acrylate crosspolymer, avena sativa kernel extract, calendula officinalis flower extract, nepeta cataria extract, rubus idaeus leaf extract, baptisia tinctoria root extract, stellaria media extract, alchemilla vulgaris leaf extract, equisetum arvense leaf extract, urtica dioica leaf extract, plantago lanceolata leaf extract, hydrogenated polydecene, hydrogenated lecithin, stearic acid, c12-c20 alkyl glucoside, c14-c22 alcohols, glyceryl stearate, peg-100 stearate, cholesteryl hydroxystearate, cholesterol, ceramide- 3,triethanolamine, trisodium edta, citrus aurantium dulcis oil,citrus aurantifolia peel oil expressed, rosmarinus officinalis leaf oil, geranium maculatum oil, citronnellol, limonene, citral, geraniol, linalool.
IN A NUTSHELL

The Belif The True Cream Aqua Bomb is a gel moisturiser that is more suited for oily or combination skin types. The product feels like a burst of water on the skin, and is a lightweight gel formula that absorbs quickly and easily into the skin without any greasy or oily after feel. This makes it feel very comfortable for most people, and which explains why it's popular. I wasn't crazy about the packaging, as there is a little cap over the opening, that is impressively hard to pick up. But as a product, I think it's a good one to have, if you want to keep your skin well hydrated.

PROS: Lightweight texture, Absorbs quickly into skin without leaving a greasy or oily feeling, Hydrates skin well and keeps skin feeling hydrated and plumped, Can be used as an overnight sleeping mask

CONS: Packaging is rather fiddly, A little pricey

WHO WILL LIKE THIS: Anyone with oily-combination skin who wants a lightweight moisturiser that delivers good hydration to the skin

PRICE: RM155 | US$38 for 50ml

AVAILABILITY: Belif stores, Sephora (US)
If you don't want to read a rant, you don't have to read beyond this image, and you can jump straight to the comments below if you'd like to share your experience with this product 🙂
So, if it's such a nice product, why am I not curious enough to try something else from the brand? Well, I am. Except that this is an instance, when pushy PR has totally and absolutely spoilt the brand for me. I don't normally air dirty linen, but this is one instance when, as they say, the straw has broken the camel's back. When I agreed to consider their product back in December 2015, I made it quite quite clear what my timelines were like. Essentially, it was going to be end March 2016 before a review could be expected, if that. I kept to my timeline, but I'd been bugged over and over in between as to when I would post a review, and that puts paid to any further relationship I'll have with this brand and their distributors locally. I never promise anyone a review, I can only give an indication.
The one exception would be if I deign to try other products from Belif from elsewhere, because there's no way I'm stepping into their local stores either. Am I being petty and ungrateful? Well, some of you may think so, and you're entitled to your opinion. But for me, this boils down to basic courtesy and good relations. If my timeline was not to their satisfaction, they were welcome not to send anything to me. There would have been no hard feelings on my part, and I had even offered to return the unopened product, because I did not appreciate being pushed to publish a review when I wasn't ready. They declined my offer, but still bugged me before my timeline was due. I hear a similar situation has happened to others, and while I don't claim to know the details, this is not on. I'm sorry, I don't work this way as there is no mutual respect here. Please feel free to bug someone else, because this seriously beggars belif 😛
/end rant
Have you tried anything by Belif, or this famed Aqua Bomb moisturiser? Any recommendations?
Yes, I'm smarting, but I'm still open to trying other products from the brand, just that I'll have to get my fix another way from somewhere else haha! Oh yes, I'm not a nice person when crossed. Just don't cross me. Good product, pushy PR, lucky you don't have to deal with them. Fin 😛
Paris B