Korean skincare. You can't MOVE for the K-pop wave that's not only captured our culinary tastebuds (mmm kimchi…) and formulated TV series, but that has captured our dressing tables and taken over skincare routines the world over.
The choices of brands and products coming out of Korea are staggering, and if I'm to be honest, very confusing. I'm going to be the first to hold my hand up and admit that I am not in tune with Korean skincare brands in general. Things have moved on so far since I started paying attention about 5 years ago, before the K-pop explosion, and I've moved on since. So, I'd freely admit that I'm a little out of date with the newest and latest Korean skincare brands and products.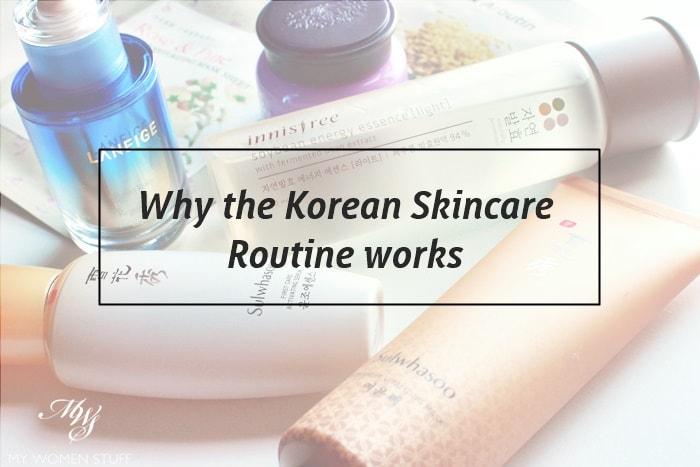 Yet, despite this, I have paid attention to the actual products, and the famed 10-step Korean skincare routine, and I think I've figured out why the routine and skincare work, and have captured the imagination of so many people the world over.
Korean skincare has a strong focus on hydration
The one thing I noticed most significantly, is the focus on hydration in Korean brand skincare. In many Korean skincare brands, you will find that their key range focuses on hydration. 4 key products in the routine – toner, essence, sheet mask and sleeping mask – are mostly tailored to infuse skin with hydration.
This focus on the use of hydrating products weren't quite at the forefront of most Western skincare brands. In many cases, they still aren't, but they're getting there. Hydrating serums can now be found in many brands, albeit the more cult or niche brands, as opposed to the large global conglomerates.
Hydration, as I've mentioned before, is really the secret to better skin. It plumps up your skin, which makes it look younger and more dewy, it makes your skin look clearer and more healthy and it makes you look younger and better. This is why, although I'm not into using Korean skincare, I focus on hydrating products in my skincare routine. Get your hydration right, and everything else will fall into place. Korean skincare has made it easy for us. Their cleansers do leave a lot to be desired though, as I think they're generally too drying.
Layering products make them more effective
The key to using Korean skincare is layering. Aside from the oil-foam double cleansing routine (which to me, originated with the Japanese skincare, but which I find a little too harsh in comparison to a balm-cream double cleanse) the rest of Korean skincare are made to be layered.
Starting with the Toner/Lotion, which is usually a hydrating product that is patted on, continued with the essence and emulsion and perhaps a sleeping mask, you are advised to apply thin layers of each on your skin. In a way, this makes sense. Layering products in thin layers, from light to heavier textured lotions or creams actually makes them more effective when following a hydrating skincare routine. I think it's because it allows each layer to penetrate the skin better, as you do not end up with a heavy, thick greasy goo on your skin, but light textures, that absorb more easily into the skin. They also feel far more comfortable, which is why people don't mind putting them on!
Korean skincare have a lighter texture which facilitates layering
The infamous 10 or 12-step Korean skincare routine can scare the uninitiated, who think that a 3-step is all you need. But it's not rocket science, and it isn't as scary as it seems, because for the most part, Korean skincare tends to have lighter textures, featuring lotions and emulsions instead of heavy creams. I could be wrong, as I don't know ALL Korean skincare, but the ones I've observed tend to have these sort of formula. Creams are usually reserved for the very high end brands or for the skincare lines targeted at more matured skin.
This lighter, more liquid texture makes it more comfortable to carry out the 4-5 steps of the hydration routine, as opposed to trying it with 4-5 layers of thick, silicone-filled product. That's the other thing I've noticed with Korean skincare – they don't have a strong silicone feel and slip to them. So, when you layer the products, they seem to mesh with each other and sink into the skin, instead of sitting on top of the skin the way many moisturisers do.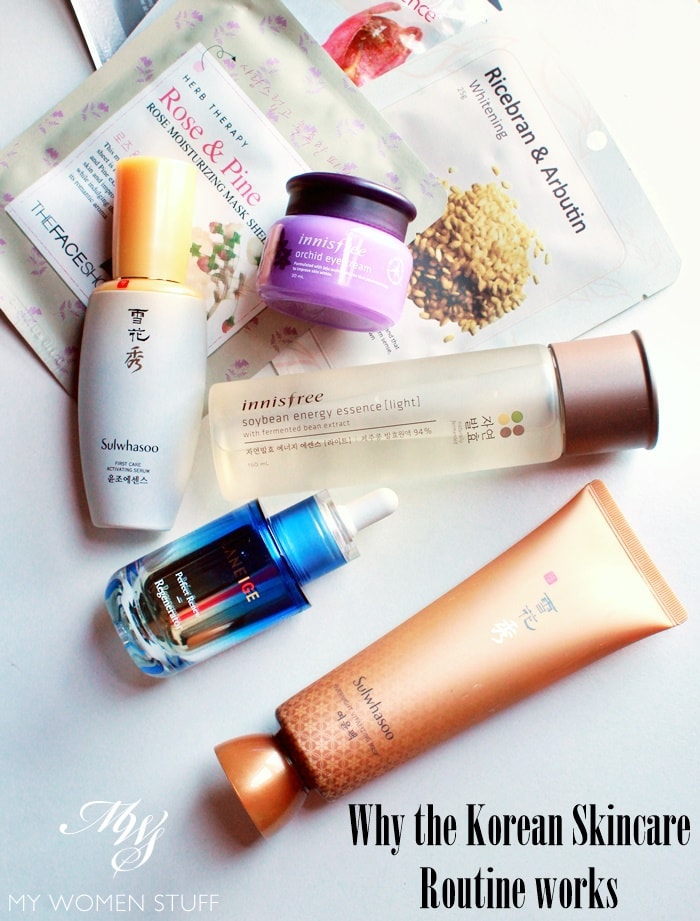 Korean skincare focuses on essences and serums
This one I think is another of the key things about Korean skincare that makes them effective. Very often, Korean skincare will require the use of at least one essence product. This is sometimes referred to as serum and like Western skincare, this essence or serum is usually the most potent product in the range. This is the one infused with the most effective and active ingredients that makes that skincare range work.
When I learned about skincare back in the day, you only ever heard about a 3-step routine – Cleanse, Tone, Moisturise. No one told me that I should be using a serum, because that would be the true game-changer. Not the moisturiser. The serums are where we are at when it comes to effective skincare. You can use any old moisturiser, but not the serum.
In Korean skincare however, I've noticed that right from the beginning the essence is put forward, topped up with an emulsion, instead of a heavy moisturiser. So, people are now more exposed to using essence and serums and are more conscious of having that step in a skincare routine. Serums are the game-changers.
Korean skincare is innovative and affordable
For the most part, there is such strong competition among the many Korean skincare brands available, that prices are for the most part, affordable. When skincare is affordable, people are more willing to use generous amounts of them without feeling guilty.
Contrast this with a brand that might cost hundreds for a tub of cream or a serum. Oft times, I hear people say "Oh, this serum is so expensive, so I shall only use 2 drops instead of the recommended 1 pump" But this will be a mistake, because it might well be that the 1 pump would be what makes it effective. But when a product runs out quickly, and you feel the pinch when replenishing, you'd be more loathe to replenish, or to use it up.
With most Korean skincare, aside from the hassle you may need to buy the products you want from overseas, the prices are usually very competitive. Sheet masks can be got for a song, so you don't feel guilty using them 3 times a week. Contrast that with an expensive SK-II sheet mask that you'll save for "a special occasion" (that probably never comes). Yet, 3 times a week with a sheet mask will give you nicely hydrated skin, and possibly better looking skin than if you were using an expensive product that you only apply sparingly.
Korean skincare is also pretty innovative, with their use of horse oil, snail mucus, bee venom, nightingale poop (or is that Japanese?!) and what else have you. When I was paying attention, it was snail mucus. I think it's moved on since. While I'm not the first person to buy into these rather gimmicky ingredients, I can't deny that they're trying things that many other skincare brands would not. Perhaps they work, perhaps they don't, but the novelty factor sells too!
The Korean skincare routine works but you can replicate it without their products
The upshot of this, is that I think that the Korean skincare routine works. If you've never used a skincare routine so focused on hydration before this, or have never really used a serum or sheet or sleeping masks, then you will notice the benefits almost immediately. A lot of people have dehydrated skin without even realising it, and the infusion of hydration is what makes the big change to your skin, and improves it over time, alongside other active ingredients.
However, I don't necessarily buy into their products, I didn't have a great experience many years ago (too much alcohol and rather mediocre results), and while I realise that things have moved on dramatically since, I haven't found the time nor energy to study Korean skincare brands in depth, as they change and move so quickly. So, what I do is to adopt the routine, but to modify it, using other brands of skincare with similar textures, and with a similar strong focus on hydration.
In general, the Korean skincare routine is thus:-
Cleansing oil and remove makeup -> Foam cleanse -> Exfoliate -> Toner/Lotion -> Treatment Essence -> Serum (optional) -> Eye Cream -> Emulsion (moisturiser) -> Sunscreen (day) or Sleeping Mask (night)
You don't need all of them, just customize whichever feels right for your skin. I usually do the double cleanse, double moisturise, serum, oil/moisturiser, sunscreen daily.
The key here I feel, is to have a routine and to stick to it. Sure, you can add and subtract steps as you go along. It's all to do with understanding your skin and what it needs, and what works. You don't necessarily need to use Korean brand products to enjoy the Korean skincare routine – these days, many Western brands have similar sorts of textures and products (albeit not in all or many of the major department store brands so you might have to look to the organic or niche skincare brands) so you can enjoy the benefits of the routine, if you don't want to buy into the K-pop hype. That's what I do! 😀
One point to note: When I was using Japanese skincare about 10 years ago, they practise a similar sort of skincare routine. You will still see this similar routine if you were to go to brands like Kose, Kanebo or Shiseido so I'm really no stranger to these seemingly complicated routines. When I told people I used about 9 steps in my skincare before, they thought I was mad. Now, these same people extol the virtues of a 12 step routine 😛 So, this isn't really a Korean routine as it were, but I think the Koreans are just better at marketing it that way, due to the large number of affordable brands available 😛
Do you adopt a Korean skincare routine? Are you a fan of Korean skincare brands and if you are, what do you recommend?
This is my view, naturally, of what I think works. As I've said at top, I don't use many Korean brands, but I read a lot, and from my understanding of how skincare works, I think the Korean skincare routine is a good one to follow, although you don't necessarily have to use Korean skincare to enjoy its benefits! Please share if you have favourite Korean skincare brands or products that you think I should try. I'm always game for a challenge and who knows, I might be extolling their virtues next! Hit me up, friends! 😀
Paris B