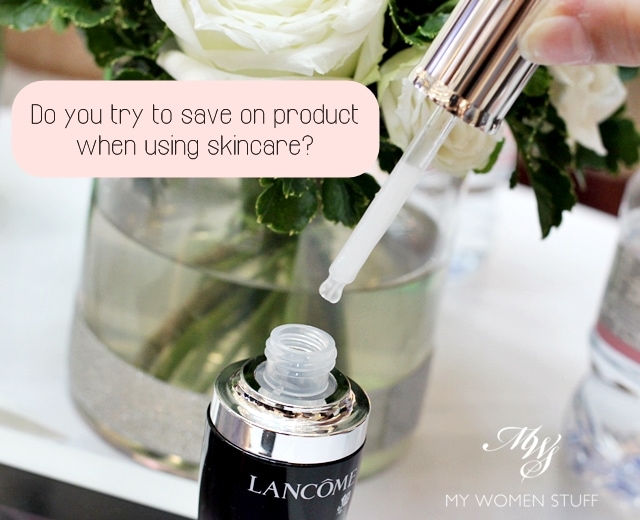 I had a very interesting chat with a friend very recently about the lengths people go to, to save on product use when they're using their skincare. This is especially so when using an expensive brand or product.
If a cream costs you RM400 or a lotion costs you RM300 you want to make sure that you make it last as long as possible, don't you? Hopefully that way, your dollar/ringgit stretches further. I heard a strange story which I'll narrate below of one method of saving, but I'd like to hear from you.
Do you try to save on using product when you're using your skincare to make it last longer? What are the lengths you'd go to? Be honest now! 😉
Personally, I sometimes feel a twinge of guilt when I'm using an expensive product and realise that it lasts me about as long as an inexpensive product. In many ways, it would be the case. If you are to use a dollop of moisturiser each time, it wouldn't matter how much it costs. A dollop is a dollop and if the size of the tub is the same, it'll finish at the same time.
When I was using the SK-II Facial Treatment Essence many years ago, it was very much of an indulgence. I was advised to use a cotton pad to pat it on my skin. To save, I eschewed that and poured it into my hands to pat on my face. At the very least, my hands benefit from the product instead of a piece of cotton! It worked fine for me back then and I still do it with all my treatment lotions especially the La Mer.
Another way I stretch my dollar is when I use sheet masks with a lot of essence, like the l'Herboflore masks. The l'Herboflore masks have so much essence left behind each time that I reuse it, but not in the way you imagine. I buy a pack of peelable cotton pads from Muji, soak a piece in the remaining essence then peel off the layers to put on my face as a mask the second day. This way I don't waste anything.
The tip I heard of that sent shivers down my spine was of people who reused their sheet masks, specifically SK-II sheet masks. Now these sheet masks are expensive I do not deny, but they are meant to be disposable and used just once. Apparently, it's a common tip to replace the mask into the pack, to reuse the next day or in a few days, so it "doesn't go to waste" Uh… no. Just as you do not reuse a condom, please do not reuse your sheet mask! 😛 It's so unhygienic!
That said however, I don't advise trying to save on product. My wallet cries every time I have to replace my sunscreen because I happen to use an expensive one but I don't stint on use and the amount I use each time shocks people. I go through a bottle in about 2 months, which is true of all brands I use, but I'm getting the most out of the product. Ditto facial lotions, serums and creams. If it calls for a drop, use a drop. If it calls for a full pump, use a full pump.
Ultimately, you want to derive the most out of your skincare and using less, so it lasts you longer, isn't helping you derive the best for your skin although it may suit your wallet. I'm all for using skincare that suits your wallet so if a product isn't within budget, use something that is and use enough of it. That's more important.
Just don't reuse your sheet masks please!
Do you try to save on product when using your skincare? What lengths have you gone to and do you (horrors!) reuse your sheet masks?!
The latter sheet mask tip really puzzled me so if you've come across it before, or have actually done it, please do share!
Paris B