You know, I've tried most of the big name products out there in my time. SK-II. La Prairie. La Mer. I was a user of La Mer quite a few years ago when they were new to the local market, and I quite liked it. But about halfway though my experience, it made me break out. I had a little sample pot of Creme de La Mer that I took with me on a winter holiday and my skin loved it. It was supple and there was nary a dry patch in sight despite the biting and dry cold air. Came home to the tropics and broke out again. Sigh.
Recently, I tested it again but despite trying both the Creme de La Mer and the new Soft Cream, my skin didn't quite take to either. Instead, what it really liked was the new The Treatment Lotion.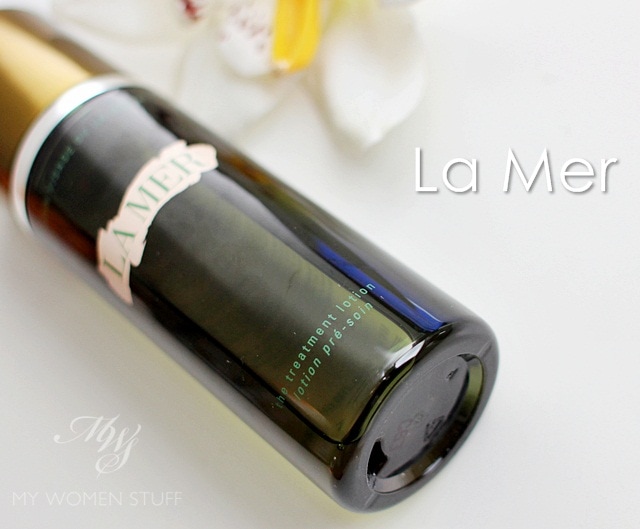 The Treatment Lotion is, if you are familiar with this sort of thing, a lotion aka essence aka "toner" in traditional parlance. It is a product that you use after cleansing and before your serums and moisturiser, and serves the purpose of hydrating and preparing your skin for the skincare that follows.
The key function is that of hydration and also to "recharge" your skin and you know me. Words like "hydrating" and "recharge" really get me going 😀
The Treatment Lotion has a rather interesting gel-liquid texture. It is a rather thick liquid but runny, so I can't call it a gel either. It is very viscous and spreads very easily on the skin.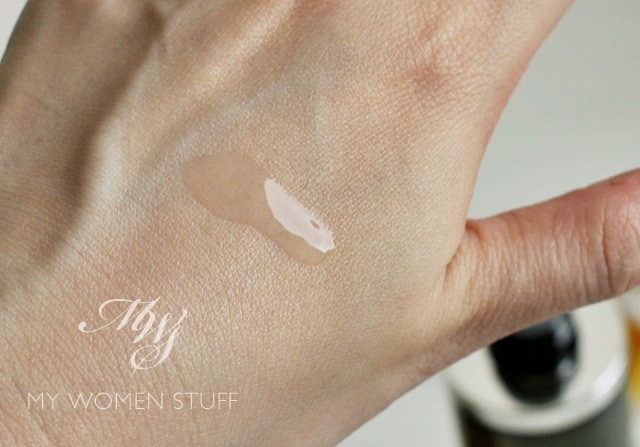 According to the instructions and to the SA at the counter who briefed me on this, you can do one of two things. You can either:-
Saturate a cotton pad and then wipe it over your skin or
Put a few drops in the palm of your hand and apply it to your skin
I opt for the latter method – why waste this precious liquid on a cotton pad when I don't have to?
I usually drop about 3 drops of lotion into my palm, spread it out between my palms and then apply it to my face and neck. It spreads very easily and absorbs quickly without leaving any sticky residue.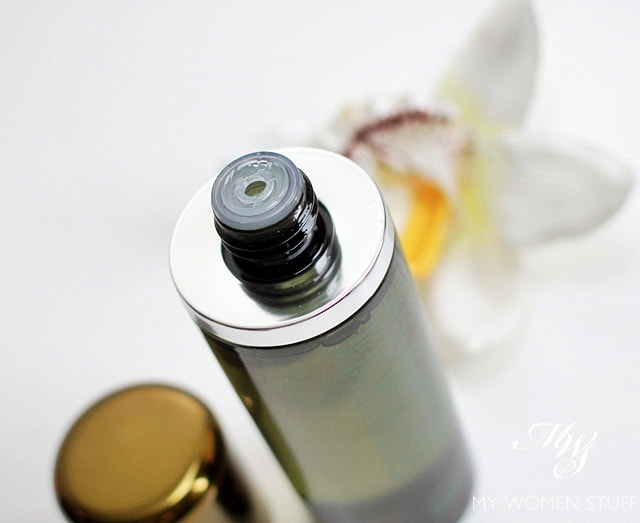 The dispenser is quite restrictive and perhaps it's the texture of the product that also means that it is quite easy to control the product dispensed. 3 drops is easily poured into your palm and it isn't so liquid that it will drip everywhere so it's really easy to control.
I had a little sample bottle from the counter that was the one that wowed me first. I had these little bumps of skin on my neck caused by dry skin, that wouldn't go away. After about a week or so applying this on my face and neck, I noticed that the skin on my neck was looking better and more hydrated and more interestingly, the bumps had disappeared. The little sample bottle lasted me almost 3 weeks so if you can get a sample from the La Mer counter (it always pays to just ask – sometimes you meet nice SAs) it is a good enough gauge for you to decide if you like it or not.
For my face, I use this as my hydrating lotion. I sometimes mist my skin with a floral water then pat this on and the follow up with serums, oils and/or moisturisers. I find that my skin does like this. It feels better hydrated.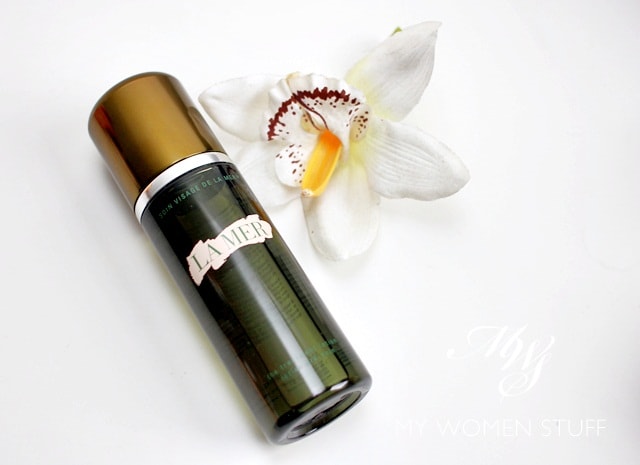 This Treatment Lotion is also supposed to "recharge" your skin but if I'm to be honest, I didn't notice any lightbulbs coming on. My skin looked the same, but FEELS different. More hydrated, smoother, less noticeable fine lines. At this age, I'll take that 🙂 I took this with me when I went to Australia recently and I believe it helped me through the dry cabin air, long flights and long hours, dry and cold climate and hectic change in lifestyle. If nothing else, at least my skin stayed hydrated and supple the week I was away, even if I felt like last night's dog's dinner 😛
So yes, I like this very much 🙂
There are however, 2 things I don't like – the fragrance (it's too strong and too perfumed so it would be best if it was formulated without any fragrance) and the price. But we can't help the latter can we?
Update: Reader Wei Jian has informed me in the comments below that the SK-II Facial Treatment Lotion is RM429/150ml and sells like hot cakes. So in the bigger scheme of things I'd say this one's more affordable (and importantly doesn't break me out!)
In a nutshell

The La Mer The Treatment Lotion is a new inclusion in the La Mer range of skincare products. It is a hydrating lotion that you use after cleansing and before your serum and moisturisers and creams. If you use the La Mer range, this comes before your serums and Creme de La Mer. I use this as a hydrating toner. 3 drops of this gel-liquid textured product is sufficient to cover my face and neck and I find that it makes my skin feel smoother, more hydrated and more supple. My lines aren't as obvious which may or may not be attributed to this, but I like how it feels and in comparison to the rest of the range it's not as wallet-busting.

Pros: Makes my skin feel more hydrated and smoother, Helps alleviate dry spots on skin, Seems to help make fine lines less visible, A little product goes a long way, I use less serum/moisturiser

Cons: Pricey, Strong fragrance

Who will like this: Anyone who needs a hydrating toner that recharges the skin
This is supposed to be meant for all skin types. Those with oily skin might even feel that this lotion alone is sufficient for them. I can't vouch for that as I do use serums or oils or moisturisers on top of this but if you have dry skin this really helps me boost and retain the hydration levels of my skin. Here is the ingredient list.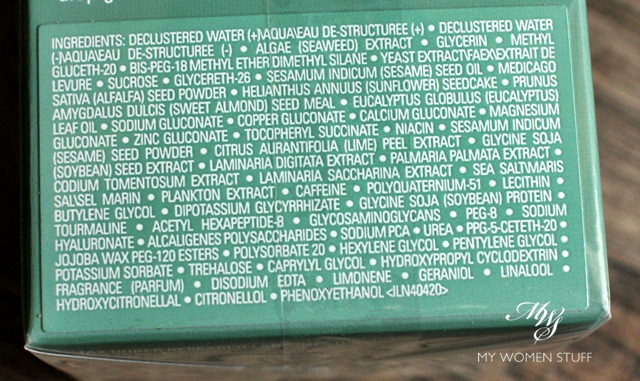 If you're allergic to algae or marine products, don't use this because it contains algae and other marine product extracts. I personally experienced no problems with this and I am very happy using it but you know how it is. It can't and won't suit everyone 😉
Oh and if you use the SK-II Treatment Lotion or are familiar with it, this is very similar in application except that I find the SK-II Treatment Lotion more liquid. However I can't compare effects and performance because SK-II breaks me out and this doesn't so you could say I'd be rather biased 🙂
Have you tried The Treatment Lotion? Do you use La Mer products or have you tried them?
To be honest I wasn't too wowed by the cream or lotions or even the serum that I'd tried a sample of once before. But this one has impressed me and I'm still on the fence about the Hydrating Infusion so once I've figured out how I feel about it, I'll let you know 🙂 The La Mer counters can be a little sticky about giving samples but if you can, persevere and see if they'll give you a sample of this. It'll be the best way to evaluate and decide if it works for you 🙂
Paris B
La Mer The Treatment Lotion Price: RM390/150ml Availability: La Mer counters, Lazada Official Store