Last year, makeup artist and vlogger Wayne Goss (gossmakeupartist on Youtube) launched his range of makeup brushes to great acclaim. I'm not a follower as such but I do enjoy good makeup brushes and when I saw that his were primarily natural hair brushes and Made in Japan (by Artisan & Artist), I was all over them!
I didn't get the whole set though. They were pretty pricey. But I did get a few to play with and while it would make sense for me to tell you about them as a whole, it also makes a whole lot of sense for me to tell you the one brush you'd want to pick up from the Wayne Goss brush collection, if you ever just want one. The reason is simple.
I haven't come across a similar brush out there, and that's good enough reason as any! 😀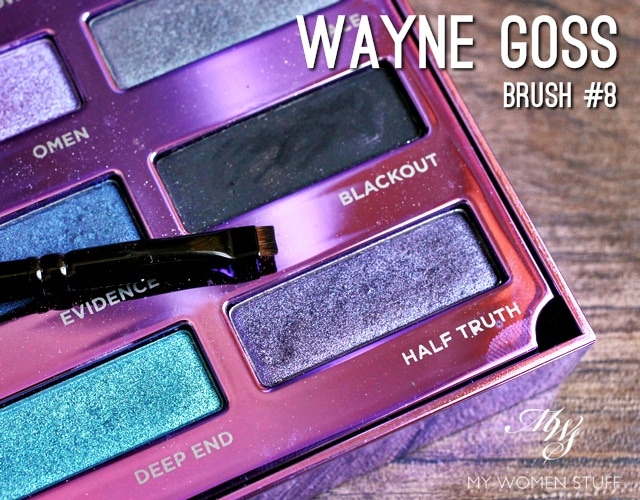 This brush would be the Wayne Goss Brush #8. There are 8 in the collection thus far, and they're all numbered because they're not meant to perform just one function, you can use each brush to perform a myriad of functions so numbers keep you from being tied to just a "Blush brush" or a "Foundation brush" or as I would call the Brush #8, a "Tightlining Brush".
According to Wayne, this Brush #8 can be used for liner, push liner, highlighting lips, contouring lips, brows, micro highlighting, and under eye bags. I use mine primarily as a push liner or for tightlining and it is a dream!
The reason why this brush works so well as a push liner or for tightlining is simple – the bristles are short, firm yet flexible and soft, and not too thick. The firm square tip also helps a lot for it to get right in the roots of your lashes for a very natural liner that makes your eyes instantly look larger yet doesn't look like you're obviously wearing eyeliner.
The brush is slim and not too long nor too short and feels comfortable and nicely weighted in hands. The handle is a black glossy wood with a black metal ferrule so the construction is very sleek.
You may notice just how tiny the head of the brush is. It's so tiny that when I first got it, I was a little surprised. I mean, how was I supposed to use this thing?!
See? It's so tiny compared to my thumb! But seriously, this brush is genius.
I have been doing a lot of tightlining in recent times because I've just been too lazy to wear mascara, and wearing eyeliner is quite a fuss to get right and to ensure they don't smudge. So, I went back to tightlining, which is essentially lining your eyes tight at the root of the lashes, usually from underneath and what you get is a very natural looking result, that doesn't even look like you're wearing eyeliner yet opens your eyes instantly.
I was previously using a pencil liner to tightline (I use the Guerlain Kohl pencil. Have been for years) and it works but I found recently that using a powder eyeshadow to tightline actually lasts just as long on my eyes, has a softer result and is easier if you're travelling because you can skip carrying an eyeliner. All you need is a brush and a dark eyeshadow colour which should be present in most palettes! 😀
Here are some examples of lines I get using the Wayne Goss Brush No. 8. I just dip it into black liner and draw it on. Apparently, you can also use this brush to draw brows. I tried it once and it works. I haven't tried it for anything else because I don't do a lot of detailed makeup, but if you are working with very small spaces, then this brush will work because it's so tiny.
And here is how I use this Brush No. 8 as a push liner or to tightline my eyes.
I first tap it into a dark eyeshadow, usually black.
Then I lift my top eyelid and draw at the root of my lashes, working the short brush into the roots to draw a line.
The difference between a tightlined eye and a non-lined eye isn't very obvious but you may notice how my eye on your right looks a bit more defined as opposed to the eye on your left where you can see the skin at the root of the lashes.
It really is an optical illusion but one that works and doesn't take very long because you don't have to get it 100% smooth or clean all the time. Another reason why I like using this technique and this Brush N0. 8 helps me achieve the perfect result every single time very quickly.
And that's why I say that if you just want one Wayne Goss makeup brush, consider the Brush No. 8. It's also the cheapest in the whole collection, retailing at £13 or US$17 depending on whether you are based in the USA (USD) or in the Rest of the World (GBP).
In a nutshell

If you want just one Wayne Goss makeup brush, get Brush No. 8 which works wonderfully as a push liner or tightlining brush. It is small, firm, slim and does the job in a blink of an eye. No pun intended. Of all the Wayne Goss brushes I have, this one gets the most use and delivers the best results with almost no learning curve. I've found no other similar brush in the market to do the job so that's another reason I love this one. Absolutely worth getting.

Pros: Tightlines like a dream, Easy to use and hold, Good size, Brush is short yet soft and firm to get into roots of lashes without irritating the eyes

Cons: Pricey, Shipping costs is quite high as there are only 2 sites selling these brushes

Who will like this: Anyone who does tightlining for eye makeup on a regular basis, Anyone who wants a multi-function brush for lining, brows and working on small spaces
For now there are just 2 websites that retail Wayne Goss brushes:-
In the USA: Beautylish
Rest of the World: Love Make Up
I got mine from Love Makeup (of course, since I'm in the "Rest of the World") and shipping to me is a painful £12.50 flat rate and comes by registered mail. It only makes sense therefore to share your order with friends or make a larger order so it evens out. For just one brush, it isn't worth it. However, shipping within the UK is free so if you have friends there, see if you can ship it to them and then get them to send it to you which might be more affordable.
Update: LeGeeque and Lipglosseater below have commented on how Nars has a similar brush. I believe they maybe referring to the Nars #15 Smudge Brush which I also own and love but it performs a different function. I managed to grab a quick comparison shot after reading their comments.
The Nars brush is thicker and is tailored more towards smudging of colour whether close to the lashline or on the lower lash line (which I use it most). It is however, too thick to use to tightline even as it can be used on the upper lash line over liner to set it or to smudge out a smokey eye. Hope this helps anyone else wondering 🙂
Do you own any Wayne Goss makeup brushes? Do you tightline your eyes?
I picked up the Brush No. 1, 2, 3 and 5 as well. I can't seem to find my Brush No. 1 lately but I'm sure it'll turn up somewhere 😛 I found I had a learning curve when it came to using the other face and eye brushes but not with this Brush No. 8 which worked from the get go. Definitely one I was happy I splurged on 😀
Paris B
Wayne Goss Makeup Brush No. 8 Price: £13 or US$17 Availability: Beautylish