Mmm… how do you go about being contrary when the world is going gaga after something? I quite often feel like a salmon swimming upstream when this happens, beating fruitlessly against the mainstream of raves and rah-rahs coming my way.
But swim upstream I shall 🙂
The Bobbi Brown Smokey Eye Kajal Liner was launched late last year in 6 new shades, 2 of which are shown here in that useful Noir (black) and Jade (blackened green). Like most kajal liners, they are soft and very easy to draw a line and smoke out. The sponge smudger at the back of the pencil helps too!
I like how a sharpener comes packaged with every pencil. I loved it when Guerlain did it and I love that Bobbi Brown is doing it. It just makes it so much easier to not have to hunt down a sharpener when your eyeliner is getting dull and best of all, you know it'll fit and reduce wastage. But what's this swimming upstream business then?
Well, these last all of 2 seconds on me. Ok, I lie. They last a little more than 2 seconds.
2 minutes maybe.
Bobbi Brown Smokey Eye Kajal Liner Left: Noir Right: Jade
If they lasted longer on me, I'd tell you that these are very lovely eyeliners. Noir is a deep rich black that applies so easily on skin, almost as if like it was charcoal. Jade is a very interesting silver-green shade that is quite dark and very interesting. The texture is soft like a kohl pencil and it is about as deep and dark as a kohl pencil.
I tried them to line my eyes, tightline, line on my waterline and as a base for a smokey eye. They are great for lining and especially for tightlining, which I do a lot of. But for some reason, they smudge right off my eyes almost immediately. I can't do anything with them! This is unusual for me which is why it bears mention.
As a base for a smokey eye like this tutorial here, it is nice. It gives that depth of colour to eyeshadow and eyeshadow helps it stay on better. However, for some reason, this really moves on my skin so I'm left with a lot of creasing. Again, unusual for me.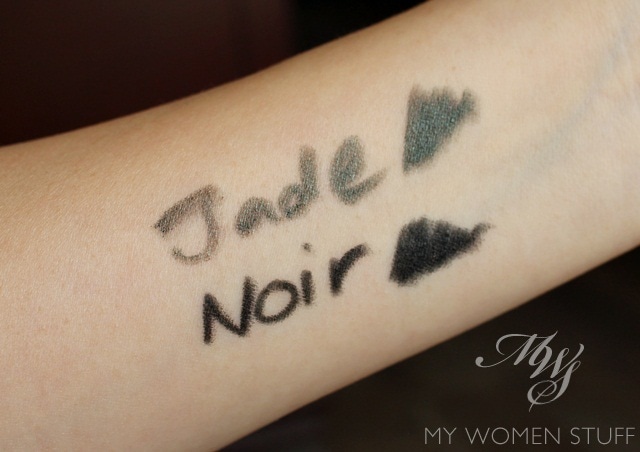 I like the colours and the depth of blackness Noir gives but I just can't deal with it slipping and sliding and creasing so I'd have to be that salmon that swims upstream against the tide of raves and say that these Bobbi Brown Kajal Liners, lovely texture as they are, just may not cut it for some.
And by some, I mean me.
In a nutshell

The Bobbi Brown Smokey Eye Kajal Liners are very lovely and soft and line the eyes without tugging on skin. Noir is a very presentable black that is very deep and a true black. They all come with a sponge smudger at one end and a sharpener which makes it very useful. I however find that they smudge and run too much on my eyes. They don't stay on which it a pity as I like the soft texture and the depth of colour.

Pros: Lovely soft texture does not tug nor pull at the skin, Easy to use, Comes packaged with its own sharpener, Easy to smudge for a smokey eye look

Cons: Does not stay on my eyes, Smudges for me when used as a liner, Creases for me when used as a base

Who will like this: Anyone who is looking for a dark, soft, easy to blend eyeliner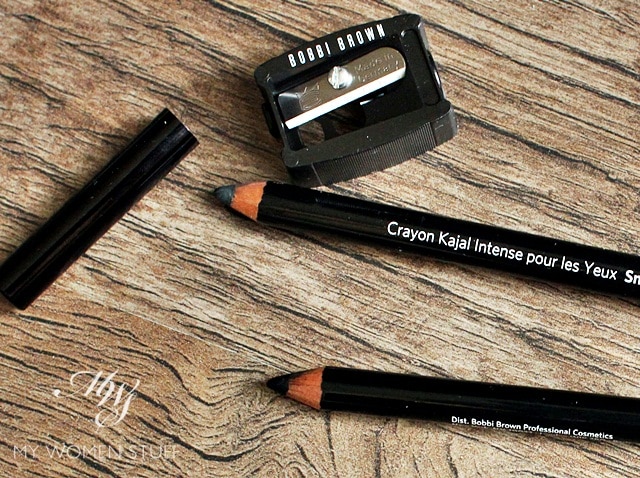 Have you tried these Kajal Liners? Did you like them?
Instead of using a pencil liner, I've been using a dark/black eyeshadow to tightline a lot in recent times, and it's been working very well for me. I'll show you soon. As for these, I'm afraid that salmon you see is me swimming against the tide of mainstream opinion that says that these are longlasting, dark, easy to use liners that give you a beautiful line and a soft smokey eye 🙂
Paris B
Bobbi Brown Smokey Eye Kajal Liners come in 6 shades Price: RM90 Availability: Bobbi Brown counters and stores