Somewhere in the middle of the year (2013, if you're a visitor from the future – hey, it happens!) Lancome did a collaboration with Lanvin designer Alber Elbaz where selected mascaras and eyeshadow palettes were given the Alber Elbaz makeover with cartoon drawings and lots of hearts. There was also a cute cartoon runway show video. Missed it? Refresh your memory here.
Here then is one of the palettes from that collection, the Lancome Doll Eyes Eyeshadow Palette in D05 Gris Fume. Yes, I realise I may be late and that this limited edition packaging may be sold out by now but take heart, the palette itself is permanent!
But since we're at it, here's the limited edition packaging for the Lancome x Alber Elbaz collection. Wanna know a secret? I don't like it. Sorry. I much prefer the plain black compact used in Lancome's regular line. Sacrilege yes? Everyone loved it. Ahem. Well except me, lah 😛
Oh but there's something I do like about this palette, and that is that the base is magnetized. So, the cover closes with a magnet, and best of all, the applicators don't fall out, because they are held on by magnets. Now, when will other brands cotton on that this is a GREAT IDEA? 😛
See, here I am dangling it a few feet above the ground and everything stays put!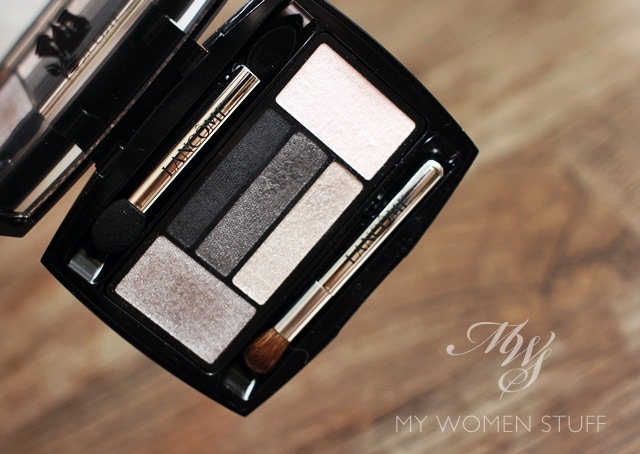 In a regular palette, I'd be scrabbling around, collecting the applicators off the floor by now. It would be nice if other brands took note of this innovative design. Despite how I personally feel about applicators, I think they are a necessary evil. They can usually be used in a pinch, and not everyone wants to splurge on a brush (although this isn't a good idea if you don't!)
Alrighty then, here's a close up of the colours in the palette D05 aka Gris Fume. It is a very neutral palette, with a mix of light and dark shades and despite what I've read, I find the taupes and greys in this one have a warm cast, with a silvery sheen. What this means for the majority is that this is one of those "universally appealing" neutral palettes. It'd look good on most people.
I've swatched this in a zig-zag fashion, starting from the left, I meant to label the palette but forgot, so I'm sorry but you have to do a bit of work corresponding the swatches.
(1) Silvery warm taupe (2) Matte dark grey with a warm undertone (3) Silvery cool medium toned grey-taupe (4) Shimmery light beige (5) Glittery sheer pink highlight
That said however, I had a little bit of trouble working with this palette, because I found that whilst pigment was good, the contrast between the light and dark shades were a little too stark. So, I found that for small eyes (like mine) it can muddy if you aren't too careful. So using all 5 shades on my eyes is a strict no-no. I could do with 2 max for shading my eyes, and maybe one light highlighter shade under the brow bone. The paper insert comes with some pictorial diagrams on how to use this, which is useful but not terribly practical unless you have round eyes with a lot of lid space.
So here's how it looked on me, using just 3 shades – the dark black close to the lashline, the warm taupe blended over as a lid shade, and the shimmery pink as a highlight. I like grey shadow – it works on me but if you have a warmer skintone, don't fret. The warm notes in this one means it may work for you too!
I think it's pretty, and work friendly. However, don't be over enthusiastic, and be content with just using one or maybe 2 colours on the eyes. In this case, less is certainly more 🙂
In a nutshell

The Lancome Doll Eyes Eyeshadow Palette in D05 Gris Fume is part of the permanent collection. The special cover you see in this picture is part of the limited edition Lancome x Alber Elbaz collection. I'd say that this palette is one that will appeal to many for the simple reason that it is quite user friendly. You can deepen the shades for evening or lighten them for use in the day. However, I also found that less is more with this one. The colours are pigmented and can muddy when blended together.

Pros: Pigmented colours, Easy to wear, Single shades apply prettily enough so you don't really have to blend too many shades to get a polished, pulled together look

Cons: If you liked the packaging it is limited edition, Colours can muddy if you aren't careful

Who will like this: Anyone who likes neutral palettes, Anyone who is looking for an easy to wear taupe eyeshadow
I have to say that I rather like Lancome eyeshadow palettes. Some are put off because the shades do tend to be a little light or a little too shimmery. If you come from the Japanese makeup school of thought as I do, then you'd enjoy using these. They are very close to Japanese style palettes, down to the gradational tones. However, if you come from the MAC, NARS or Make Up For Ever school of thought, then these won't be your cuppa char 🙂
Did you pick up anything from the Lancome x Alber Elbaz collection? Have you tried these Doll Eye Eyeshadow Palettes?
I have to say, I think these may be a touch better in terms of quality and depth of colour than the Colour Design palettes so if you want something quick, easy and fuss free, and want Japanese looking eyeshadows but want more colour, then consider this range. It bridges that gap 🙂
Paris B
Lancome Hypnose Doll Eyes Eyeshadow Palette D05 Gris Fume is a permanent shade but the Alber Elbaz packaging is limited edition Price: RM195 Availability: Lancome counters Limited Edition: Packaging is, but not the palette D05 which is permanent