There are so many Fall makeup collections already making their rounds, but I'm going to kick it off here with the one from Laura Mercier which I found interesting because it is so dark! Aptly named Dark Spell, the collection is deep, dark and mysterious with generous lashings of black and glitter infused darkness.
Pretty much like this Baked Eye Colour in Mystical.
In the Dark Spell collection there are 2 black eyeshadows. One is a Satin Matte Eye Colour in Dark Spirit – a pigmented matte black powder eyeshadow, and the other is the Baked Eye Colour in Mystical – a dark black baked eyeshadow shot through with lots of silver glitter.
I've got an overall view picture and view of the Dark Spell collection below, but I'd like to go into a little more depth with Mystical, and to show you just how you can achieve a very simple and wearable smokey eye look in just about 1 minute with just one shadow. Which girl doesn't need that, I ask you? 😀
The Baked Eye Colour formula can be used wet or dry, and is fairly large in the pan. It is also very glittery.
Seen here, it is as if the surface of the moon got dusted with glitter and presented to cast a dark spell.
You will see all the fall out in the pan and the shape in pan isn't very even either. Chalk it up to it being a baked formula. If you use a damp brush you could use it as a liner. Here are the swatches dry on my skin.
Laura Mercier Mystical eyeshadow Left: 1 layer, light hand Right: 2 layers, heavy hand
As you can tell, you can quite easily build up pigment or use it lightly over a base. It is, as you will note, glittery. Not shimmery but glittery with relatively chunky glitter. Can't say I'm a fan of that. But I also have to say that I'm not much of a fan of baked eyeshadow formula. From experience, they tend to harden too quickly and have poorer pay off. As you can see, the colour pay off isn't bad in this one, so that puts paid to my theory 😛
So what's this 1 minute smokey eye look then?

I found that if you just pick up Mystical and apply it all over your lid and blend it out, you get quite a simple and lovely eye look with just 1 colour. I use a dense brush and start from my lashline, concentrating colour there, then apply more over the lid. I then switch to a blending brush and blend out the edges to soften. Done!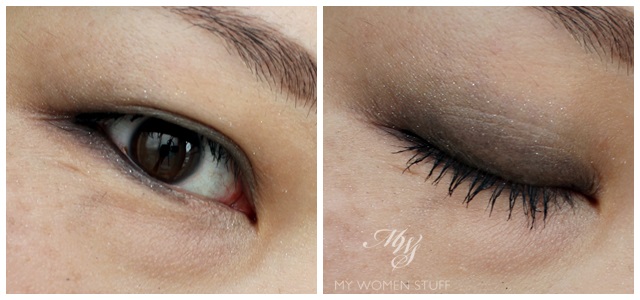 And here's how it'd look. Mystical on the upper lid and smudged on the lower lid. Tightlined and mascara.
Use more colour at the base, less as you go upwards but do note you get all that glitter along for the ride. I don't experience much fall out (or maybe I didn't look into the mirror during the day) but I didn't seem to get any glints of colour on my cheeks. No black colour fall out either and I didn't use a base. If you do, you get more intense colour.
Here's how it looks overall. Not overly done is it?
Also featuring: Laura Mercier Silk Creme Foundation in Soft Ivory, Guerlain Meteorites Teint Rose, Nars Radiant Creamy Concealer in Vanilla, Dior Addict Extreme lipstick in Lucky, Bobbi Brown Pink Coral blush
For more intensity, pack on more colour. For less, blend it out or use a lighter hand. I won't say I love this one because I'm not a fan of baked eyeshadows, and you could quite easily achieve this look with another black eyeshadow but the glitter and the buildable pigment in Mystical is what makes it easier to work with than most. Enough perhaps, to put someone under your dark spell 😉
In a nutshell

Mystical is a new and limited edition colour by Laura Mercier for their Dark Spell collection. It is a baked eyeshadow formula and I find the product in pan a little powdery with some fall out. The colour is buildable and can be both sheer or strong. However, the glitter is quite apparent although I did not experience fall out with this shadow when used on my eyes without a base. I like using Mystical alone, for a simple smokey eye look. It is very easily blended out and works very well alone which makes it quite practical. I won't say it's a must have nor that it's a special colour, but if you don't have one like this, it's always worth having it.

Pros: Easy to blend, Easy to pick up colour with fingers or brush, Colour intensity is easy to build up and sheer out

Cons: Glitter in product will not appeal to everyone

Who will like this: Anyone who wants a very simple and easy to work with dark eye colour and who isn't afraid of having glitter
Laura Mercier Dark Spell Collection : Fall 2013
Now for the full Dark Spell collection.
Missing is one of the eyeshadows in a light glittery shade. 2 things that attracted me were the Kohl Liner Extreme (RM69) which is a kohl pencil that you see with the pointed tip. It is creamy and intensely dark and you can use it as an eyeliner or a base. I've never owned one of these before!
Also in the collection are 2 limited edition nail lacquers in Forbidden and Bewitched (RM69 each) and a lip plumper in Charmed (RM95).
The other item that I was very keen on initially, is the Spellbound Face Illuminator (RM159) highlighter. That's the pan on your right with the wavy texture. Here, let me show you a close up 🙂
Better now? 😀 I was very taken with this, which is a shimmery highlighter with rose gold tones. Very pretty! When used on the model, it was applied on the cheekbones and down the nose bridge and also on the collar bones and decolletage. Yes, it can be used on the body too 😉 It is quite a large pan and I predict this will sell out quickly because it's very pretty.
However, I've finally decided I'm not getting it right now because I haven't been using highlighters a lot, and I'm concerned that a rose gold shade may not sit well on my skin which takes better to champagne tones (also takes better to champage. Period. LOL! :P)
Does Mystical eyeshadow grab your fancy? Are you eyeing any product from the Laura Mercier Dark Spell collection?
I was quite keen on Spellbound initially, but the feeling has passed. If you like highlighters, it's worth checking it out because I remember previous Laura Mercier highlighters were in great demand and this will not be an exception.
Paris B
Laura Mercier Mystical Baked Eyeshadow is part of the Dark Spell collection Price: RM89 Availability: Laura Mercier counters Limited Edition: Yes, Dark Spell Collection Fall 2013