I've got a thing for these stick eyeshadow in recent times. They are so easy to slick on for a very simple eye look that anyone, yes, anyone can have polished eye makeup on in hardly any time at all. Perfect for hot days, lazy days and in-an-eyeshadow-rut days. I am nodding to every single one of those days. I haven't gotten out of my rut as you might expect 😛
The Clinique Chubby Stick Shadow Tint for Eyes to give it their full name, was launched overseas some time last year in 2012 if I recall correctly. They only arrived on our shores earlier this year, and erm… yeah its taken me a while to get to them. Hello July! 😛
I must say though that its worth the wait, because I think these pencils are very nice. If you're the sort who'd want just a light wash of colour over the lids and don't want to fuss too much with crease shades and highlighter, and you want something that lasts then do take a look at these. These are like beginner eyeshadows or lazy day eyeshadows – no fuss, no muss 🙂 I know I told you that I loved the Chanel Stylo Eyeshadow but these, they're almost half the price and do the job! So, why not? 😉

The shape and size of these Chubby Stick Eye pencils are exactly the same as that of the very popular Clinique Chubby Stick Lip Balms. I'm not much of a fan of the lip balms and I honestly think I'm the only one in the world who isn't 😛 (but I adore the Chubby Stick Intense which I'll tell you about another day) But lest you think you'd be wont to make a mistake when reaching for your pencils in the morning, take heart. The bodies are colour coordinated with the colour inside, so unless you are the sort who might slick on a lilac or green lipstick, the odds of you making a mistake is very low 😛
Like the Chubby Stick lip pencils, twist the bit at the bottom, and the colour extends. The tip for the eye pencils as you can see, is rounded to make it easier to apply on lids, and if you close the silver cap, there is a slight click to tell you that its properly closed. You can see the little groove around the top of the pencil in the picture above.
The colour I have is Lavish Lilac 09 which at first glance I was a little concerned about. You see, purple tones for eye makeup don't play well with me. It is also why I didn't have much of an urge to try it initially. But when I did, I was very pleasantly surprised. You see, Lavish Lilac doesn't apply very purple at all!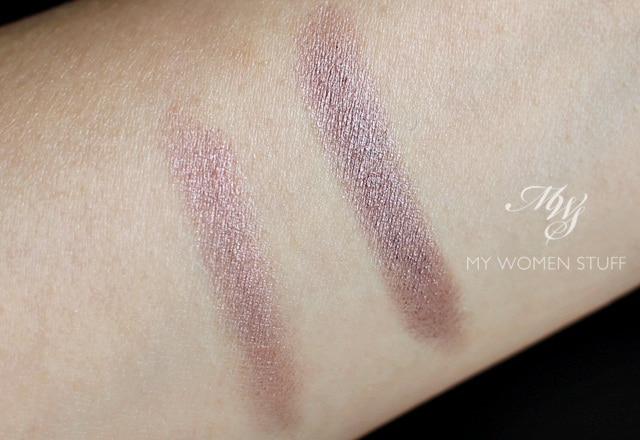 Clinique Chubby Stick Eye Pencil in Lavish Lilac Left: Swatched 1 time Right: Layered 3 times
You can see from these swatches that the colour is an interesting purple-taupe with a brown-grey base. There is some shine to the product which I find quite useful when you want to apply just 1 wash of colour over your lid. It helps create some dimension to the lid.
The texture feels a little like that of a crayon. It is a little dry and not very creamy and I do find it a little hard to blend out unless you work very quickly. If you use a lighter shade like Bountiful Beige, Fuller Fudge and Lavish Lilac, it doesn't quite matter but if go for the more intense shades like Massive Midnight (navy blue) then I can imagine it will be a bit of a problem. If you swatch the product on your hand and then try to remove it, you may be surprised at how hard it is to remove. Definitely needs makeup remover.
Lavish Lilac isn't a colour I'd have chosen off the bat, but I am quite pleasantly surprised at how wearable it is, and I can imagine that most people will be able to pull it off. You can layer it on (not too many layers or it can get patchy) for a deeper tone, or just apply 2 layers of a light wash of colour, line, mascara and go.
Here's an example of how I wear Lavish Lilac. Just as a wash of colour over my lid. You can see that it isn't very shimmery, nor very purple, nor very dark. This was about 2 layers I believe (this was taken about a month ago and I can't remember :P)
And you may notice that when I open my eyes, the colour sort of disappears 😛 This is due to my eye shape which tends to "eat up" eye colours which means I can slap on a lot but the minute I open my eyes, its all gone, folded away LOL I like wearing this one on days when I want to pull on a brighter lip or cheek colour, because you don't really want every feature on your face competing with each other for attention. I do go for lined eyes with mascara to define the eyes so its nice to have Lavish Lilac as a suggestion of colour.
For my lids which don't oil up, these last almost all day, which is great for our tropical hot and humid weather. By evening, it does tend to have faded somewhat, but it doesn't crease on me, which is great. I'm not sure how well this will perform on someone with oilier lids since I'm not your best example, so if you have tried this one and you have oily lids, do share your experience.
In a nutshell

The Clinique Chubby Stick Shadow Tint for Eyes are a range of cream eye colours in a pencil form. They are very easy to use as you can literally just swipe them on your lid, blend quickly and go without too much fuss. Lavish Lilac which I have goes on a purple-taupe which you can build up intensity with but you might want to be careful because it can get patchy. It does apply very smoothly but it does set quite quickly so you have to be quick to blend. I found they lasted all day on my non-oily lids and were very quick and easy to use. I personally prefer the lighter shades because I can imagine deeper shades would be hard to blend out.

Pros: Portable, Easy to use, Subtle shimmer adds dimension to the eye, Longlasting, Sets quickly

Cons: Liable to break if you extend it too far, Can be hard to blend once it sets

Who will like this: Anyone who wants a quick and easy eyeshadow application tool, Anyone who likes using cream shadows or stick shadows
I learned by mistake that if you extend the shadow too far as I did with mine, it can break off as mine did. I found out the hard way, when I removed the cap with a pop and had a piece of product fly out 😛 So, do be careful and don't extend it until its really flat then twist it up a little. Just because you can twist it up, doesn't mean you should – learn from my mistake 😛
Have you tried the Clinique Chubby Stick Eye shadows? Do you have a fave colour?
I'm eyeing Fuller Fudge from the 8 shades available locally and I've been trying to pick it up for the longest time but it always seems to be out of stock. When I work with cream shadow, I find I prefer using more neutral shades. They translate better when just using 1 colour on the lid. Above all, I love how portable these are. If you're travelling yet want to look polished, you can always take a look at these… or any stick shadow in the market 😉
Paris B
Clinique Chubby Stick Shadow Tint for Eyes comes in 8 shades locally – Bountiful Beige, Fuller Fudge, Lavish Lilac, Mighty Moss, Pink & Plenty, Big Blue, Massive Midnight and Two Ton Teal Price: RM60 Availability: Clinique counters