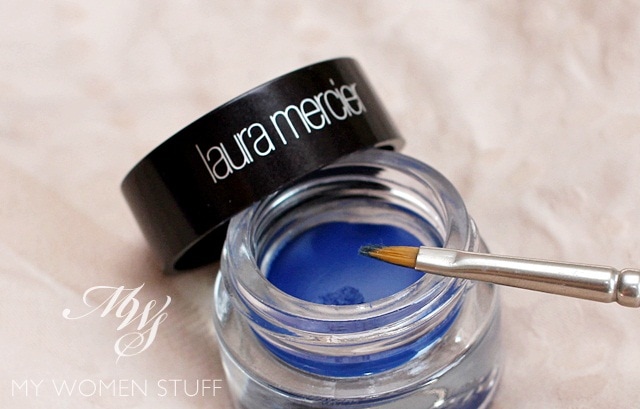 Bright blue liner! If you didn't already realize it, blue (and in particular bright blue) eyeliner is all the rage at the moment. Its a fun twist on the traditional black and brown eyeliners and if you are feeling a bit lazy and don't want to put on too much makeup, slick on a bright eyeliner, put on mascara and you're good to go! I've been very uninspired with my makeup recently and this is all I've been wearing.
I never used to be very adventurous before. I'm a staid ol' fuddy duddy 😀 But when I dabbled with blue eyeliner last, I knew I had to find one that was bright enough for my needs. When the new Laura Mercier Cream Eye Liner in Cobalt landed on my desk, I told myself this had to be it! Just look at that electric blue! 😀
Like all cream eyeliners, these come in a little pot and the product has a beautiful creamy texture. Very creamy. Oily lidded girls take note. It doesn't come with a brush but Laura Mercier sells an angled eyeliner brush which they say goes well with it. I don't have that one so I used one of the eyeliner brushes I had, which is an old one from Becca. Does the job!
So, would you wear something like this and how do you think this fares?
Size wise, its just a little pot, similar to what you will find from other brands. Its small but then you don't trowel on things like eyeliner, so this is plenty 🙂 The thing of course, is you have to be sure to close it properly so it doesn't dry out as I'm sure will be wont to happen. Treat this product will care and it'll love you back!
In terms of pigment, I swear this is wonderful. Just look at this swatch down the back of my hand. All I did was use a brush to pick up product and apply 1 swipe on my skin.
Laura Mercier Creme Eyeliner in Cobalt
Pretty right? 🙂 It does take a while to set which is something I'm not crazy about. Too often I've drawn on a nice line and then blinked and voila! Triple eyelids 😛 Then I have to rub off and start over. That part, I don't like. It might be something to do with the creamy texture that makes it do this.
So, when I use this one (because I do love the colour a lot!) I have to keep my eyes closed or half closed, until its set. Not for those in a hurry, I can tell you. On the upside, if you wanted to blend this one out, it is quite easy to do since it takes so long to set.
Here's how I usually wear the Cobalt eyeliner. I usually just apply on a thickish blue line, mascara and that's all I do for the eyes. Due to how my eyes are, the colour isn't very visible when I have my eyes open. Its only when I blink or when I lower my lids that the colour pops into view and that makes it fun! 😀
I do encounter another set back though. I do not have oily lids generally speaking but I found that the Laura Mercier Creme Eyeliner wasn't very long lasting on my lids. It starts out looking great until about halfway through a work day, then when I look into a mirror, I find that it has creased. I don't experience smudging, which is a consolation, but the creasing bit does upset me because I love this colour so much 🙁
One way to prevent, or at least try to prevent the creasing, would be to layer on some powder shadow over the liner. This helps it set and stay on better. But, it also messes with the vibrancy of the colour. I see so many raves for this cream eyeliner being long lasting and not budging all day that I had to question myself if I was seeing things but I've tried this so many times with similar results that I'm convinced its one of those things where its not you, its me. I don't know if our humid weather has anything to do with it, so if you have tried this and you don't experience a problem, please please let me know 🙂
In a nutshell

The Laura Mercier Creme Eyeliner comes in a little glass pot and has a lovely creamy texture that makes it very easy to draw a nice line. The colour is strong and pigmented with just 1 swipe on the skin and it is very easy to apply. Cobalt is a beautiful electric blue that is just gorgeous worn on its own to frame the eyes. I love the colour and texture but am not crazy about the time it takes to set, and the fact that it creases on my non-oily lids. To avoid having it transfer, it is advisable to keep your eyes closed for a while, to allow it to set properly. To reduce creasing, apply some powder eyeshadow over the liner to hold it in place for longer. Ultimately though, I wish I didn't have to do all that. I love the colour and the other colours in the range but it is just a wee bit too problematic for me.

Pros: Beautifully pigmented and vibrant colour, Easy to use, Lovely creamy texture makes application smooth with no drag

Cons: Takes a long time to dry and set so its apt to transfer if you blink too quickly after applying, Had a tendency to crease on my non-oily lids

Who will like this: Anyone who is looking for a pigmented bright blue eyeliner
I have to say that I was a bit disappointed with the creasing bit, even though it happens something like 5-6 hours after application. Part of the reason I feel this way is because I rarely experience problems with creasing so this was something I had to note. However, when you think about it, 5-6 hours of wear isn't too bad! 🙂 I'm eyeing the colour Canard which looks like a lovely deep green. Green liners – now that's another thing to get obsessed about 😀
Have you tried any Laura Mercier Creme Eye Liner? Do you use blue eyeliner and do you have a favourite one?
I haven't used cream/gel eyeliners in ages. I actually haven't been lining my eyes a lot daily, except for tightlining which I do all the time and which I feel enhances my eyes enough. Experimenting with blue or coloured liners has been fun though. Its eased up my eye makeup because a bright coloured liner can stand alone and that means you save loads of time and still look eye catching! 😀
Paris B
Laura Mercier Creme Eye Liner comes in 6 shades Price: RM85 Availability: Laura Mercier counters/stores