Colour! How brave are you wearing bright colours for makeup? Just look at that lipstick eh? Kinda scary I'd admit even to myself. It looks neon LOL!
If you haven't noticed, navy blue or blue eyeliner has been touted as a must have for the Spring/Summer 2013 makeup trends. I'm not one to actually pay attention to trends (I don't have the time nor interest to keep up) but I have been playing around with the new Sleek Makeup Flick It eyeliner pen in Royal Blue and its been interesting. I even paired it with their True Colour Lipstick in Tangerine Scream which you see in the picture. Scream! What an apt name 😛
Here's how they look – and you can tell me if you'd ever wear a lipstick that bright out of the house 😉
I did you know 😀 I wore Tangerine Scream out and as luck would have it, it was the day when the lift chose to stop at almost every floor to let people on. I started at the top, so there were more than a few double takes as the lift doors opened and people were confronted with a pair of bright orange lips first thing in the morning LOL! 😀
Here's how I looked. I have on here, a deep navy blue eyeliner which was my other pop of colour but I am rather disappointed that it didn't show up as blue as I expected it to. I used the new Sleek Makeup Flick It eyeliner pen in Royal Blue which you will see below.
See the blue at the end of the pen? I expected to see that blue on my skin. The lipstick on the right is the True Colour lipstick which comes in a cute little oval case with rubberized grip that remind me a lot of the NARS lipstick packaging. Its got that same tactile feel which actually makes it feel more luxurious than the price indicates.
The Flick It Royal Blue looks like a very deep blue and is almost black. The tip is rather like that of a permanent marker with a little bit of give so drawing a line is quite easy, and you can vary the thickness. As a colour that is supposed to make eyes pop, I wasn't terribly impressed.
It looks very promising on the back of my hand. I haven't really worn a blue eyeliner before this so I was really keen to embrace the trend and for once in my life, be on trend for the season.
Left-Right: Sleek Makeup Flick It Eyeliner pen in Royal Blue; Sleek Makeup True Colour Lipstick in Tangerine Scream
However, I realised that on my eyes, the colour doesn't show up a royal blue, or even navy blue. It shows up just as a dark eyeliner, which disappointed me. I'm going to try another one soon in a bright cobalt blue from Laura Mercier so I'll let you know how well that fares soon 😀
Do you see what I mean? You can barely tell that its blue unless I go up close like this. From afar, as you can see in picture #2 above, its just dark. Quality wise, its very impressive for the price. It lasts all day long, its a nice deep shade and I think if I had this in black, it would be seriously impressive. The pen nib is a little hard and scratchy against my skin though, but it draws a line very well so I can forgive that a little. Do beware that if you have very sensitive eyes, you may find it a bit too scratchy.
The True Colour Lipstick in Tangerine Scream however is totally different matter. Its a bright bright orange in the tube and swatches on skin, a similar bright bright true orange. Its not coral. Its ORANGE!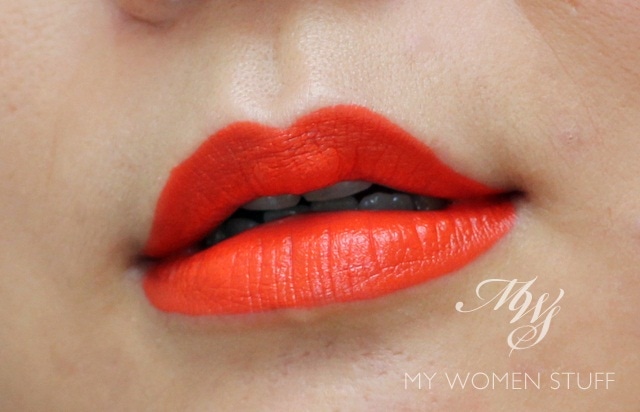 See? 😀
I quite like the texture of the True Colour lipsticks to be honest. They are absolutely lovely and creamy and apply opaque in one swipe. So very impressive for the price! It isn't drying either and the colour is super bright and beautiful. I did however find that it settled a little into my lips after a while but it wasn't drying at all, and to be honest, its hard to find a lipstick of a quality like this in the budget category.
Colourwise though, although I wore this because I have it, its not a colour I'd pick up personally. I think its a bit stark against my skintone although if I were to apply some bronzer and perhaps get a tan, I do think it'd look better. In fact, I think this will look fab on ladies with a deeper skintone 😀 I would however love to give a colour like Vixen (red!) or Russian Roulette (another red!) a go, because if they are as opaque as this one is, I'd adore it for a glam red lip 😀
All isn't lost though. I'm going to try layering on some red or pink lip glosses and see how the colour will adapt and change. So, I'm open to any tips on how I can play around with an orange lip – hit me up! 😀
In a nutshell

The Sleek Makeup Flick It eyeliner pen is a pen style eyeliner with a flexible tip that allows you to draw thick and thin lines very easily. I was hoping to have a nice blue as the name Royal Blue implies but it applies too dark to actually notice the blue. Colour aside, I liked the staying power, the ease of use and the depth of colour. The nib is a little scratchy so those with sensitive eyes may find it a little uncomfortable but I was fine. I'd prefer to just get this in black.

The True Colour lipstick lives up to its name, being at once opaque and true to colour on lips as it is in the tube. The colour Tangerine Scream is a straight bright orange which I can imagine will be flattering against deeper skintones but does not quite work against my skintone. It isn't drying or thick or uncomfortable although I found it settled a little into lip lines. I would love to try a red in this one. I think it would blow my socks off! I like how affordable both these products are.

Pros: Flick It Eyeliner – Deep and longlasting colour, Easy to use for thick or thin lines, Nib is not too soft nor too hard; True Colour Lipstick – Bright opaque colour just as it looks in the tube, Not drying, Comfortable on lips, Long lasting, Affordable

Cons: Flick It Eyeliner – nib is a bit scratchy, Royal Blue didn't show up blue enough on my eyes; True Colour Lipstick – Settled a little into lip lines

Who will like this: Flick It Eyeliner – anyone who likes using eyeliner pens and who wants something long lasting with deep colour and easy to use; True Colour Lipstick – anyone who wants a true opaque colour in a non drying lipstick formula
Would you wear a lip colour as bright as Tangerine Scream out in public? Have you worn blue eyeliner?
I'm going to experiment with another blue eyeliner soon that looks more promising in terms of showing colour. I love wearing bright colours but I think that Tangerine Scream might be screaming just a little too loudly 😀 Ideas on toning it down for better public consumption? 😀 The previous releases from Sleek Makeup haven't wowed me much but I'm really impressed with both of these. I just wish they were easier for me to get hold of, because I really want to try one of their red lipsticks and the black eyeliner!
Paris B
Sleek Makeup Flick It Eyeliner Price: US$7.49 /£5.99 | Sleek Makeup True Colour Lipstick Price: US$6.49 / £4.99 Availability: SleekMakeup.com, Superdrug stores in the UK and various other online resellers worldwide