I don't know about you, but I've noticed a slow return of shoulder bags. What I mean by these are the bags with long straps with no top handle, that hit somewhere around the waist or hip. In the past few years, I've been seeing more totes or large bags take prominence. But now, it looks like we're finally seeing the medium – smaller bags make a comeback.
I sometimes carry with me everything including the kitchen sink but I'm weaning myself off that habit. Its terrible for my back and my larger, heavier bags rarely see the light of day anymore.
So this year, while I was on a bag ban, I observed my bag use and realised I preferred something medium sized, preferably something that can be slung on the shoulder or a shoulder/handcarry combination. And for some insane reason, I was drawn to this one.
The Proenza Schouler PS11 Classic (I believe 11 means it came out in 2011) really grabs me, especially in a lovely bright colour like this blue calf leather one.
I first came across the Proenza Schouler bags with their PS1 satchel that for some reason, seems to be really popular. Perhaps its the satchel trend, but I never quite got into it. I had the opportunity to view it and feel it once and it just felt to thick and too heavy for my tastes. Just speaking for myself of course 🙂 But the PS11 is something that appeals more to me.
I like how its not too big. The dimensions of W11″ x H9″ x D4″ look about right to me and it doesn't overwhelm the model either. Enough for me to fit my daily essentials and even a small camera in there. As I mentioned above, these medium sized dimensions are about right for me and if truth be told, fit my frame better than something larger.
I like the boxy structured shape. I have a thing for structured bags and this look structured but not too stiff, if that makes sense.
The hardware in the front reminds me of a car grille 😀 I know they don't appeal to everyone but they do to me. I like car grilles 😀 The only thing I'm probably not crazy over are the buckles at the bottom. I don't quite see the purpose except for decoration and that is unnecessary weight to me.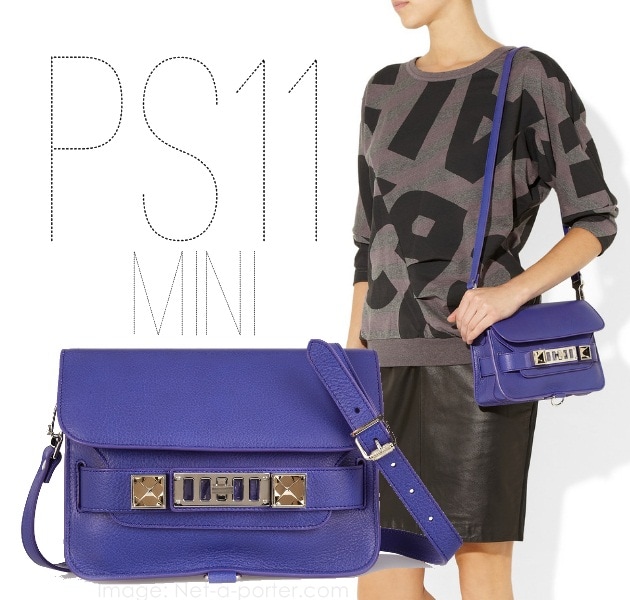 Which is why I prefer the look of the PS11 Mini Classic. However, I know myself and this is definitely much too "mini" for me.
Some of the new bright colours – red, orange, yellow, burgandy – that have come out in this design really do catch my eye but at the asking price on Net-a-porter of £1274 for the PS11 Classic and £1270 for the Mini Classic I will probably sob a little, tear my hair out and slink away quietly to admire from afar.
Do you like shoulder bags? Do you tend to go for larger bags or medium sized ones?
I used to find shoulder bags old fashioned because that was what my Mom used to carry. But fashion is cyclical and with the updated designs, suddenly they don't look so old fashioned anymore 🙂 I likely won't get me a PS11 right now (never say never though! I never know when a deal or a windfall may appear 😉 ) so I may look around to see if there's anything similar that catches my eye. Hard to say though, once I've set my heart on something 😉
Paris B