When I first told you about the Cambridge Satchel Company's olde school satchels, I was already smitten. I was going to get one, but I didn't place an order immediately as I was wont to, because I couldn't decide on the size. Lame excuse huh?
And then, Kahani got hers in 14″ Black and bag partner in crime LeGeeque got hers in 13″ brown and BOTH of them swore theirs was the perfect size. Alamak! What do I do?! So, I waited a bit more and at the earliest opportunity, met up with Kahani to paw at hers – also ostensibly to check it out. I was very happy with what I saw and as a personal reward for going 4 days with little sleep and no weekends, I placed an order for my very own satchel a little over 2 months ago.
Communication with the people at Cambridge Satchel Company is wonderful. I had my emails sent in the evening (Malaysian time) answered within an hour of sending (I even got a reply within 5 minutes once!). I wrote in to enquire about shipping and their availability of colour and size. That's because I was impatient. If I was patient and picky about colour, I'd order the colour and size I wanted and wait – it can take up to a month before your order is shipped though since they have to make it first.
In my case, I was told that the 13″ Red Satchel was in stock so that was perfect for me! My order shipped within a week by FedEx and I tracked my package every step of its way to me. It took 2 days. Just 2 freaking days from London to Malaysia! How cool is that?! In the process, my bag visited Paris and Guangzhou before landing in my hands.
Now before I go into detail, let me show how it looks when it arrives.
Just like in the Sound of Music, "brown paper packages tied up with string" are one of my favourite things. The satchel comes wrapped in white tissue paper and then wrapped again with brown parcel paper and tied with parcel string. It fits just nicely into the FedEx box it comes in! If you want, you can personalize the message on the tag for free. Otherwise you get the regulation issue of "Best Wishes" which suited me fine.
Next thing – strong smell of leather. Takes some getting used to so do be warned. Air it for a spell and it'll all be lovely. But the colour! Its a beautiful deep red full leather satchel that is impressively light. The leather is thick yet smooth on the outside and the bag is structured but not hard. Its not as stiff as I expected which is great and by now, 2 months later, it has softened a little, but still retains its shape well. I got caught in the rain not long after I got my bag, but the rain just rolled off the exterior of the bag.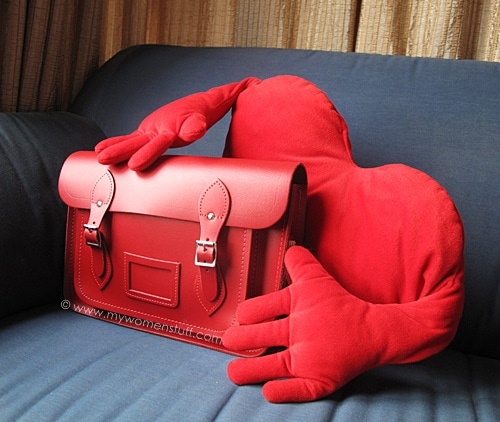 Now the buckles. This was part of the reason I fell in love with this satchel. These are old school buckles that actually buckle on. Not a faux buckle with a magnet attached. I do not mind any hassle because I'd been wanting a bag with buckles that actually worked! Now I have it 😀 If you don't like the hassle, don't get this.
The bag is unlined – that's not to say the inside is raw leather. Its finished so it feels smooth but there is no extra cloth lining. One less thing to wear out so you can be assured this satchel will stand the test of time. However, the red can stain a little. The edges of my white wallet have taken on a slight reddish tint. The strap sometimes rubs off some red bits (not quite stains) so I have to be a little careful with light coloured clothing. So far, no stains.
As for storage, all you get is one large main compartment and one large pocket. My Roo-Carriage fits in there actually if I want organization. But I don't use it because my wallet can't fit otherwise. If you use a small wallet, it'll fit perfectly. In my case, I cut down the amount of rubbish I carry daily, and its all good!
I've been using it for well over 2 months now. I prefer carrying it on my shoulder instead of slinging it cross body (although I sometimes do) and I have it on the shortest length which is still pretty long – hits against my hip.
I love how edgy and different it looks and how it adds that splotch of colour to dull corporate outfits. Yes, I don't mind being different – had enough of hand totes and hobos that every other woman is carrying for a while. On weekends, pair it with jeans or a shirt or shorts and go. Love it! Did I say that already? Oops. Here it is again.
I love it! 😀
My satchel is 13″ and according to the website, dimensions are 13″ x 10.5″ x 3″. It comes in lots of colours (might I suggest red? 😉 ) and it cost £70. Shipping to Malaysia cost me £20 so total is £90. No difference if you ship more. Each bag will ship for £20. If you have anyone visiting the UK, see if they can pick one up for you and save you shipping costs. According to Kahani, it might cost more in store though.
I might get one for a friend's birthday – apparently, the 15″ one fits a laptop which would be perfect to replace their tatty old laptop bag 🙂
One more thing: While searching online for reviews on the CSC Satchels (there are very few) I came across another company called Tom Brown's Traditional Satchels from Oxford. The bags on the site looked amazingly similar to that sold by CSC but were about £20 cheaper (a lot after conversion to RM). This company appears to be new and there aren't any reviews on them. Still, I thought I might try them, so I contacted them, and they responded to my initial questions about shipping. However after 3 email queries which satisfied me, and when I eventually wanted to place an order, I failed to receive any further response from them to my last inquiry about how best to place an international order. I did give them a chance. I wrote to them over the course of 3 weeks, in case they missed my emails but I never heard back, even up till today. Hate to slag off a company, but poor email communication is not on and does not inspire trust in a new online outfit.
Personally, I'd stick to Cambridge Satchel Company even if they do cost more, because I've dealt with them before. A satchel isn't a bag for everyone. Get it if you dream of sleeping on springy heather, drinking ginger beer from bottles and buying farm fresh eggs… as they do in Enid Blyton's Famous Five. I was told by someone that satchels are also gaining popularity in Korean dramas so we might see more satchels popping up.
As for myself, I'm now itching to get another, maybe in Navy blue. I'm horrible! 😛 Might this be your cuppa tea? 😉
Update: As of August 2011 a friend is having a lot of problems with their orders from Cambridge Satchel Company perhaps due to an upsurge in orders and their inability to cope. She has not received her bag after a month and has had no replies to her emails asking about the delay. My friend has since cancelled her order and obtained a refund. There have been many complaints about the poor customer service on the company's Facebook page. Its a pity their customer service isn't consistent especially with their rising name, so do take note.
Paris B
Cambridge Satchel Company Satchels come in various sizes and colours and can be found at www.cambridgesatchel.co.uk. Payment can be made by Paypal.