Tarte Cosmetics is a brand I'd never heard of till fairly recently, in the past few years. I'd tried a few of their items and I must say that I do like their shadows very much. I don't talk about them (I don't know why!) but the quality is good, and their palettes always grab my attention. The texture is very soft however, and I am always on tenterhooks whenever I have them shipped to me, because I'm afraid of breakage (happened to me once). You read it right folks! As of now, I have no idea where to get Tarte Cosmetics outside of the USA and especially not in Malaysia.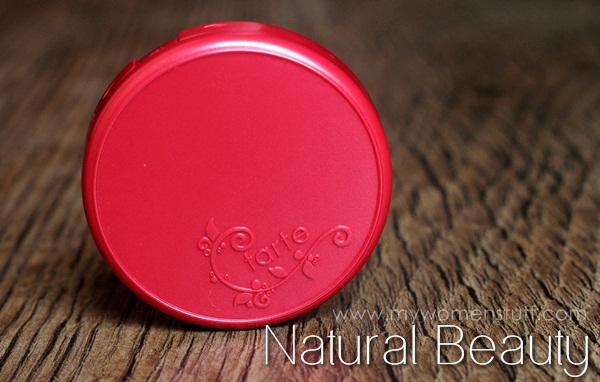 But I wanted to share this with you anyway, because the world is much smaller now and I know that there are ways and means of purchasing items that may not be available in local stores 😉 I also want to talk about one of my favourite brands – I get tired of the same old same old, as I'm sure you are too 😉
I have accumulated a few of these Tarte Amazonian Clay Long Wearing Blushes by now, but this particular one in Natural Beauty is a favourite. The colour of the case reflects the colour of the blush and as you might expect, its a pretty bright red! It does however, live up to its name of Natural Beauty so although it is very bright, it is very easy to wear.
The Tarte Amazonian Clay blushes are formulated with Amazonian Clay for longer lasting power on all skin, even oily skinned types. It not only absorb oil so it stays put for oily skin, but also hydrates dry skin so it doesn't apply patchily. Tarte promises that this blush wears longer than normal powder blushes.
And they're right!
That pattern on the surface of the blush is a reflection of the Amazon river and the rainforest. The colour of the blush is, as you can see, reflective of the colour of the case. All the blushes are the same so it is very easy to identify in your drawer. Some days, when I'm in a rush, I actually find myself reaching for these blushes more than others, simply because I can easily identify the colour from the case.
The colour is a watermelon red with slightly cool tones. It, at first glance, looks like a hard colour to wear, and if you use a dense brush, or a heavy hand, it will be. However, if you use a brush that is slightly looser and softer (I use my Lunasol Cheek Brush or Cle de Peau cheek brush) the colour will diffuse better on skin. I've never had problems with application and I attribute it to the brush as much as I do to the product.
The product swatches easily. Here it is in just 1 swipe. Very scarily red as you will see. It is matte but does not look flat. I find it easy for my brush to pick up colour. I just tap it on the surface and then apply to cheeks, and blend. I've never had a problem but it may also be because I am quite used to dealing with strong coloured blushes 🙂
In terms of longevity, I find that it does last longer than most blushes. If you wear a primer, it will look fresh for pretty much all day. The primary reason I love Natural Beauty, is because it gives me a very lovely pop of colour on cheeks, that makes me think "Just came in from the cold".
I really like this one and if you dare take the gamble, I'd say that this is a colour that will suit most, from the fair to the tanned. You can layer it on for more colour, or use a light hand for just a pretty flush of colour on cheeks. I can't rave enough about it 😀
In a nutshell

The Tarte Amazonian Clay Blush in Natural Beauty is to me, just that. Although a deep watermelon red in pan, it applies on my skin a very pretty fresh flush that looks natural and can be layered for intensity, or used with a light hand for a light flush. I believe the colour will quite easily suit most skin tones. As for the longevity it claims, I have experienced good wear time with this blush. I really do think this lives up to its hype!

Pros: Colour coordinated case makes it easy to identify the colour, Easy to apply and to pick up colour with a brush, Easy to blend on skin, Colour can be built up for intensity or worn with just a light hand, Lasts longer on skin than other powder blushes

Cons: Unavailable in local stores at time of writing

Who will like this: Anyone who likes a bright coloured blush, Anyone who wants a powder blush that will last on skin
I have a couple more of these blushes (Tipsy – coral and Amused – bright pink), which I'll try to review if anyone's interested. I am quite a fan of Tarte; everything I've tried from them so far have worked well for me, so it would be nice if it was easier to source online so I didn't have to bug my friend every time I hanker after an item 🙂 If anyone knows of an online store that will ship Tarte products internationally, please do share!
Have you tried any of the Tarte Amazonian Clay blushes? Any colour I should try? Or have you tried anything from Tarte Cosmetics that you think I should to?
I've only tried the blushes and a couple of eyeshadow palettes thus far. Haven't really talked about the palettes (some are discontinued) but if anyone's interested please let me know and I'll try to oblige 🙂
Paris B
Tarte Amazonian Clay blushes come in a matte and shimmer formula Price: US$25 Availability: Tartecosmetics.com and Sephora.com (Unavailable in Malaysian stores at time of writing)