TAKE NOTE: Fabulous Finds has been discontinued for now due to the owners' health constraints.
A couple of weeks back, I "launched" the MWS Beauty Box subscription which was my tongue-in-cheek poke at sample beauty box subscriptions. Being hypothetical and pretty much a joke, it was priced at a staggering RM90/month. Ridiculous, if you ask me. But it also drew quite a bit of attention from many of you here in Malaysia, asking how you could subscribe.
Well, the MWS Beauty Box subscription remains pretty much a hypothetical joke for now, but I'm pleased to let you know that we in Malaysia now have a beauty box subcription service on our shores through Fabulous Finds. Hurray! 🙂
It isn't RM90 (whew!) and because I'm a big fan of local businesses, and of giving them all the support I can, I'm going to tell you about it despite all my misgivings about beauty box subscriptions 🙂 I've also got a short interview with the owner, Hui Ling which includes the question – why would we want to pay for a box of samples if we can get it at the counter? Yep, tough one that 😛
But first, I know you want to know what you're getting in the Fabulous Finds beauty box? Hop along and take a look! 😉
Fabulous Finds is, as far as I'm aware, the first Malaysian sample beauty box subscription service available. (I don't count Vanity Trove as a Malaysian service because they come in from Singapore.) Fabulous Finds was launched over the weekend with some fan fare.
The melon pink box is sturdy and large. Slightly wider than a shoe box and as its so sturdy, you can easily recycle it to house other items. Inside, is silver tissue paper holding your monthly surprise, tied with a matching melon pink ribbon. You may start running into problems once you have accumulated a few boxes though.
Fabulous Finds has also chosen to give back to the community by hiring women from disadvantaged backgrounds to pack their boxes, thereby supplementing their income. I like this touch, and the fact that they state it right from the beginning and make it one of their company's practices.
Each box is priced at a monthly fee of RM35 which includes free shipping by courier service within Malaysia only. There will be limited boxes for sale each month (about 200) so it operates pretty much on a first-come-first-served basis.
But I know what you're thinking – SHOW US WHAT'S IN THE BOX ALREADY!!
Patience… grasshopper…
ommm…..
Ok here we go 🙂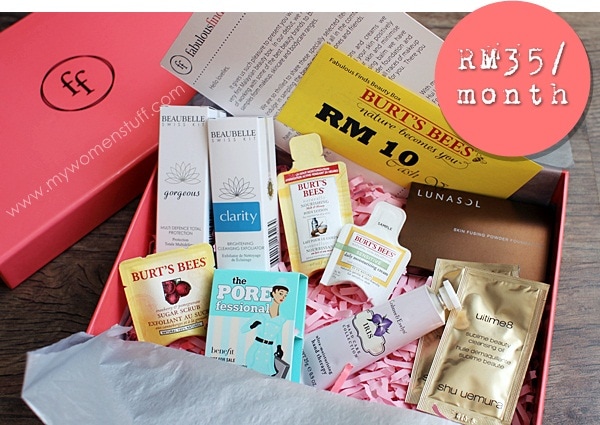 This was the box unveiled during the launch and this will be the July Fabulous Finds box that you will receive if you choose to subscribe now. Future boxes will be a surprise as is the case with almost all sample beauty box subscriptions.
Brands on board for now include Burt's Bees, Benefit Cosmetics, Kanebo Lunasol, Shu Uemura, Crabtree & Evelyn and Beaubelle. I was quite happy to see the Crabtree & Evelyn Hand Therapy cream in there because I do like it. The small tube works out to something like RM25 or RM30 I believe (usually sold as part of a set) so if you factor in shipping and the more generously sized Beaubelle samples and the deluxe size Benefit Porefessional sample, then this first box is quite fairly priced. The note from the owner, together with a list of products and how to use them is a nice touch. Sometimes, even I forget that not everyone understands what "Porefessional" means and how one should use it 😛
I must say that I feel a bit iffy about the inclusion of sample sachets. I don't believe that a sample sachet of anything should count as one of the items in the box, and ditto coupons. However, if it was included in as an "extra" then that's fine. Fabulous Finds promises 4-5 deluxe sized beauty samples from high end and niche brands so if I do a quick head count, there are 3 good sized samples (Crabtree & Evelyn and Beaubelle) and 2 fair sized samples (Benefit Porefessional and Lunasol Skin Fusing Powder Foundation) so that's 5 items. I'd treat the Burt's Bees and Shu Uemura samples as "nice extras" – its nice that its included, but if it wasn't I shouldn't expect it.
As a first box, I'd say its a good attempt. The Crabtree & Evelyn hand cream more than makes up for it. It slips nicely into handbags and travel bags (I should know, I have tubes of these all over even if I rarely use it!) Do bear in mind that most sample boxes will feature products available locally. It only makes sense as the cosmetics companies would only provide samples if there's a chance of making a future sale in store or at a counter, right? So I won't expect to see many brands that aren't already available locally, somewhere or another. I personally will not consider this box "high-end" for now although it is "higher than normal", but at RM35 I think its fairly priced for the local market. The challenge for Fabulous Finds, will be to top this and make that RM35 a steal!
In a nutshell

Fabulous Finds is a Malaysia based sample beauty box subscription service. There will be a limited number of boxes sold every month on a first come first served basis. Boxes cost RM35/month and includes shipping. Each box will contain 4-5 deluxe sized beauty product samples from a variety of brands and categories. The contents of each month's box will be a surprise, known only when it is received by the subscriber. Subscription is available monthly or for a year. This service no longer exists

Pros: Fun, New samples to try out every month, A surprise every month, A good way to discover new products or brands

Cons: Not for those who have very sensitive skin because skincare products may not suit everyone, Not for those who already buy or own a lot of beauty products or those who hate surprises

Who will like this: Anyone who likes getting a beauty surprise every month, Anyone who isn't as cynical as I am about beauty box subscriptions 😉
I got hold of Hui Ling, owner of Fabulous Finds, and a lovely friendly lady who is a self proclaimed beauty junkie, to answer some quick questions I had. It was a bit unnerving to know that she's been a long time reader of MWS too LOL!
Q: What was the inspiration behind Fabulous Finds?
A: The idea to have a Malaysian beauty box service came early this year from my reading of beauty blogs (My Women Stuff being one the blogs that I avidly follow). Beauty bloggers, being the first in the know, started writing about beauty boxes which took off in Hong Kong and Singapore. The idea fascinated me. And I thought to myself, what about starting a Malaysian beauty box subscription? The timing was right – I was looking to start something of my own and this was something I was passionate about. Being a beauty enthusiast myself and frequent user of beauty products, this was something I was very familiar with. The joy of sharing specially curated beauty boxes to subscribers all over Malaysia and the opportunity to connect with them and bring delight truly drives me/ Fabulous Finds forward.
I also wanted to start a company with strong leanings towards social enterprise – hence the inspiration to provide employment opportunity and income to women from disadvantaged backgrounds as they pack our beauty boxes. It will not be able to replace their main source of income, but at least supplement it in some way.
The name Fabulous Finds comes from our hope that each beauty box will be a fabulous find to our subscribers. It's a name we aim to live up to in the coming months as we bring in the the best and latest samples from high-end and niche brands. 🙂
Q: Why did you choose to use pink for your Fabulous Finds box?
A: This particular melon pink hue was chosen because it's my favourite colour. 🙂 It warms my heart every time I look at it and I have such positive feelings when I think of this colour. I hope that as the Fabulous Finds boxes go out to our subscribers, they too would connect with the warm and vibrant colour. Each melon pink box conveys my warmest regards and appreciation to every subscriber.
Q: Will there be any full size products in the boxes or will they be kept strictly as samples?
A: For now, the samples that we are receiving from beauty brands come in deluxe travel sizes (15g, 20g, 25g) and the occasional sachets. We try as far as possible to encourage beauty brands to provide meaningful sized samples or even full sized products so that our subscribers can try them out for a longer period of time. We hope that some of the future beauty brands we work with will be providing full size products to come.
Q: As your boxes may contain facial skincare products, how will you tailor it to suit the different skin types of your subscribers?
A: At present, we are not able to tailor our skincare samples to suit the different skin types of our subscribers. As such, we will try as far as possible to have products which are for suitable all skin types. However, it may be inevitable that we will have products in some months which may not suit a subscriber's skin type. I feel it's important that we be upfront about this so that our subscribers are aware of this.
In the long term. we are looking to overcome this by coming up with a user-specific questionaire to chart the beauty profile of each subscribers. Our aim going forward is to be able to offer some sort of customisation of beauty samples sent out to subscribers. This will be in the next phase of our development.
Q: Will we expect to see more niche brands or products featured in your boxes as opposed to common counter/department store brands?
A: Yes, most definitely. We are already in conversation with a few niche / upcoming brands. We hope to have a good mix of niche and department store brands in the coming months.
Q: A common lament/complaint will be that anyone can pick up a sample at a beauty counter at no cost. How will paying for a Fabulous Finds box make it different?
Good question. Hence the aim for Fabulous Finds is to make sure that we offer samples of a meaningful sizes which are not available at beauty counters. We need to be able to deliver value to our subscribers.
For instance, a majority of products in our July box are not available at beauty counters for free. e.g.
(i) Beaubelle: CLARITY Brightening Cleansing Exfoliator 15g
(ii) Beaubelle: GORGEOUS Multi Defense Total Protection 15g
(iii) Benefit Cosmetics: The POREfessional 7.5ml
(iv) Crabtree & Evelyn: Iris Ultra-Moisturising Hand Therapy 25g
(v) Lunasol: Skin Fusing Powder Foundation (travel size)
In addition, we provide the value added service of selecting the latest products offered by these beauty brands, and include their best-selling items for the sampling pleasure of our subscribers. We believe the value add is in the selection of products for sampling.
There are only 180 Fabulous Finds boxes available for July (which is the box featured here) and you'd have to subscribe by July 14, 2012 as boxes start going out on the 15th of every month.
I am personally not into sample box subscriptions so if anyone is wondering, my answer is no, I will not be subscribing as I have said before. However, I can understand that many will be interested to. Its a nice monthly surprise, you get to try a variety of beauty products and its fun to discover something new. And that is, I believe what ultimately drives the sample beauty box subscription service – the challenge to provide subscribers with Fabulous Finds 🙂
Would you subscribe to the Fabulous Finds Beauty Box? I wouldn't but then its mostly because I already have a ton of stuff I need to get through first. Its nice however to know that if I wanted to, I could subscribe for a beauty surprise every month, and its even nicer to know that something local looks this good. I'm all for supporting a local business 🙂
Paris B
Fabulous Finds Beauty Box Subscription Price: RM35/month terms apply Availability: Unavailable Delivery: By courier within Malaysia only