A little while ago, I showed you some pictures of the Diorsnow Icy Halos makeup collection and there was a bit of interest in the blue lipgloss and how it might perform. Ok so here it is, better late than never ok? 😉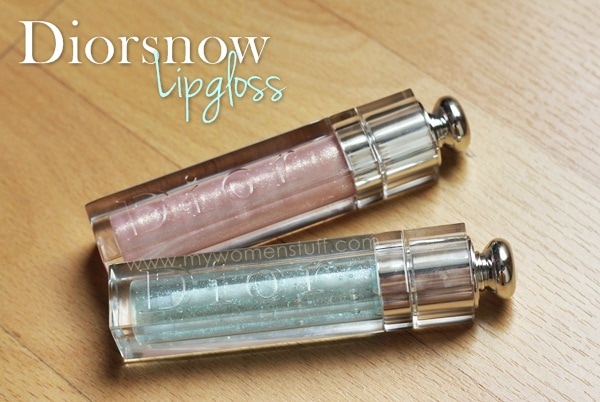 In the Diorsnow makeup collection, there were 2 Dior Addict Ultra Glosses released in the Flash formula, which is the sparkly one. Did you know that Dior Addict Ultra Glosses come in 3 formula? Now you do 😉 We get Crystal Frost #302 which is the blue gloss and Pink Freeze #362 which is the pink one. Interestingly, although they are both sparkly glosses, I found that one was markedly more sparkly than the other (I almost said sparklier but I don't think that's a real word even if I think so 😛 ) Here are swatches straight on lips and over lipstick.
The texture of the Addict Ultra Glosses are classic Dior – light, not sticky and gorgeous shine. Dior glosses, along with Guerlain glosses are about the only lip glosses I will wear often and even daily. The texture and formula agrees with me and they come with a brush applicator that actually works.
The "problem" with these lipglosses from the Diorsnow collection is that they are sheer. So yes, it looks blue and pink in the tube, but really, it doesn't give you blue lips. Here are the swatches on bare lips.
See what I mean? Crystal Frost applies as just a glossy shine. It doesn't tint my lips blue, which is a plus (or a minus, if you were expecting that). Pink Freeze applies with a LOT more shimmer, to be almost frosty. If you peer closely at the picture, you can see shimmer sparkles on my lips. It gives a nice frosty look, if you like that and quite lives up to its name.
On their own therefore, neither gloss looks particularly special. However, what they are great for, is for layering over lipstick. See what I mean?
I have layered both glosses over Dior Addict Icone for purposes of comparison. You may notice that Crystal Frost over Icone tones down the colour a little, and gives a more plumped up look to the lips while adding lots of shine. For some reason, it drew out the pink in the lipstick and is very pretty!
Pink Freeze make Icone look pink and frosty and seems to accentuate lines, which a look I wasn't quite keen on. I prefer how Crystal Frost looks although if you prefer something more glittery, to add shine to a lipstick, then go with Pink Freeze.
Here are swatches over red lipstick, for comparison purposes. I used the Maybelline Color Sensational lipstick in Are you Red-dy as a base.
Left-Right: Maybelline Are you Red-dy on its own (1) Crystal Frost layered over (2) Pink Freeze Layered over. On top are the swatches of the corresponding glosses on the back of my hand
Again I find that the blue tone in Crystal Frost draws out the red yet tones it down, and the gloss gives it a smooth, plumped up look. Worn on lips, it is very pretty. Pink Freeze does not change the colour, but adds glitter and frost which is perfect for someone who wants that sort of look. I wouldn't apply Pink Freeze all over my lips, just perhaps a dab in the center for shine, and then blended out. On the back of my hand, both glosses swatch clear.
In a nutshell

These 2 new shades in the Dior Ultra Gloss lipgloss collection apply clear on the lips on their own. However, both colours have different textures to them, which can appeal to different people. Crystal Frost (blue) is less sparkly and has a lovely lip plumping effect, while the blue tones draw out the red tones in lipstick, so lipstick can appear redder or pinker depending on your base shade. Pink Freeze has more glitter and gives a frosty look which may appeal to those who are younger. Both are non sticky, and light on lips and not goopy. Dior Addict lipglosses are my favourite lipglosses 🙂

Pros: Not sticky, Lip plumping effect, Nice shine and gloss factor, Crystal Frost makes red or any lipstick with red tones look much better

Cons: Colorless, Effect is very subtle for those who are expecting something more, Pricey
My personal preference of the two is Crystal Frost. It gives a lovely shine, helps tone down lip colour, draws out the red in lip colours and gives lips a pretty plumped up look. Pink Freeze was too frosty for my liking but might suit someone younger 🙂
Does either shade catch your fancy? Have you worn a blue lipgloss before? This is my first time wearing a blue tinted lipgloss and I liked the effect because it made reds look better for me. It also drew out red tones in lipstick so I found I could make a coral lipstick look more pink just with this blue gloss. Granted, the effect was very subtle. Maybe a lipgloss of a deeper blue hue might have a more dramatic effect 🙂
Paris B
Dior Addict Ultra Gloss in Crystal Frost (302) and Pink Freeze (362) are part of the Dior Icy Halos collection Price: RM90 Availability: All Dior counters