Agnes b. – How many of you are familiar with this brand?
I'm not although I remember seeing her bags being very popular among the students from Hong Kong, when I was in University. I used to wonder what that stylised "b" stood for in a discreet corner of their bags. It was simple but nice. I later found out that it was agnes b. and I believe it is still a very popular brand in Hong Kong.
agnes b. is a French designer of chic contemporary designs and her collections cater for both men, women and even children. I took a look at some fashion pieces and they are simple with clean lines. Something I might like. However, we don't get the fashion collection here in Kuala Lumpur… oh yes. We have our own agnes b. Voyage store now! 😀 And much to my surprise, prices are actually quite affordable! eeps! 😛
The first agnes b. Voyage store is at Suria KLCC and carries her range of handbags and other accessories. I wouldn't peg the agnes b. brand as a high end brand but more of an affordable mid priced brand. I place it somewhere in between Radley and LeSportsac because they have leather bags as well as nylon canvas bags and prices fall somewhere in between the two.
These nylon canvas bags are part of the new Spring/Summer 2012 collection which is carried in store. The material is quite thick and feels very sturdy, with a smooth sheen and feel to it. The totes are very roomy with large compartments and a zip and come in 2 sizes. Prices of the new Spring/Summer 2012 totes start from RM600+ and I believe these designs are limited edition.
I would however draw your attention to a similarly designed nylon tote which is a part of the regular agnes b. collection. The colours are plainer and the material is a bit more casual in look and feel but I would LOVE to get one to travel with or just for weekends.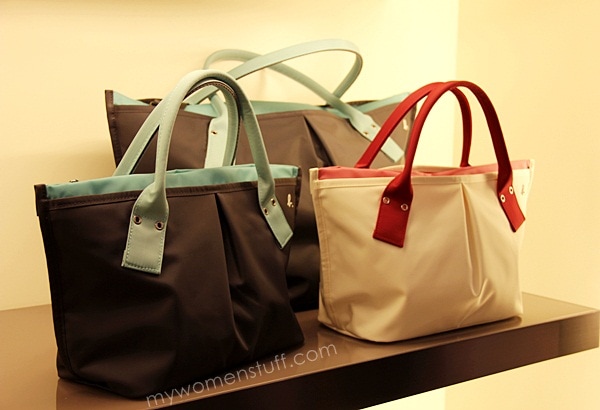 I believe this is known as the Diane Tote and comes in various combination of colours and 3 sizes, small medium and large. Pictured here is the Medium and Large versions. The small one makes a really cute little handbag for a young girl or if you are the sort who doesn't carry a lot of stuff. Its not as small as I make it out to be (see picture #2) and actually makes a great weekend bag 😛 The Medium version fits a tablet or a netbook quite comfortably along with the rest of your essentials. I could sling the medium on my shoulder but the small is strictly hand carry. The large could even double up as a weekender or a flight carry on bag. They are very roomy bags and here's the deal, the prices start from RM390 for the small one and RM470 for the Medium sized one. Yes, I was sorely tempted.
These bags are from the Vanina range – nylon bodies with a chain strap. They don't look like much sitting on the shelf but I was quite surprised that when carried, they look quite elegant and chic. The interior is quite roomy and it comes in 2 sizes. The smaller version has a long strap that hit at the hip while the larger version is shoulder carry and hits at the waist. They are RM950 each.
And here's another bag my eye was caught by – a structured leather bag that looks so elegant when carried and comes in 2 beautiful bright colours for Spring/Summer – neon coral and electric blue (1st picture above). There is also white and black but when you are carrying a bag like this one, I'd say go for the brights. It makes an outfit immediately! I'm told this design is incredibly popular in Hong Kong.
Here's the Coral colour being modeled. Doesn't it looks scrumptious? The bag is smooth leather and structured with metal feet and retails at RM1100. Its an open tote with magnetic snap closures that is hand carry or can be carried in the crook of your arm. There is one main compartment inside with a pouch acting as a divider. The pouch can be snapped out, so you end up with just one large compartment. Very useful and practical. It quite easily fits a tablet and a dslr camera – together! If I wasn't on a bag ban, this might have come home with me. I was quite enamoured with the neon coral colour 😛 I walked into Kate Spade next door and saw a very similar design going for almost double the price so yeah… 😛
The agnes b. Spring/Summer 2012 collection is now available in store. I think I'd still go for the nylon totes if I were to get one. They look sturdy and I know they used to make good school bags for the girls at Uni. so they are fairly durable (and less visible than a Longchamp tote 😉 )
I think price wise, its reasonable for a mid-priced designer brand. Some items are comparably priced to the prices overseas, some are a little pricier, depending on design. I'm all for affordable bags that look good so if you are too, I think its worth taking a look in store 🙂
Are you familiar with Agnes b.? Do you already own anything from the brand and would like to share your thoughts on them? This is my first brush with the brand but I opted not to get anything this time around (cough*bagban*cough) but I held back and will probably wait till later. Maybe that tote 😀
Paris B
Agnes b. Voyage is at Shop 106A, First Floor, Suria KLCC – In between Isetan and Swarovski and 2 shops down from Kate Spade (layout as of time of writing)