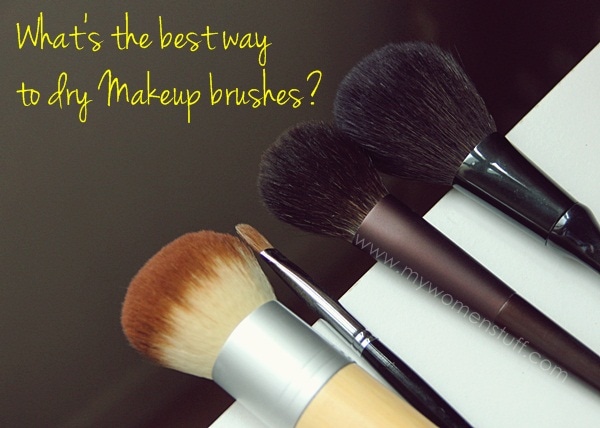 First off, let me say how I love it when you ask questions whether in comments or in email, because it makes me think, and it also provides excellent fodder for future posts, especially if it is something that we can all learn from – so keep it coming! 😀
Last week, Cas asked in a comment on the Daiso Detergent post:-
Paris, noob question, how do you dry your brushes? Do you use a hair dryer or air dry it? I've tried blow drying it coz I swear they take forever to dry naturally but I find the brushes all over the place when I blow dry it so was just wondering. Help please
I thought that was a very good question, because I'd never have thought about writing a post about how to dry brushes 😀 Anyway, I answered her in a comment reply, (Short answer: No hairdryers!) but here is an extended version of the best way to dry makeup brushes 🙂
The best and most advisable way to dry your makeup brushes is to air-dry, flat, after reshaping your brushes.
What I do is to gently squeeze out as much water from the brush as I can, after washing it, then use a clean towel to wrap up the brushes and lightly press the bristles. This will help you remove most of the water which speeds up the drying process. Its almost like wrapping your hair in a towel, if you can imagine it 🙂
Then I reshape the brushes, and lie them flat on any surface – better if it protrudes slightly over the edge so the shape isn't flattened. If I wash them in the morning, then I may place them in an airy place or near a source of sunlight. But never directly under the sun. Usually, by evening it will be almost dry or if its been a hot day, practically dry. Then, I store them.
Some brushes take longer to dry, like very dense kabuki brushes or thick bronzer brushes. Those usually take me about 2 days. If you sleep in an air-conditioned room, leaving the brushes in the room overnight helps speed up the drying process somewhat.
I don't recommend blow drying, unless absolutely desperate because it can dry out the brushes too much (If natural hair) or spoil the shape. If you plan to use a blow dryer, use it on the lowest heat setting at the lowest power.
Another tip: Do not dry your brushes upright. The principle behind it is because the water and moisture will run down the inside of the ferrule and weaken the glue that holds your brushes together, so you may experience more shedding in future if you dry them upright.
To summarize:

After washing your brushes, gently squeeze out excess water and pat dry with a towel or paper towel.
Reshape your brushes when damp.
Place brushes flat on a flat surface, overhanging the edge if possible or flat otherwise. Placing them on a piece of tissue or paper towel can help speed things up a little.
Place them in an airy area or by the doorway or window if you want to speed up drying. An air-conditioned room can also help speed up drying.
Do not place in direct sunlight.
Do not dry brushes standing upright.
I hope this has been useful. Its quite a basic little tip but one that bears repeating, especially the bit about not drying them upright, because I have seen it before and you may lose your brushes that way.
If you have more tips to share on how best to dry your makeup brushes, please do! I'd love to know if I missed anything or if I can learn a new trick 😀
Paris B