Many of you are probably quite familiar with my raves about the Bourjois Healthy Mix foundation and its gel serum counterpart. But many will also bemoan the fact that this quite lovely foundation just isn't available locally. Thing is, I may have found a local substitute 😀
But before you break out the pom-poms and cheers, I have to tell you that I hesitate to call this a substitute in a true sense, because I personally feel that this one's a little more suited for someone with normal to dry skintypes. The foundation in question is the Revlon Age Defying Foundation with DNA Advantage Cream Makeup SPF20.
You may have noticed this in our local pharmacies – the red capped foundation bottle with the helix within the clear plastic case is quite eye catching. I must say at this juncture that I have had pretty good experiences with Revlon base products in the most part. In fact, were I to be asked to recommend a base (whether powder or liquid) easily available at the pharmacies, I'd almost always point you to the Revlon counter. Their products just work well for me, and the Age Defying DNA Advantage Cream Makeup is no exception.
The reference to the DNA and the double helix the bottle represents is the fact that this liquid foundation is not only supposed to act as a makeup base, but also is imbued with skincare anti-aging benefits. It is also supposed to help skin feel refreshed and revitalized and diminish fine lines and wrinkles with regular use. Personally, I don't buy into all that.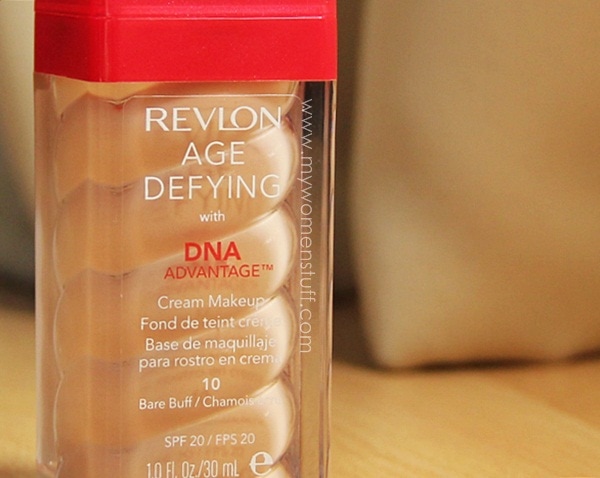 Cynicism aside however, I must say that any benefit to my skin is better than none. Much to the credit of this product, I find the texture very smooth and hydrating on my skin. It does not look cakey nor does it cause my skin to dry out with prolonged use. Considering we sometimes have makeup on for long hours at work, it does matter if your foundation will hold up. Many long wearing foundations tend to be rather drying on the skin but this one feels comfortable on and actually stays looking good pretty much all day long.
What I like about the Revlon Age Defying foundation with DNA Advantage is simply just how it looks on my skin. With this one on, my skin looks plumped and dewy without looking oily. It applies very creamy but not thickly, and I find that it is very very comfortable on the skin.
However, I personally feel that this one is more suited for those with a normal to dry skintype as stated above. I have such a skintype and this product feels absolutely lovely on. It does not turn me oily once I set it with some loose powder or Meteorites, it makes my skin look good and coverage is light to medium depending on how much you use. My T-zone does sometimes get a bit oily throughout the day, but this foundation doesn't make it worse so that's a huge plus.
However, for those with oily skintypes, I can imagine you may find this one a little heavy on your skin. The texture of the product is creamy which some people may not like. Its not to say it will not work for you, since I can't quite tell if it will. Its merely an observation and I will suggest you test it at the counters to see if you will like it.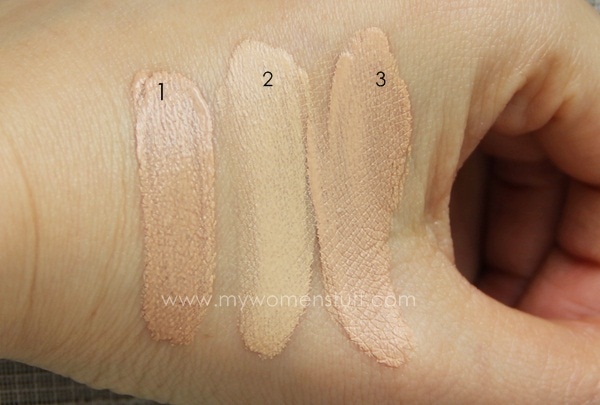 (1) Revlon Age Defying DNA Advantage Foundation Bare Buff 10 (2) Bourjois Healthy Mix Serum Foundation #51 Light Vanilla (3) Diorskin Forever liquid foundation 10 Ivory
You may perhaps notice from the swatches above, how the texture of this Revlon DNA foundation compares to other foundations. The product is creamier and a little can go a long way. No. 10 Bare Buff is my perfect colour match. It looks a wee bit dark and pink in this swatch but on the skin it evens itself out quite nicely. I take #51 in Bourjois as my perfect colour match too so you could use that for comparison purposes.
The foundation comes with SPF20 UV protection which is pretty high, in a cosmetic product and whilst I would advocate the use of a separate sunscreen, there remain some who prefer not to, for various reasons. So using makeup with SPF is, I suppose, better than nothing.
In a nutshell

A creamy yet lightweight liquid foundation from Revlon with skincare anti-aging benefits and SPF20. The packaging is simple and eye catching, and the product works very well for those with a normal to dry skintype. Coverage is light to medium and it feels very comfortable on my skin all day long, looking dewy and glowy and covering minor flaws quite well. Those who have oily skin may not find it as comfortable on the skin although you could try with a thin layer as the coverage is quite impressive.

Pros: Affordable, Very comfortable on the skin, Skin looks plumped and glowy with it on, Coverage is fair for everyday, Does not make my skin oily (normal to dry skintype), High SPF20 broad spectrum protection

Cons: May not be suitable for those with oily skin, Limited shades available (4 locally)
I only use slightly under a pump for all over my face, and the formula is such that it goes a long way so a pump is usually more than sufficient. Coverage is fair, and I find that I do not need to use as much concealer, or that I only really need to apply concealer on the worst of my perceived flaws. A light dusting of loose powder or any finishing powder usually sets it quite well.
And here's the ingredient list for anyone interested.
Some of you may ask – "How does this Revlon DNA foundation compare to the Bourjois Healthy Mix foundation?"
I'd say it comes down to preferences. Bourjois Healthy Mix is lighter in texture and the shades tend to be a little more yellow. The fruity scent also puts off some people because its quite strong. Above all, its unavailable locally.
The Revlon DNA foundation however has a slightly heavier creamier texture which some may not like and the shade is a bit more neutral with some pink tones. There is no scent which is a boon, and it is easily available locally. I've noticed lots of testers available so its always worth heading down to a Revlon counter and just checking it out to see if it might be something you may like 🙂
Have you tried the Revlon Age Defying DNA Advantage foundation? Do you like it? If you have oily skin or combination-oily and have tried it, I'd love to hear what you think because I don't have that skintype and it'll be helpful for others 🙂
Paris B
Revlon Age Defying Foundation with DNA Advantage Cream Makeup SPF20 Price: RM69/30ml Availability: All Revlon counters nationwide Shades available: Bare Buff, Tender Beige, Medium Beige, Honey Beige