I have a bit of a list of stuff to tell you about *looks at list and shuts them in my new bookshelf/cupboard* but I'm putting them aside for this – the Sleek Makeup Berry Collection for Christmas 2011. Well, also because this is one of those limited edition things, I get to show you 3 berry-rific colours on my face at one go, and its almost Christmas! 😀
Wait till you hear how much this kit costs – a princely £9.99. No I did not misplace a decimal point. Its under £10 which makes it under RM50 and for 3 items, I'd say not bad at all!
Let's take a look!
The 3 items in simply named The Berry Collection by Sleek Makeup is a Lipstick in Cranberry, Kohl Pencil in Mossberry and Blush in Fenberry. I'm not sure what a Mossberry and a Fenberry is – anyone?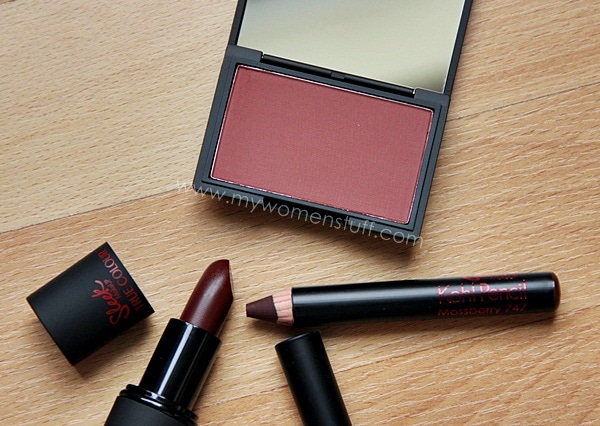 My first impression – Eeks! So dark!
My second impression – How to wear them all?!
But when panic had subsided, I realized that the Fenberry blush isn't all that scary. I've worn scarier colours and it reminds me a little of a NARS blush – the name escapes me for now. Any takers? 😛
Some close ups. I will say that the Fenberry blush is wearable for most. Its a neutral berry toned powder that can be used with a light hand on fairer skins for a just in from the winter look or with a slightly heavier hand on darker skins.
Cranberry lipstick is quite nice. A berry toned red that is deep but not gothic at all. Unlike the Guerlain Nuit d'Amour I showed you before, its not as dramatic. Its also a little drier than I like but that could be attributed to its matte formula. Not a love for me, but not something I'd hate either. Do apply some lip balm if you are prone to dry lips though.
The one that really stumped me is the Mossberry Eye Kohl. No dearies, this is NOT a lip liner. It is meant for the eyes. Really stumped me, this one.
(1) Mossberry Eye Kohl blended on left, heavy on right (2) Cranberry Lipstick (3) Fenberry blush heavy swatch on left, blended on right
Are you surprised at how the 3 shades, although berry shades, aren't all the same? I was. But this also means that you can wear all 3 shades on your face and not look like you fell face first into berry coloured powder 😀
Here's a quick look I whipped up.
Sorry you can't see how Mossberry eye kohl looks but its there. The lipstick and blush is straight forward yes? As for the eyes, I used the Mossberry eye kohl as liner and then blended over some purple toned eyeshadow over it. One of them from the Urban Decay 15th Anniversary palette, I forget which 😛
So yeah, even though you're wearing 3 different shades of berry on your face, it isn't over done. I can see myself wearing the lipstick and blush more regularly but not so much the eye kohl. Red around the eyes tend to make me look tired as it will for the majority so I think this is a brave attempt by Sleek Makeup to get us to wear red on the eyes, but I'm not sure how many people will continue to do so.
For the price of £9.99 (or US$15.99) I think its very reasonably priced even if you only ever use 2 out of 3 items.
In a nutshell

An affordable makeup kit that would make a nice gift or a nice way to try out some deeper shades that you may not otherwise try. The Fenberry blush is rather pigmented and matte, and needs a light hand if you are fair. It has berry-brown tones and although not all that finely milled, is not bad. The Cranberry lipstick is a lovely berry-red shade but a little dry. It could be because its a matte formula. The Mossberry Eye Khol will throw off some, but you can use it as an eyeliner blended with other colours, or with black for a dramatic eye look. Not one for the faint hearted!

Pros: Affordable makeup kit that allows you to experiment with colours you may not otherwise try, Cranberry lipstick is a lovely colour, Fenberry blush gives a nice colour to cheeks

Cons: Unavailable in Malaysia but Sleek Makeup ships internationally, Lipstick is a bit dry, Mossberry Eye Kohl will be challenging to use for many
Have you tried anything from Sleek Makeup recently? Dare you wear a berry or red toned eye colour? Would you wear this many berry shades at one go? You know my answer. I did! 😀
Paris B
Sleek Makeup The Berry Collection is limited edition for Christmas 2011 and retails for £9.99 (or US$15.99) at sleekmakeup.com (ships internationally) or in Superdrug stores in the UK