Anti-Aging skincare fans, here's one for you!
The Dermalogica Age Smart range of products isn't new to the range, but it is newly launched here in Malaysia. The range, as the name implies, is designed to prevent and repair internal and external damage to skin as it ages. What this range targets is the prevention and minimization of the appearance and signs of skin aging.
There is quite a number of products in this range which is pretty much stand-alone. I haven't tried any of them, but if you are keen, here's a quick run through of what they key ingredients are, what they do and (importantly) how much it will set you back 😉
The key ingredients of the Age Smart range are :-
Antioxidants – including polyphenols from White Tea, Magnesium Ascorbyl Phosphate, Licorice and Vitamin E to inactivate free radicals and prevent damage to cells
Glocosamine, Lactic Acid and Magnesium Ascorbyl Phosphate – fight hyperpigmentation
Bioflavonoids and Licorice – treat broken capillaries
Soy, Peptides and Polyphenols from white tea – stimulate collage
Peptides, Vitamin C and yeast extract – stimulate formation of collagen and hyaluronic acid in the dermins
Peptide formulations with glucosamine and soy isoflavonoids – traps excess sugar molecules to reduce the signs of aging skin
Products do not contain lanolin, SD Acohol, artificial colours and artificial fragrances, which is all great and all… but truth to tell, I have not personally given these a go to be honest. So I don't know how they fare on the skin. Would love to hear from any users out there if there are any 🙂
I'm told that the star product is the Age Smart Power Rich which is a product that hydrates, exfoliates, stimulates collagen production and makes skin firmer and more elastic. Sounds like a wonder product eh? It comes in a box of 5 10ml tubes and retails at a whopping RM695. Ouchies!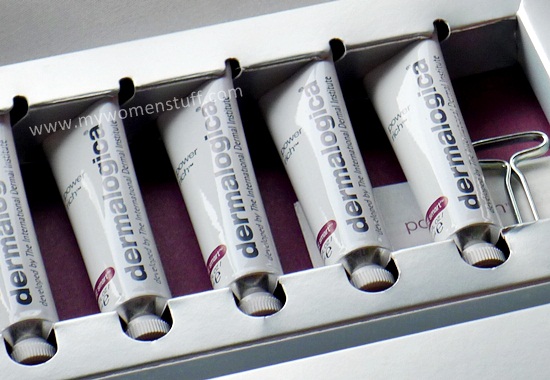 Most people who have tried this declare it their favourite as it is potent and does what it says. I think it can stand on its own so perhaps, if it does do away with all the moisturizers and serums and what nots we pile on everyday, perhaps it isn't that pricey 😛 It also seems to work as a makeup base – a very pricey one I might add – as you can use it day and night.
If you are a user of the Dermalogica Age Smart line, do share which product you like best and think is worth trying or which you think works for you 🙂 There is also a kit that is sufficient for a month's use but I don't have the price for that. May be the best way to try it out if you're keen.
Paris B
Dermalogica Age Smart range is available at Aster Spring and Dermalogica outlets and authorized dealers. Retail prices are Age Reversal Eye Complex (RM238/15ml), Age Smart Power Rich (RM695 for 5x10ml tubes), Age Smart Skin Resurfacing Cleanser (RM188/150ml), Age Smart Multivitamin Thermafoliant (RM253/75ml), Age Smart Multivitamin Power Recovery Masque (RM241/75ml), Age Smart Antioxidant Hydramist (RM192/150ml), Age Smart Multivitamin Power Concentrate (RM281/45 capsules), Age Smart MAP-15 Regenerator (RM480/8g), Age Smart Power Firm (RM217/15ml), Age Smart Renewal Lip Compex (RM138/1.75ml), Age Smart Super Rich Repair (RM312/50ml), Age Smart Dynamic Skin Recovery (RM331/50ml) and Age Smart Multivitamin Hand and Nail Treatment (RM118/75ml)